"A Party Without A Cake . . .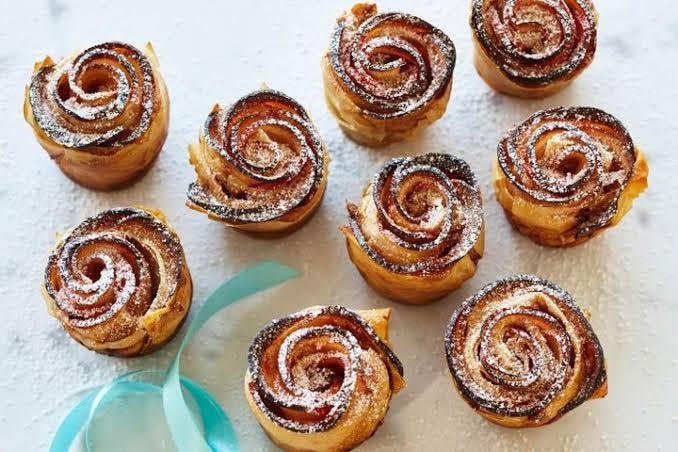 . . . is just a meeting," declared Julia Child. She also said (and I prefer to think this was both real and metaphorical) "Every woman should have a blowtorch."
What's cooking? From my social media over the past few days, friends and strangers are in their respective kitchens making beef fried rice, baked ham, stir-fried chicken with cashews, spinach enchiladas, banana muffins (me, twice), and Cuban sandwiches with bread homemade specifically for the purpose.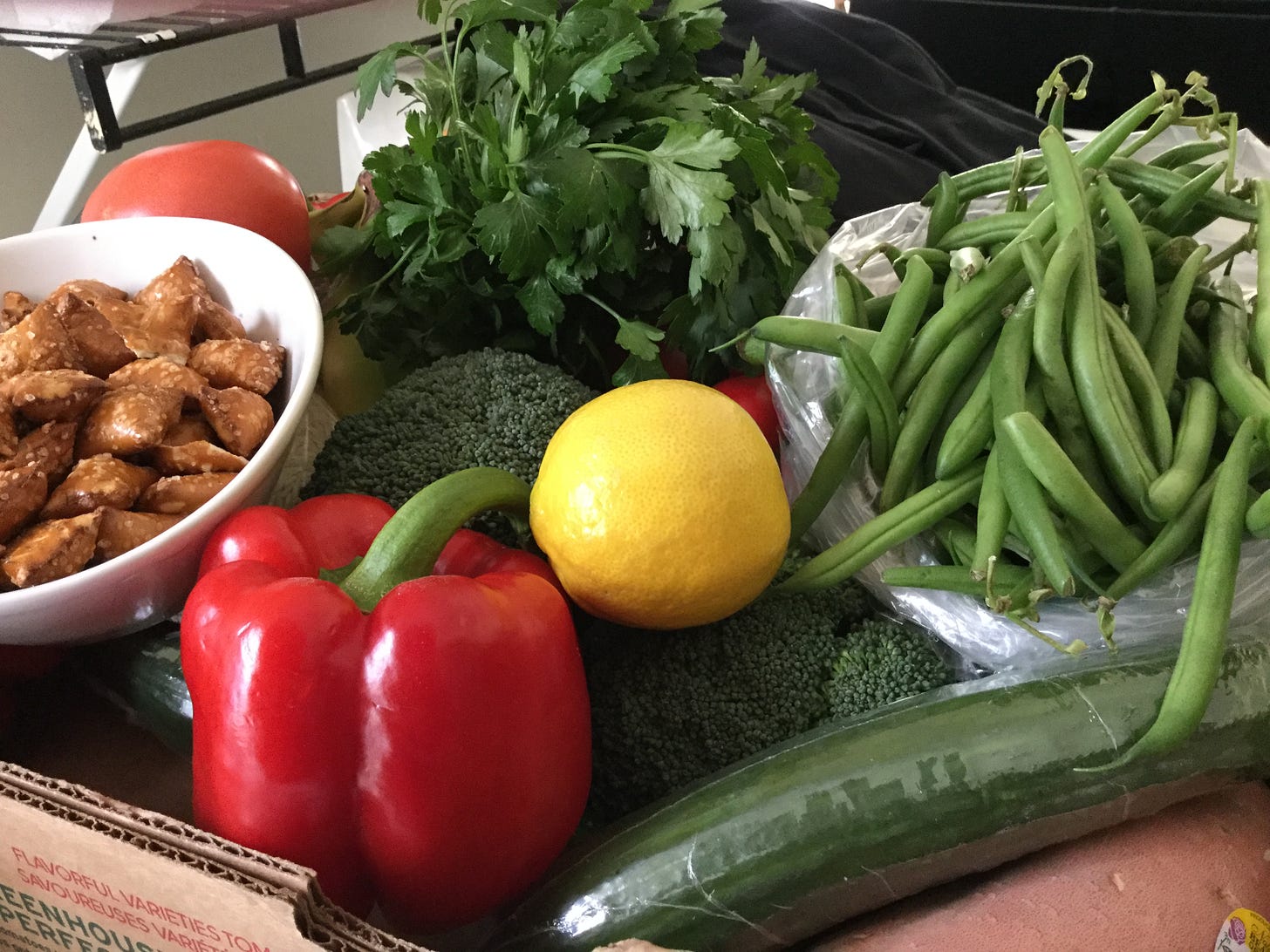 Before you can cook, however, you first need to hunt and gather. We're shopping infrequently and gingerly, and employing all manner of getting raw ingredients into the house. Oranges shipped from Hale's in Florida, a direct online order of cheddar from the Northeast Kingdom's Jasper Hill Farm. We're waiting for the co-op's pickup option to gain speed. In the meantime, we ducked into the parking lot of Stern's Quality Produce in White River Junction to nab a luscious box of veggies, rice, and improbably, peanut butter-filled pretzel nuggets.
Beyond the need for sustenance, cooking passes the time and provides a creative outlet that has the bonus result, if you've done it right, of being not just edible but tasty. But I sense it as an act of resistance too. It's fighting back, against illness, against boredom, against isolation. It declares that we are still able to claim a shard of normalcy no matter what. If you are quarantined with people, or even if alone, having that evening dinner at the table is one of the day's moments of grace.

A Vermont Law School student, Michael Crouse, is making Apple Roses (photo, above, and below.) He bakes (when he's not making chocolate truffles) to relieve stress, which law school has plenty of even without a pandemic. I asked him for his recipe. He kindly shared it. Thank you, Michael. Vive la résistance!
Apple Roses

You start by either rolling out puff pastry dough crust (store bought) or your own dough (I'd use all purpose flour, iced water, and crisco to make it vegan (I'm not vegan)). Next, you cut the dough into long rectangles. You can then spread a regular spoon full of jam down the center of each rectangle. Set aside for this next part.

Pick any type of red apple you enjoy (I like Pink Ladies). Use a mandoline or a sharp knife to thinly slice the apple (it is important not to skin the apple for the rose petals look). I use about 2 apples for a dozen roses. You then sprinkle cinnamon and sugar over the thin slices and microwave them for about 1-minute on high. This makes the slices easy to work with as they are brittle otherwise. Microwave on high for 30 seconds if they snap or don't cooperate. 

Once warmed, overlay each slice on the edge of each rectangle. You'll then fold the rectangle in half so the fold is the base, and the open lip has the red edge of each slice sticking out. You'll then roll the rectangle slowly on itself, like a cinnamon roll. Then, place in a muffin tin and repeat. It's helpful to spray the tin with olive oil or some kind of non-stick spray as they're incredibly fragile to remove once baked. You can also use strips of wax paper to create handles to pull the rose out post-baking.

You bake at 400F for 30 min. You want the dough to brown, and the rose edges to slightly burn (turn reddish black). But, adjust an extra 5 minutes as needed for desired aesthetic. Let sit for 10 minutes before removing or the rose will fall apart.

Once cooled, sprinkle with powdered sugar for desired effect.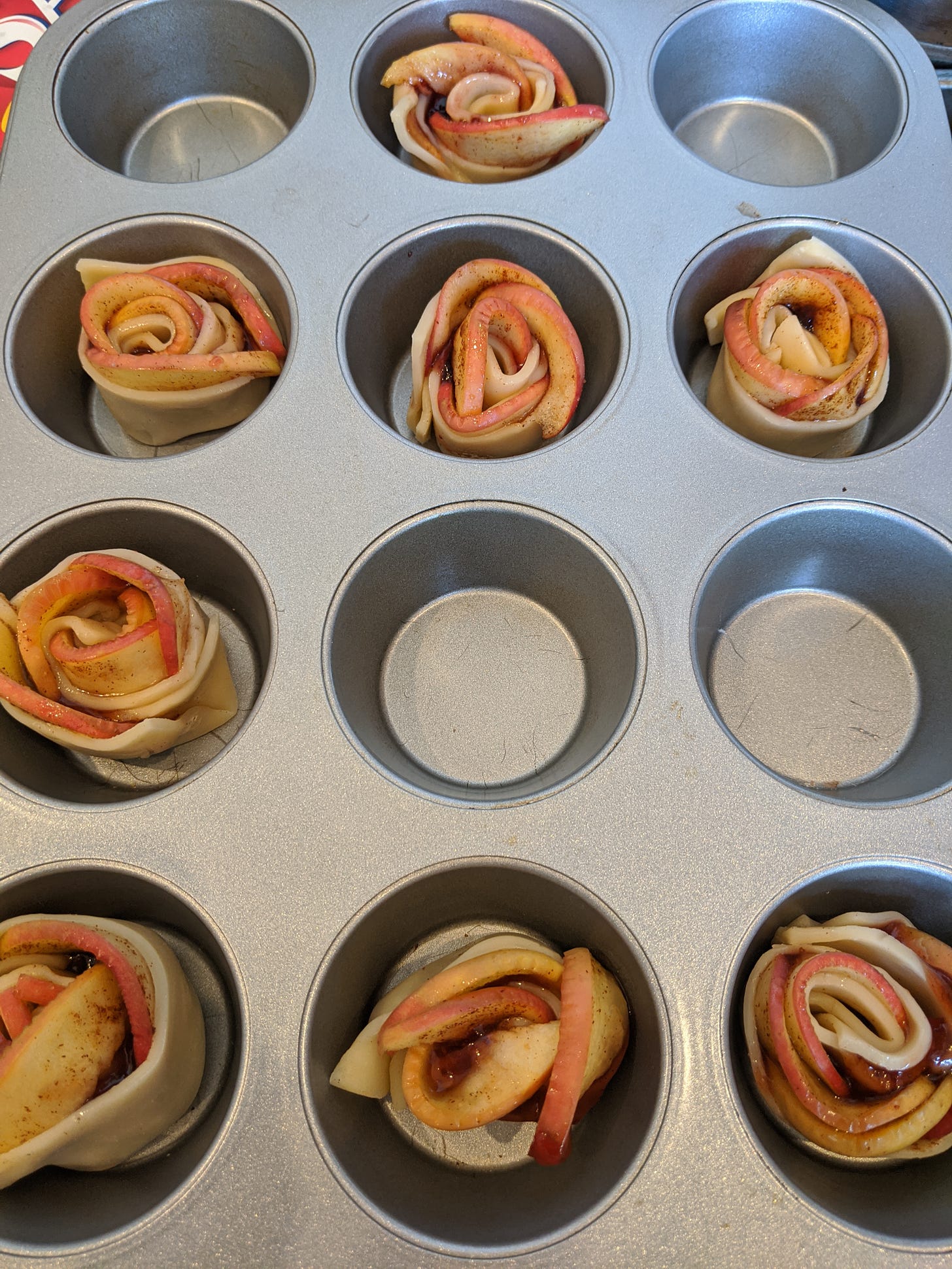 ———————————-
This is Artful, where I blog about arts and culture in the Upper Valley. Please sign up (still free, no spam) to receive future posts in your inbox. And feel free to share this post with your hungry friends.