Discover more from Artful
Arts and culture in the Upper Valley
Over 2,000 subscribers
Altobello. Marquetry. DHMC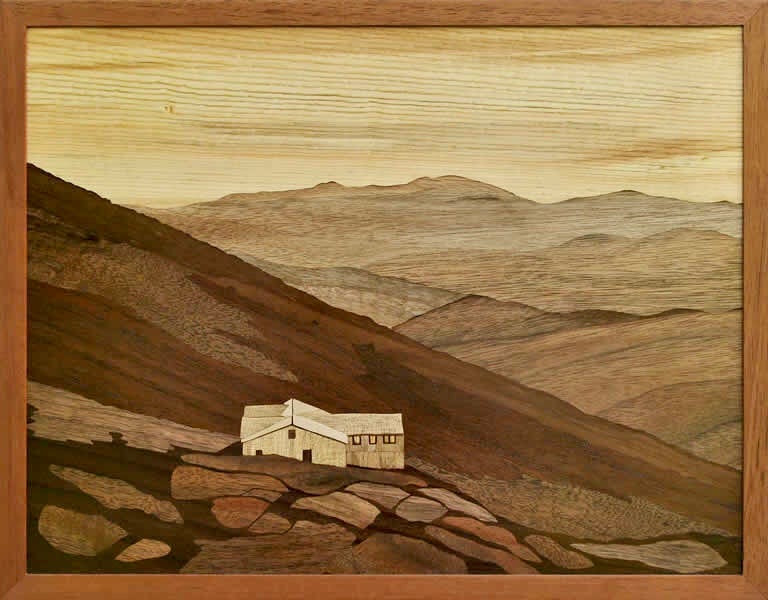 Sometimes I get my art fix at big blockbuster exhibitions in famous museums. There are other times, like last week, when I sneaked around the corner on Level 3 while waiting for my prescription at the DHMC pharmacy to view a new exhibition by Craig Altobello.

Altobello, of Peterborough NH, has been making wooden furniture since 1978. He was also a middle school science teacher. He led his students on outdoor adventures, which they documented through writing and cut paper collage. Craig saw the potential for combining woodworking and collage, and enrolled at the College of the Redwoods in California to study marquetry. Think of it as "painting" with thin, papery layers of wood.
Marquetry is often used to decorate a flat surface of a piece of furniture, or—as one can see on Altobello's website—jewelry boxes. For this current exhibition, the pieces are individual, independent creations and a representative sample (51 pieces) of the subjects of Altobello's work, all drawn from the natural world. There are small, charming portraits of outdoor creatures, mostly birds: a great blue heron, a hummingbird, a pair of chickadees. A black bear, a dragonfly.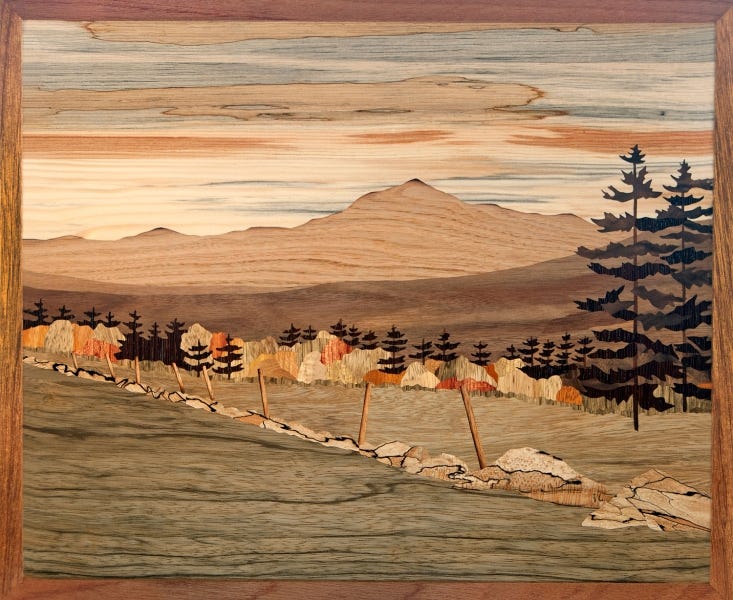 But it is his landscapes that are especially seductive, not only to me but to the other people whose heads snapped sideways while traveling this corridor/gallery. The works are intricate, delicate, nuanced in shape and color. They are beautiful to look at from afar but really call for the viewer to approach them for a close-up appreciation of the materials and composition. And the materials—multiple kinds of wood—are identified in detail for each work.

Altobello's description of his art is poetic:
Like people, trees respond to what happens to them. What they live through creates their character.
Sunlight and soil, ice and wind...  All these things leave their unique mark on the inside.

I work with wood's diverse color, grain, and texture, patiently and meticulously, to reveal the 'inside story'.
And like people, this story hidden beneath the bark is beautiful and forever astonishing.
The exhibition continues until March 27, 2020 at Dartmouth-Hitchcock Medical Center in Lebanon NH. Works are for sale. 25% of all sale proceeds benefits the Dartmouth-Hitchcock Arts Program.

(Photo, top, is Evening at Lakes of the Clouds Hut. Photo, middle, is Mt. Monadnock from the artist's website. Photos courtesy of Craig Altobello.)
————————
On this blog, Artful, I write about arts and culture in the Upper Valley. Please sign up to receive future posts in your own inbox, and if you like what you're reading, I would appreciate your sharing this with your friends. It's easy to do. Here's the share button: