And Still We Do: Crossroad Farm Stand Opens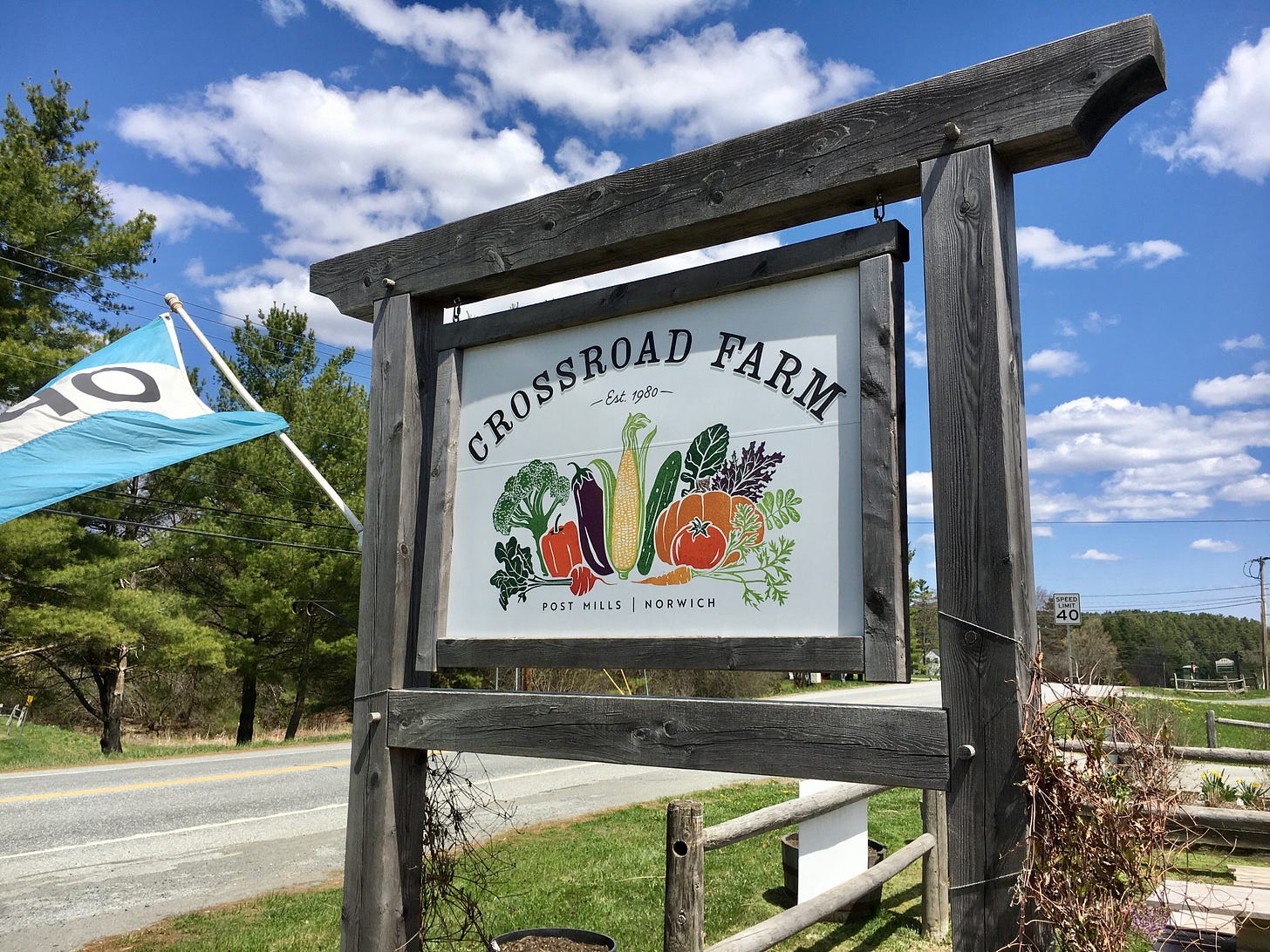 We persist. We don't accept our losses sitting down. We're learning how to be resilient.
In the midst of bad and worse news, social isolation, and what feels like a squeezed hand around the throat of our daily lives, I keep looking to that part of our collective human spirit that won't take no for a final answer, but rather, seeks to adapt. The evidence is everywhere: no-contact "groceries-2-go" at the Co-op, online latte orders at Lucky's Coffee Garage, and West Meadow Farm Bakery, a (usually) wholesale gluten-free bakery in northern Vermont that agreed to ship me five loaves of their cinnamon-raisin bread this week.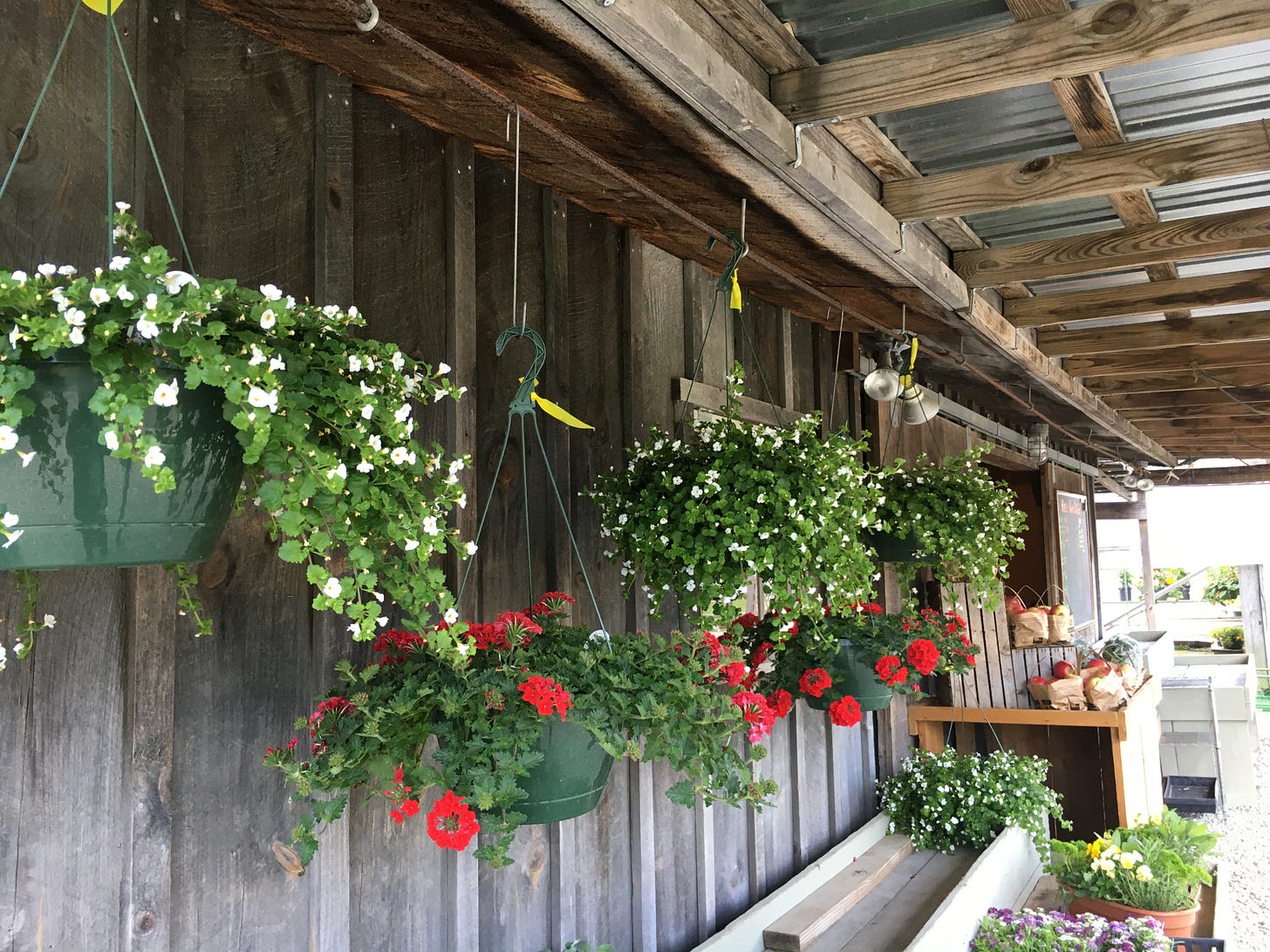 Crossroad Farm Stand on Route 5, just outside of the village of Norwich VT, is but one more example of the innovation that keeps me from ever-weeping into my hankie. It has reopened for the season today (May 7). There are new rules: patrons must wear a mask and maintain social distance. No more than 2 people at a time are permitted in the greenhouse. You can hand-select items like vegetable starts and pots of herbs, hanging floral baskets, a bag of young spinach. Other products, like good-looking breads, chicken and pork, milk and cheeses are "behind the counter;" employees will bring those to you. The "counter" is a reconstructed barrier that blocks the stand's former entrance. Customers remain outdoors to shop and pay.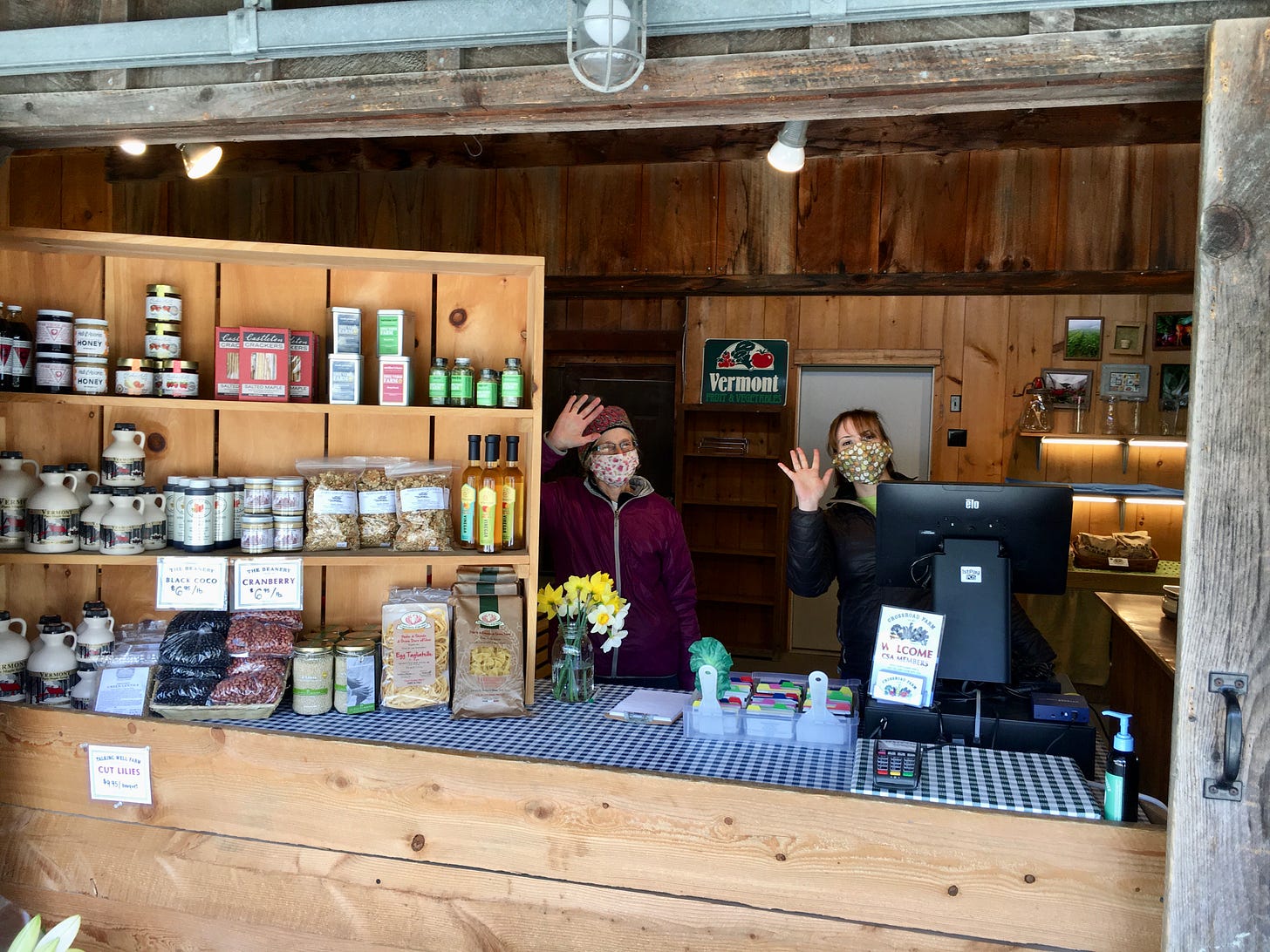 So it's different but the same. The greenhouse is still a burst of color, the welcome is friendly and heartfelt —even through the masks. My husband found cherry tomato and pepper plants, and I have gotten a start on my yearly herb garden, including a basil plant I will manage eventually to kill and then replace, and replace again—just like every previous year. It's oddly comforting to commence the annual ritual.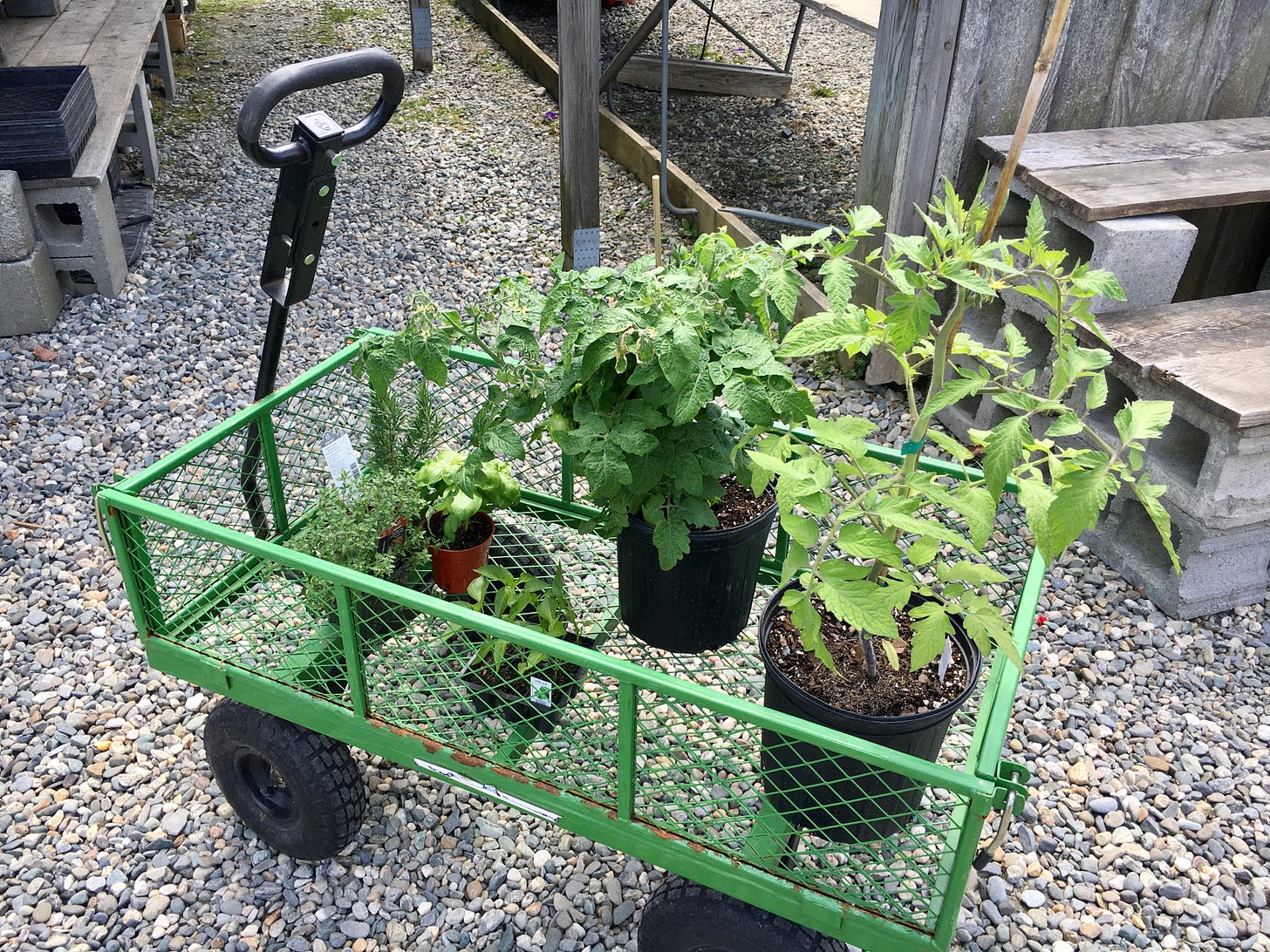 Crossroad Farm Stand is open from 10 am to 6 pm, 7 days a week. The greenhouses at the farm in Post Mills are also open, where online ordering with curbside pickup is an option, as are private browsing appointments if needed. Details and updates are available on the Crossroad Farm website.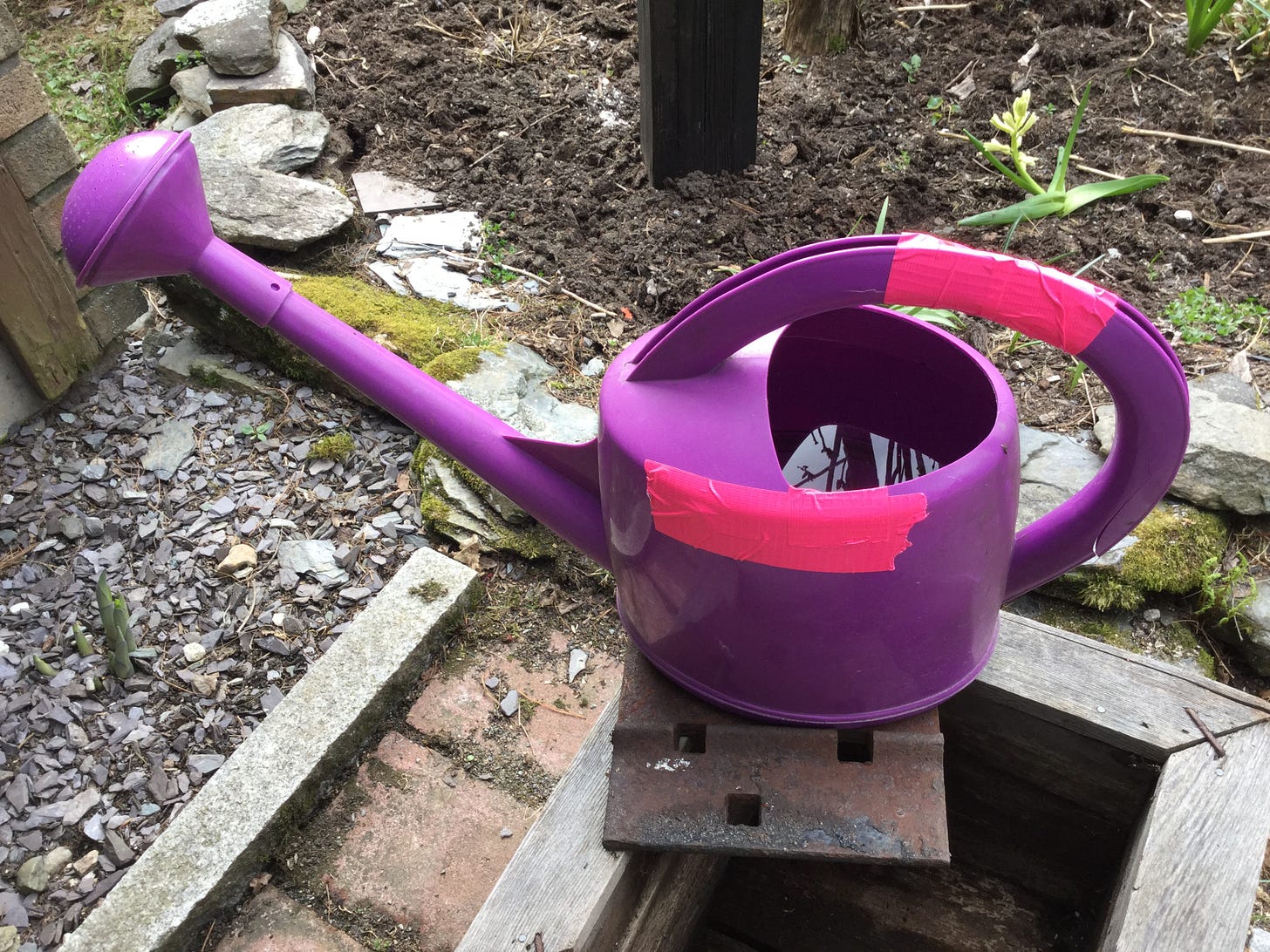 (All photos by Susan B. Apel. Above, our watering can. Do you think we need a new one? )
————————
This is Artful, where I write about arts and culture in the Upper Valley. Thanks for reading. If you haven't already, please sign up (still free and no spam) to receive future posts in your inbox. And share this post with friends who have been awaiting signs of spring.