At the Hop: Dance Theater of Harlem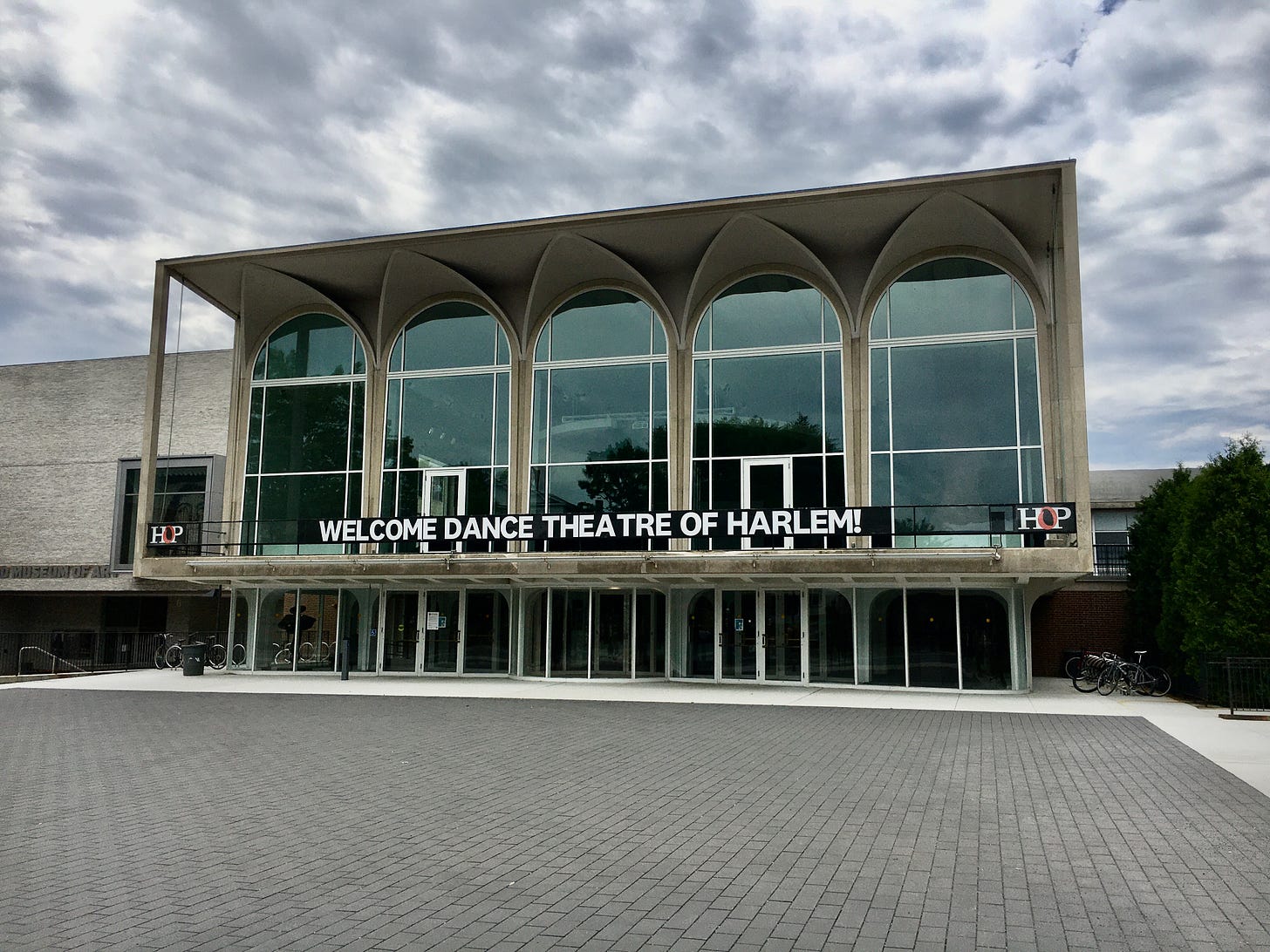 Dance Theater of Harlem is in the house, and they're inviting you to dance.
Maybe you saw the banner at the Hopkins Center. It caught my eye and subsequently my camera lens one afternoon, and caused me to wonder: when (and how) will the Upper Valley community get a glimpse of this fabled dance company? The answer is now, starting this week with a conversation with founding member and current Artistic Director Virginia Johnson. And later? Dance classes, for everyone.
Johnson, a principal ballerina with the company for twenty-five years, will sit for an artist's talk with John Heginbotham, Director of the Dartmouth Dance Ensemble, on Thursday, July 16 at 8:00 pm on the Hop@Home YouTube site. No charge. Click here for more information.
Two online classes via Zoom are in the offing: a beginner's ballet master class on July 21 at 6:00 pm, and an intermediate-level one on July 23 at 6:00 pm. Each class is $8 for the general public. Registration is required.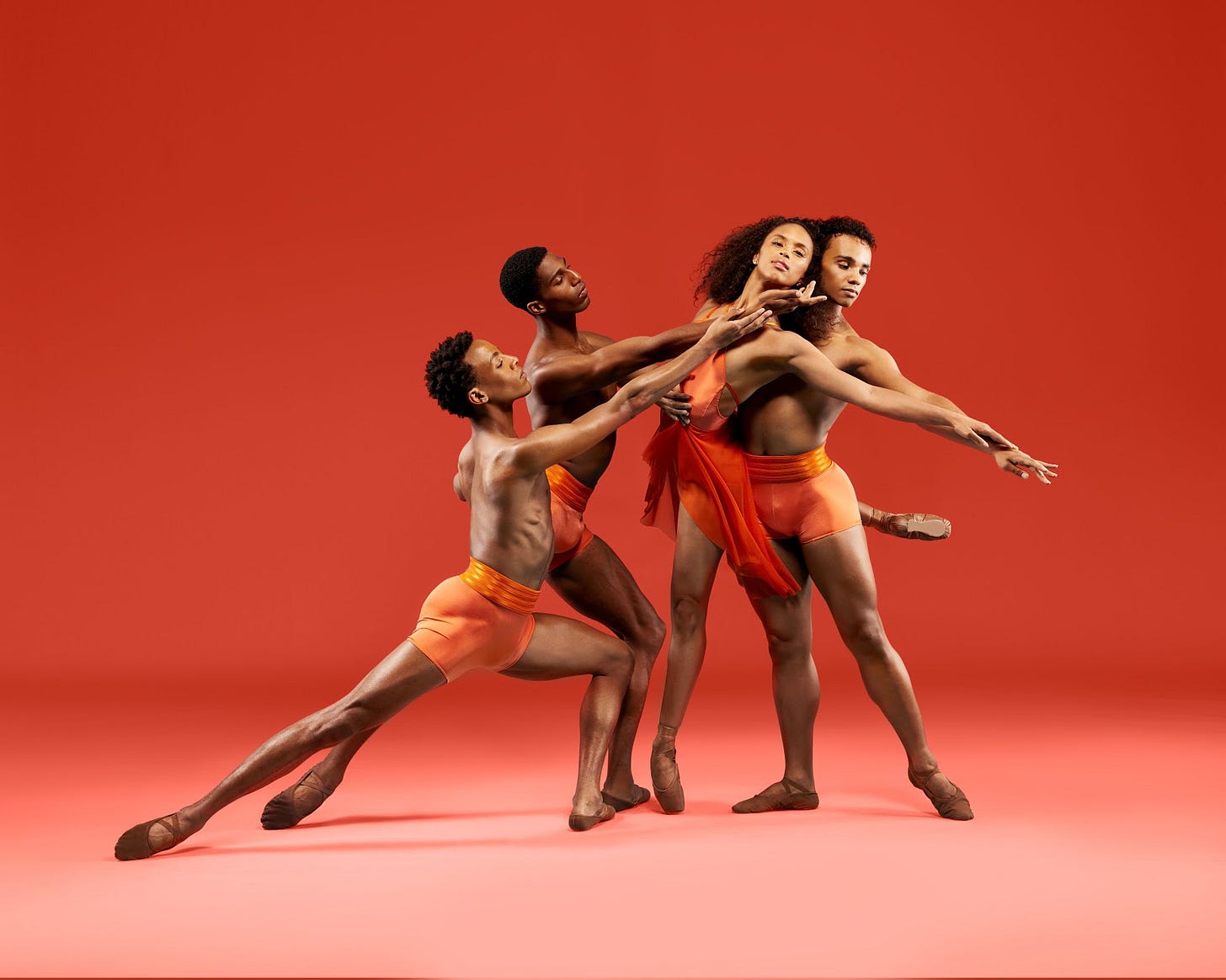 In addition, the online premiere of the company's ballet, Dougla, will be broadcast on July 25. Details here. And while you're waiting, check out Dance Theater of Harlem performing at the Guggenheim Museum.

Dance Theater of Harlem has a long and storied history. According to the company's website, it was founded by dancer and George Balanchine protégé Arthur Mitchell, who started small and seemingly mighty:

The early days were humble and inclusive. Mitchell began by teaching dance in a converted garage in Harlem, leaving the doors open so passersby could see what was going on. He relaxed the dress code to encourage enrollment by young men who preferred to dance in jean shorts and T-shirts.
Johnson took over in 2013 as Artistic Director, and "has been instrumental in helping usher the company into a new era while maintaining the old legacy. Dance Theatre of Harlem is not just a ballet company or groundbreaking cultural institution, but an elegant example of what is possible when an inclusive approach to art is allowed to evolve and thrive."

The dance company will partner with the Hopkins Center for the next three years,
. . . " to collaborate on creative projects to expand experiential learning opportunities in dance and the interrelated practices of choreography and academic scholarship. The company's work at Dartmouth will contribute to critical conversations on race, activism and equity in and through the arts."
(Photo, top, by Susan B. Apel. Photo, above, DTH—Anthony Santos, Derek Brockington, Amanda Smith, Dylan Santos by Rachel Neville, courtesy of the Hopkins Center)
For a somewhat melancholy reflection on dance in this pandemic age, you might like Jennifer Homans' piece, "Choreography Under Lockdown," published recently in The New Yorker.
——————————————————————-
You are reading Artful, a blog about arts and culture in the Upper Valley. Please sign up if you haven't already, and share this post with your friends. For previous posts, you may want to scroll down in the online version (clicking on this post's title should take you there) to see a few (or more) that readers particularly liked.
Susan B. Apel is a freelance writer whose work has appeared in various online and print publications such as the Fredericksburg Literary and Art Review, Literary Mama, and Persimmon Tree, as well as Art New England, Boston's The Arts Fuse, and Image Magazine. Her blog, Artful, in which she writes about the arts in the Upper Connecticut River Valley, appears regularly at https://artful.substack.com. She is an art correspondent for The Woven Tale Press and a former legal columnist for the newspaper Vermont Woman. She lives in Lebanon, NH.