AVA Gallery Opens With Charles A. Platt Retrospective
Open for in-person viewing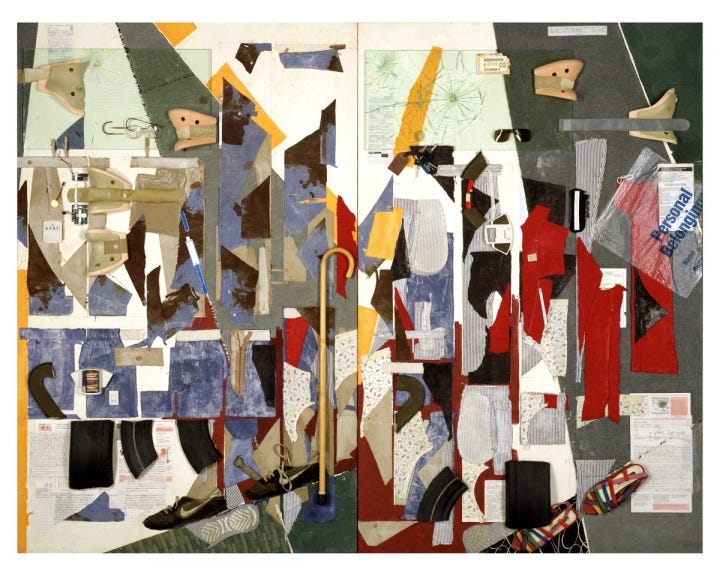 Artist Charles A. Platt was inspired by the sight of an old pair of worker's overalls draped over an easel. He was immediately struck by the image, and it later became his first piece, "The Hired Man." (photo, further below)

Platt's intriguing collages are on rare display at AVA Gallery in Lebanon NH in an exhibition, Charles A. Platt: A Commemorative Retrospective, that opened last Friday. It sprawls throughout all of AVA's main galleries, rich with giant works of incredible detail. Careful, angular placement of large swaths of fabric—often patterned or striped, even seersucker—speak to Platt's daytime career as an architect. On weekends, he became creative in a totally different medium.

Platt's collages are works that you want to take in from afar, and then up close, and then even closer. His components are not pristine or gussied up, but authentic. The objects inserted into his creations include ripped undergarments, an intact if well-used umbrella and the broken guts of some others, a smattering of playing cards, and a march of footwear. In "The Bed and the Shower; 'He's Not Worth Your Time'"mixed media, 2007, the bar of soap is worn and the soap dish just a tiny bit crusty.
In an email, Platt's daughter Sylvia Platt described the provenance of her father's raw materials. "Many of the materials in the collages are from our house, from his grandmother's old pillow cases and mattress ticking to talcum powder boxes, umbrellas, canes, and even porch furniture." One piece contains Charles Platt's dog tags, another an actual (it appears) house fly. In an artist statement, Platt explained the fly (perhaps) by referencing this work and stating "Occasionally objects seem just to appear and add themselves . . ."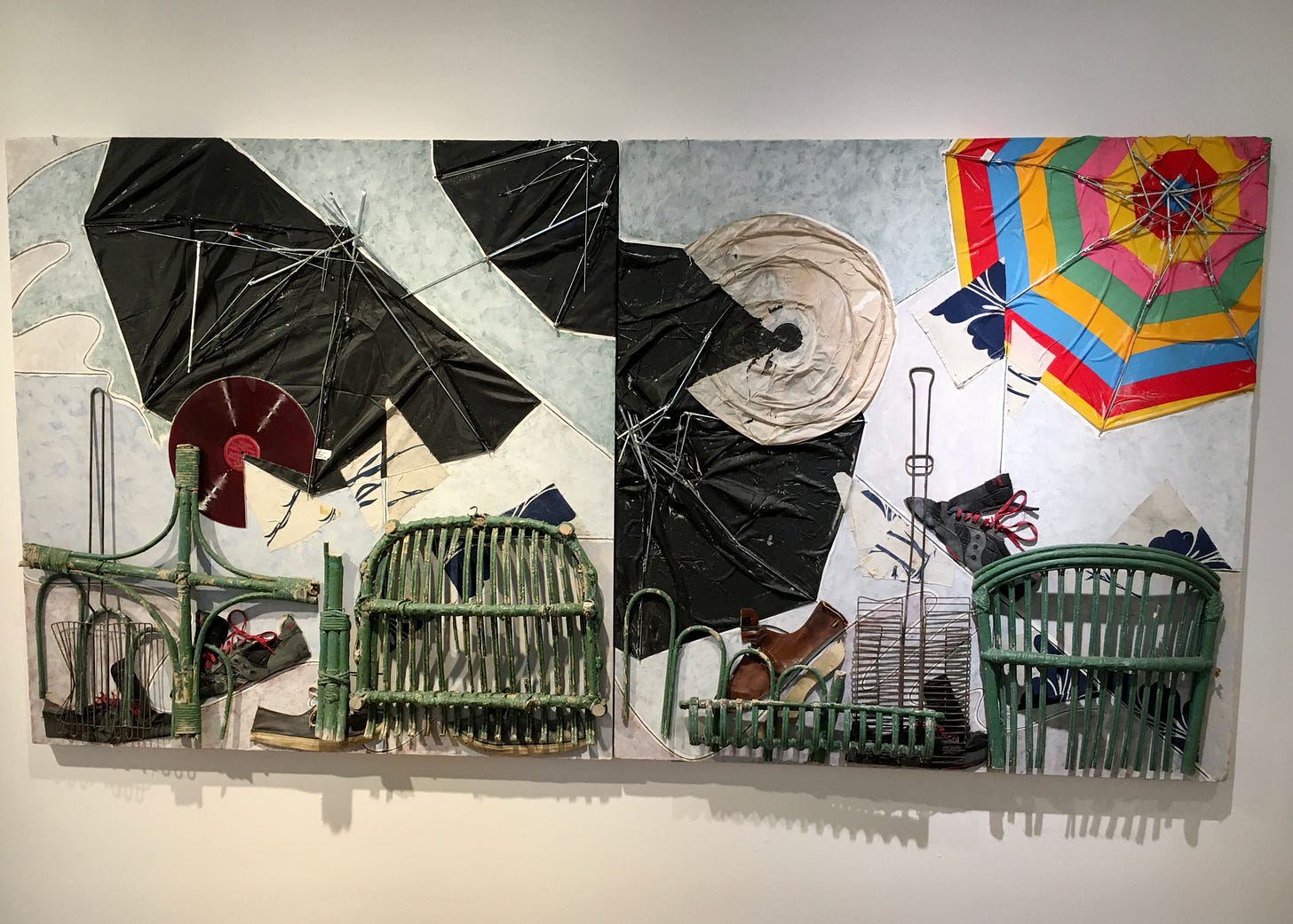 Much in this found art tradition evokes a kind of wonder at the otherwise mundane, and convinces the viewer that beauty and meaning are present in the everyday, especially when it is so artfully rearranged and re-imagined. That is certainly true here, along with a generous dollop of sweet nostalgia. Some of the materials Platt used, such as single nylon stockings and broken 78 rpm records, cast the (older) viewer's memory back to a bygone era.

The Platt family has had a long association with the Upper Valley that began when the artist's grandfather, Charles A. Platt, moved to Cornish, NH, with other creatives who gravitated to the area following the arrival of sculptor Augustus Saint-Gaudens in the late 19th Century. This loose group of artists, writers, performers, architects and landscape designers became known as the Cornish Art Colony. Charles A. Platt designed homes in Cornish and Plainfield for other members of the Colony and was famous for integrating the interior with the exterior through architectural elements in the gardens he also designed. The family has maintained a presence in Cornish for four generations.
Sylvia Platt says her father worked on and planned for this exhibition over the past several years. Unfortunately he died this past August, prior to the show's opening. Sylvia and some other family members were on hand for a private opening reception.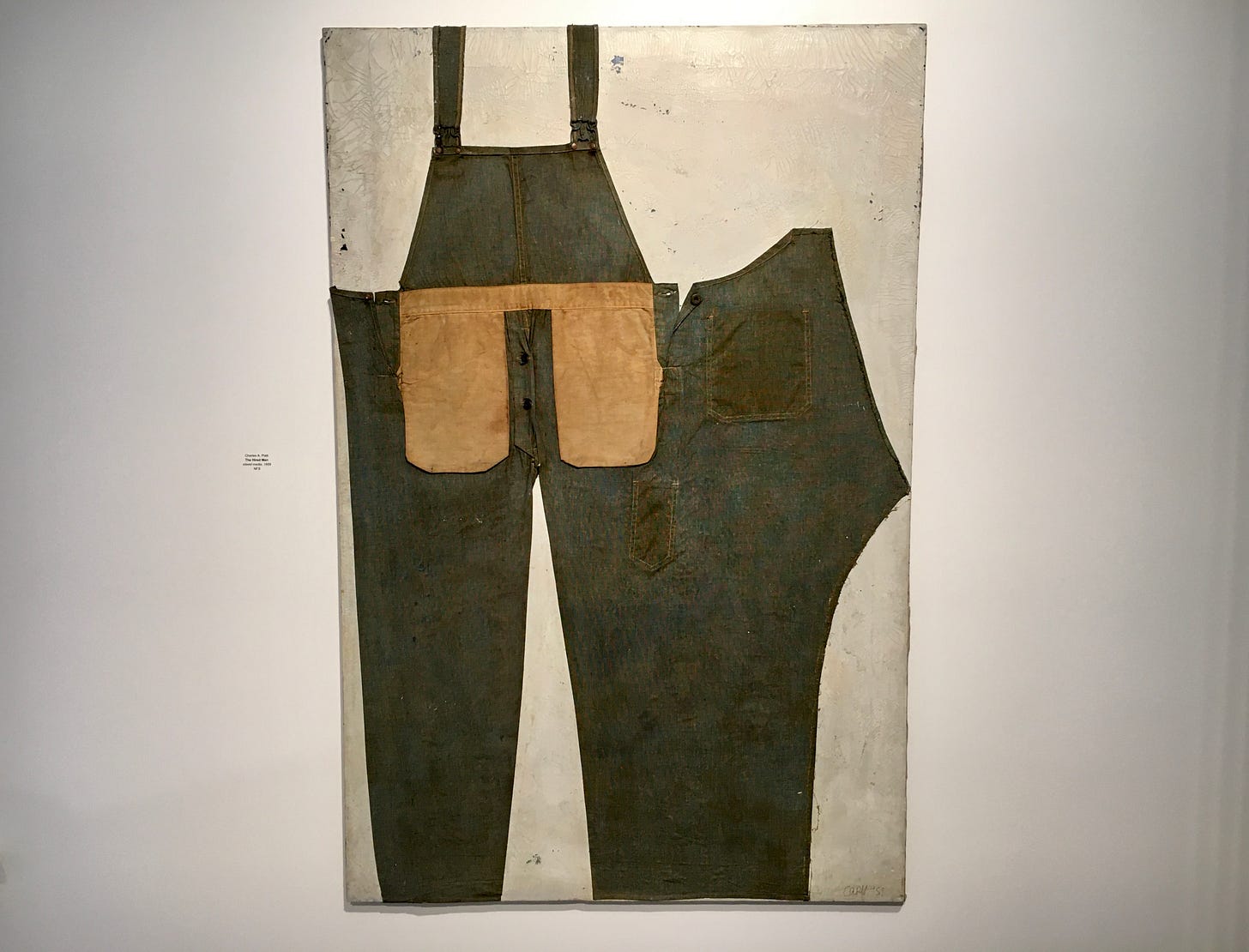 "The Hired Man" (photo, above) is a featured piece in the show, and when you stand in front of it, you can almost hear a recitation of Robert Frost's "The Death of the Hired Man" in your head. How fitting that Charles Platt's work, and especially this piece, found its way to AVA Gallery, the site of the former H.W Carter and Sons. Though the factory made its last pair of overalls and closed in 1985, the staff at AVA still occasionally finds needles in the cracks between the floorboards. Part of a short and compelling documentary, featuring several Upper Valley people who spent decades working at H.W. Carter, can be found here.

The exhibition runs until November 27, 2020. AVA Gallery is open for visitors by appointment and on a limited walk-in basis. Check its website for details.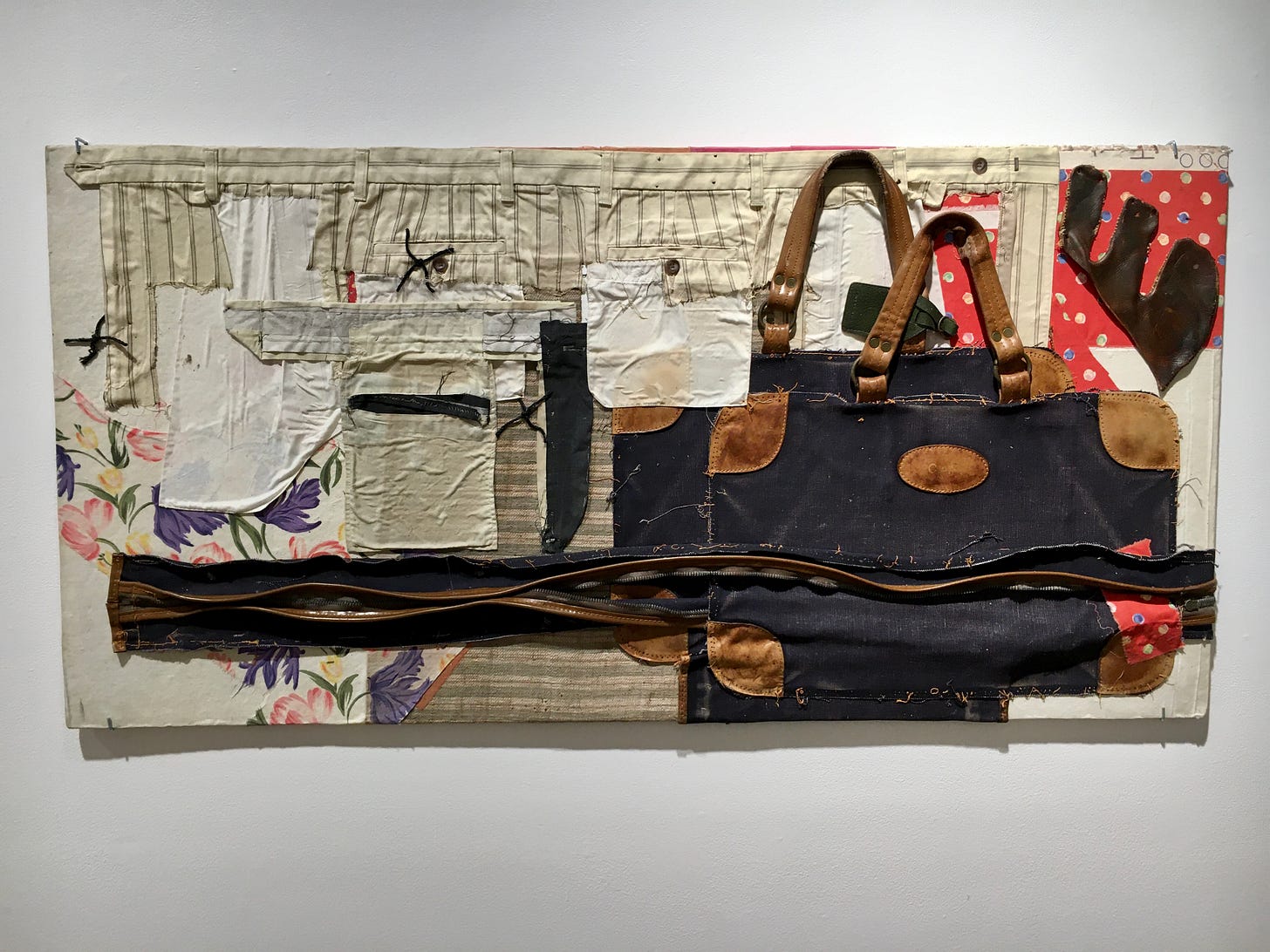 (Featured photo, top, is "Blood, Bones, and Healing Devices," 2001. Courtesy of AVA Gallery. Second is "Summer Evening on the Piazza," 2013, followed by "The Hired Man." Immediately above is "The Carry On," 2002. All photos except featured photo by Susan B. Apel)
————————————————-
Welcome! You're reading Artful, and I hope you'll subscribe and then share this with your friends and on your social media. And in case you are wondering . . .
Susan B. Apel retired from a lifelong career as a law professor to continue an interest in writing. Her freelance business, The Next Word, includes literary and feature writing; her work has appeared in a variety of lit mags and other publications including Art New England, The Woven Tale Press, The Arts Fuse, and Persimmon Tree. She connects with her neighbors through Artful, her blog about arts and culture in the Upper Valley. She's in love with the written word.