Bombshell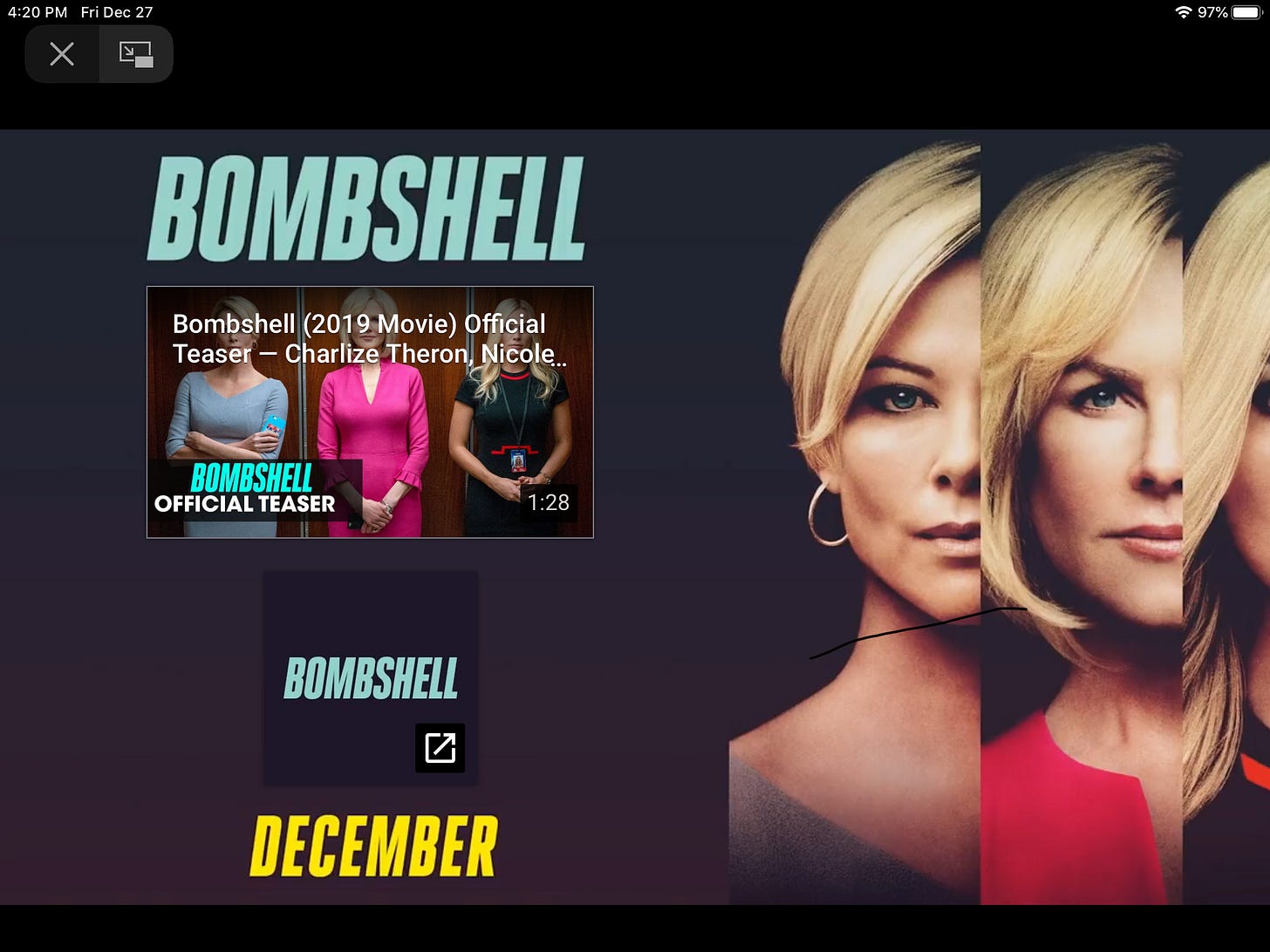 Let's set the record straight. Bombshell is not a documentary and Kayla Pospisil is a not a real person. She's a fictionalized composite character based on any number of real-life women who claimed they were sexually harassed by the late Roger Ailes, former CEO of Fox News. Megyn Kelly and Gretchen Carlson are real people, who were also victims of Ailes's conduct. Their story, and by extension that of the many women and men who worked at Fox, forms the basis of the movie, Bombshell, now playing at the Nugget Theater.
Even with its fictitious elements—lamented by a critic or two—the film is a retelling of recent history. Megyn Kelly, portrayed by Charlize Theron, is a powerhouse newswoman who feels secure enough in her position that she dares to violate the Fox canon and take on candidate Trump and his hideous comments about women. And she does it on live TV. Gretchen Carlson (Nicole Kidman), the former beauty queen who has grown tired of the sexual pressure that permeates the corridors of Fox, is the first of Ailes's victims to head for the lawyer's office. Hers is a singular and lonely struggle. Despite her assurances to her lawyers that other women will step up to support her, most keep their heads down (including the closeted Jess, played winningly by Kate McKinnon). Everyone continues to laugh nervously at, or ignore, the juvenile remarks and worse from Ailes and his cronies, including the now defunct Bill O'Reilly.

The film is fraught with tension as Kelly tries to walk an impossible line between saving her own career and standing up against the sexual aggression that she too experienced in her complicated relationship with Ailes. Theron's portrayal is masterful, as she exudes Kelly's self-confidence through the cadence of her walk and of her voice. Much has been written about the prosthetic-induced transformation of Theron's face into Kelly's, and it is indeed mesmerizing. Actor John Lithgow is similarly laden with layers of rubbery makeup to approximate the aging, unkempt Ailes.

Big stars took small parts in this movie. Look for Alison Janney as Susan Estrich, the lefty feminist lawyer representing Ailes. Richard Kind plays Rudy Giuliani, nutty and slumped in a rumpled suit.

Bombshell is a powerful and nuanced story of sexual harassment in the workplace. Not all of the men are horrible. Not all of the women, including Kelly, are steeped in innocence, an observation that while true hardly shifts the blame for predatory behavior from where it belongs. There's plenty of professional ambition to go around. This is the real world after all. But for those who may doubt the evil inherent in sexual harassment and its utter disempowerment of women, there is one scene that will convince you. Watch Kayla's face as, at Ailes's command, she inches her skirt ever upward, inch by miserable inch. (Of it, the director, Jay Roach, said "I've never filmed anything as excruciating.") It's the reason for the movie, for the MeToo movement (curiously absent from the film), for what lays heavy enough to sink women in this often-daily fight, condensed into a scant few minutes.
It's haunting me still. And it will likely earn an Oscar nomination for actor Margot Robbie.
Bombshell is playing at the Nugget Theater in Hanover, NH, with some additional matinees during the holiday season.
If you like this post, please sign up to receive future posts in your inbox. Then share it with your friends or on your social media by hitting the "share" button below. Thank you!