Caffeine/Decaf
How to self-improve . . .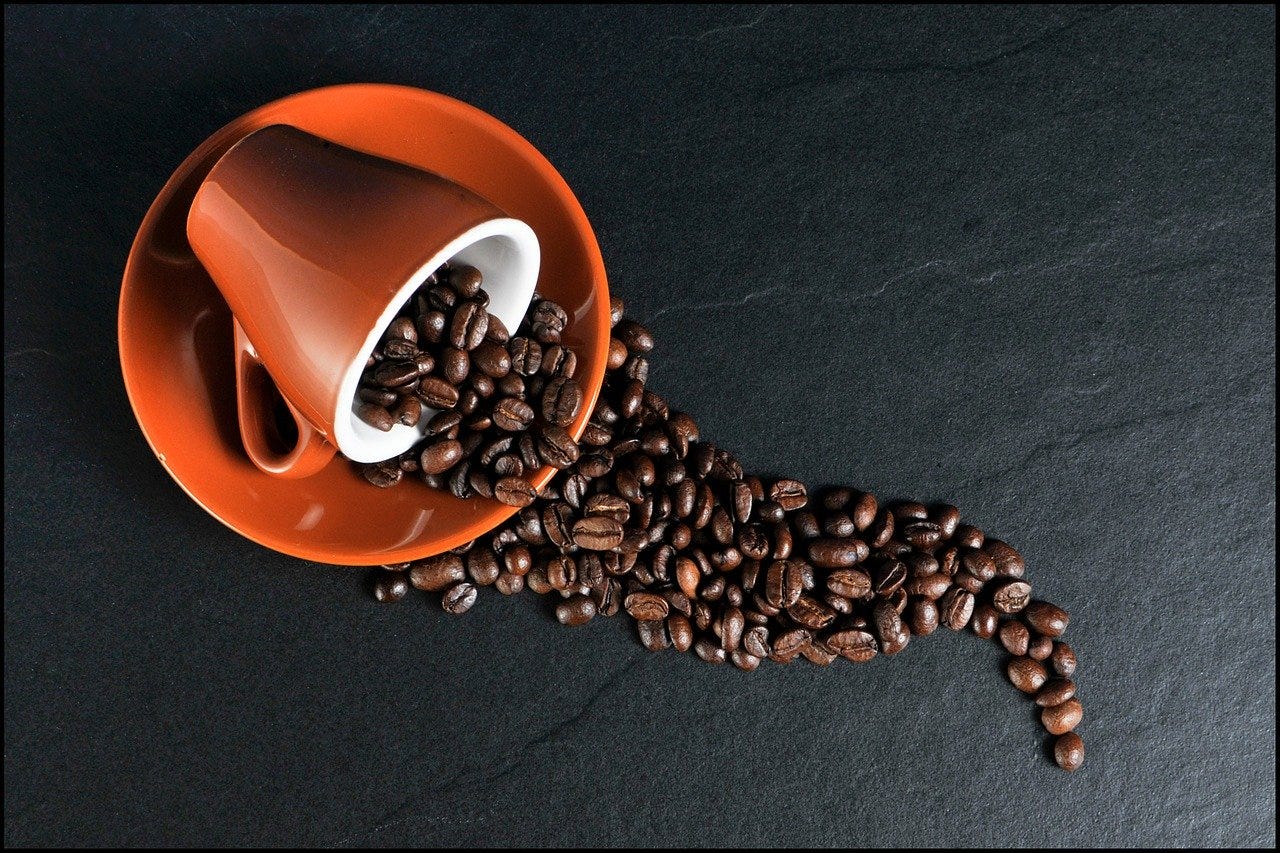 Days are fraught, nights are sleepless. My husband and I decided there was only one way we could possibly make it to Election Day and beyond without our blood pressures spiking off the charts. We would wean ourselves off of caffeine.

Ordinarily, we fire up our espresso maker several times a day, so we buy coffee beans by the 2.5 pound sacks. I purchased 3 large bags of regular coffee and 1 large and 1 small bag (12 ounces) of decaf. We opened Large Bag #1 and the small bag of decaf, relegating the others to the pantry. The self-improvement adventure had begun.

Day 1: We mix together a scoop of coffee beans from the opened Large Bag #1 and another from the small decaf bag, grind them up, and treat ourselves to a half-caf espresso the first thing in the morning. Not too bad. We do the same after lunch.
Day 2: A repeat of Day 1. Somewhere in the afternoon, my husband asks if I want a "real," totally-caffeinated, espresso. Our resolve to wean is overcome by a creeping afternoon fatigue. Maybe just this once. Afterwards, we feel guilty but agree that yes, the full-caffeine brew certainly did perk us right up.
Day 3: Repeat of Day 1 morning. I am becoming annoyed that my husband keeps offering to make "real" espresso because, well, doesn't that defeat our whole purpose? I am suspicious of the afternoon espresso he made because I think I heard the crinkle of only one bag. And, after I drank it, it did make me feel much zippier.

Day 4: See Day #3.
Day 5: I decide that I like the zippy afternoon. I am now grinding beans almost exclusively from regular Large Bag #1, with a sprinkle from small decaf bag just to make things look good.

Day 6: Still doing the half-decaf upon awakening, but now our "second cup" of the morning AND the afternoon is the real deal. We are disappointed in ourselves. What are we, children with no sense of discipline? We resolve to do better.

Day 7: We do not do better. And my husband admits that the full-caffeinated espressos that he's drinking throughout the day are keeping him up at night. His insomnia is worse than before. We chide ourselves for our caffeine addiction, and begin a second week with an even firmer resolve to reduce our caffeine by half.

Day 8, 9, and 10: We are sticking to the plan, except when we aren't, because of "special circumstances" that yes, require caffeine, like "I can't write without it. Yesterday when I had the full-strength stuff my head immediately cleared and my prose was crisp." Husband is cheating because he has noticed that caffeine really does give him the jolt he needs to dismantle what is left of the garden. Large Bag #1 rests on the kitchen counter and calls to us on the regular. To our shame, we keep answering.
Day 11: We are doomed. Large Bag #1 is now about 1/3 full, and the small decaf bag, husband announces, is empty. "We need to buy more decaf," he says. I sigh and ask if he has looked in the pantry. I know there is a large bag of decaf there from our original big coffee purchase. He insists not, which means I have to play the traditional wife role I deplore and ONCE AGAIN GO LOOKING FOR IT MYSELF.
Wait, what? As suspected, there are three large bags of coffee beans in the pantry. But my husband is right. All of them are regular, caffeinated coffee. I know I bought a large bag of decaf. Have I lost my mind?

We discuss. It's a sign. Maybe we do not really want to wean ourselves off of caffeine after all. We both acknowledge that in our cheating moments, caffeine made all the difference, got us through the day. There are so few pleasures in this time of Covid—we are rhapsodic about our afternoon jolt. A night or three of insomnia, a sense of the caffeine jitters late in the day—haven't they been totally worth it?

And then, I pick up the close-to-empty Large Bag #1 and our unthinkable folly is there, right there on the label. In block letters, it says "espresso decaf." I read it aloud, shrieking, really. My husband keeps shouting, "What!" We start to comprehend.

Whether we were virtuously mixing scoops from the two bags, or cheating by sticking with just Large Bag #1, we have been drinking (unknowingly) 100% decaf for the past 10 days, all the while insisting on the benefits of each supposedly caffeinated cheat. We each blame the other for this embarrassment, though the words are not spoken out loud . . . at least not at first.

Impossible, we declare to each other, a millions times over. The zip, the heroically demolished garden, the crackling prose, the insomnia . . . surely they had to be caffeine-induced! We feel betrayed by Large Bag #1, even as we come to terms with the truth: we had become masters of illusion, inadvertently, to our own selves.

And that's how we weaned ourselves off of caffeine. Our blood pressure remains unchanged.
—————————————-
You're reading Artful, a blog/ newsletter about arts and culture in the Upper Valley. Subscribe while you sip your coffee. You'll be glad you did. And share this post with your caffeinated (or so they may think) friends. Thank you!