Discover more from Artful
Arts and culture in the Upper Valley
Over 2,000 subscribers
Cirque Us
See the performance, send your kids to vacation circus camp—and soon.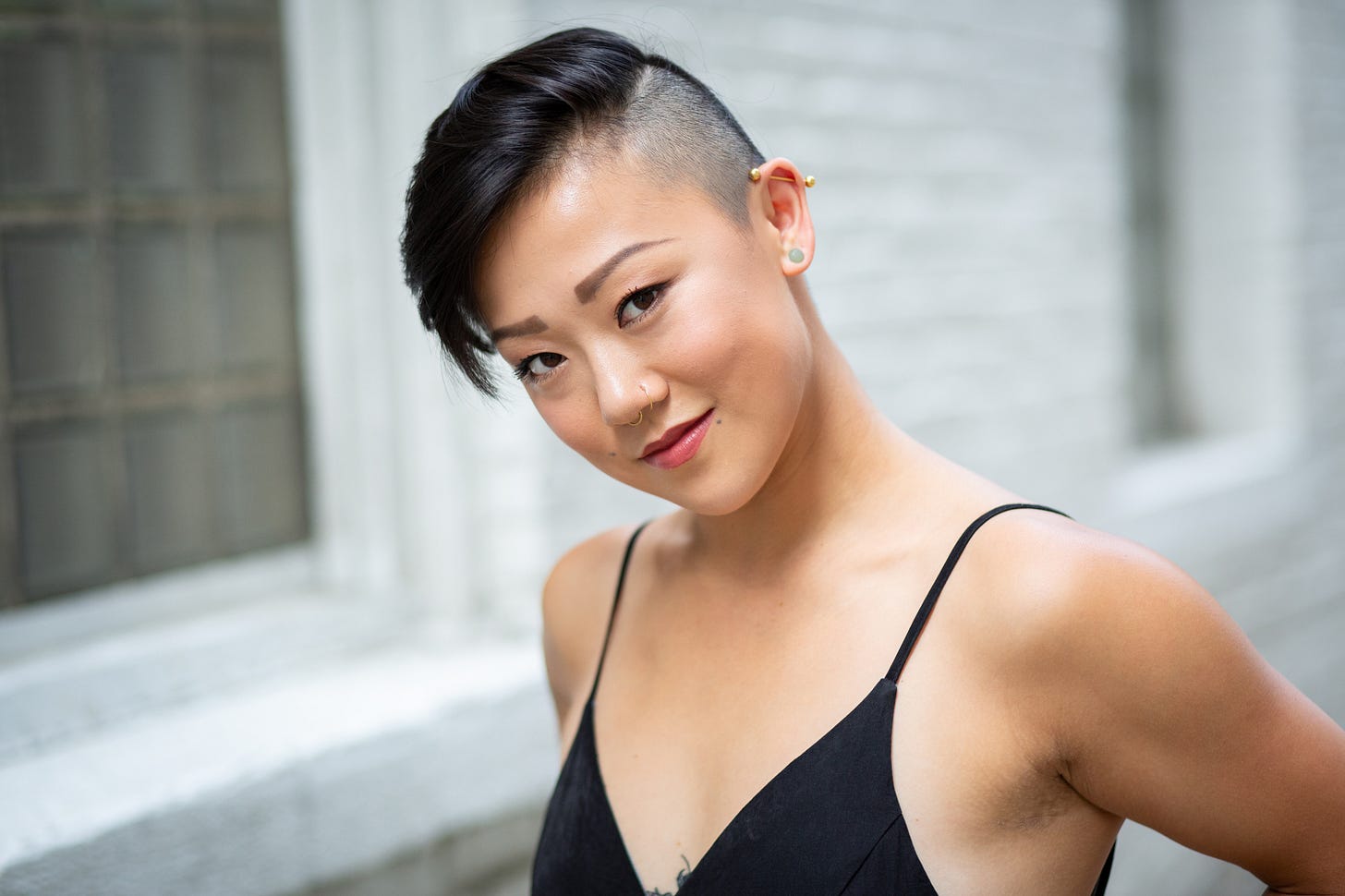 Like all of you I have been watching the snow fall and dreaming of . . . the circus. Cirque Us, founded by director Doug Stewart, is the young, dynamic circus troupe that has found its way to the Upper Valley over the past few summers. It's returning for an early spring performance at Lebanon Opera House on Sunday, March 22. But wait—if you've got kids who are curious, fidgety, brave or shy, and on school break, Cirque Us is also presenting the Upper Valley Circus Camp during the week of February 17 at the CCBA-Witherell Recreation Center in Lebanon NH. Here are the details:
UVCC offers a 1 week day camp for kids age 8 – 18 who want to explore the Circus Arts. Our program is designed to introduce kids of all abilities to a variety of circus skills while also increasing their confidence, strength, flexibility, individual talents, team building and social skills.  

Kids can try their hand at all the circus skills including juggling, unicycle, fabric, lyra, trapeze, rolling globe, pie throwing, water spitting, rola-bola, acrobatics, human pyramids, clowning & more!  

To register visit, www.UVcircus.com
RagTag, the upcoming performance at the Lebanon Opera House, is a rewritten, fine-tuned version of last summer's program at the Barrette Center in White River Junction VT. Its creator says it's a ". . . group of threadbare, yarn-spinning characters . . . You'll be entwined with our group of mismatched artists as they stitch together a tapestry of talents. This show features high-flying, knot-tying, gravity defying aerialists, loopy jugglers, musicians that pull at your heart strings, and comedy that will leave you in stitches. Can these six ragamuffins find a common thread, or will they fall apart at the seams? Join us as we tell tales of support, fear, friendship, and the connections which inevitably interweave themselves in our lives."
Rena Dimes, (photo, top) a stunningly talented contortionist and aerialist who has been with the company since 2017, returns with veteran Nina Gershy (who will also be coaching the kids' circus camp.) Cirque Us performer Justin Durham will be returning to the Cirque Us stage after missing the 2019 tour. And three brand new Cirque Us performers will join the cast: Logan Kerr of the Bindlestiff Family Circus, Mariah Fraker of Circus Smirkus Camp and Pher Gleason.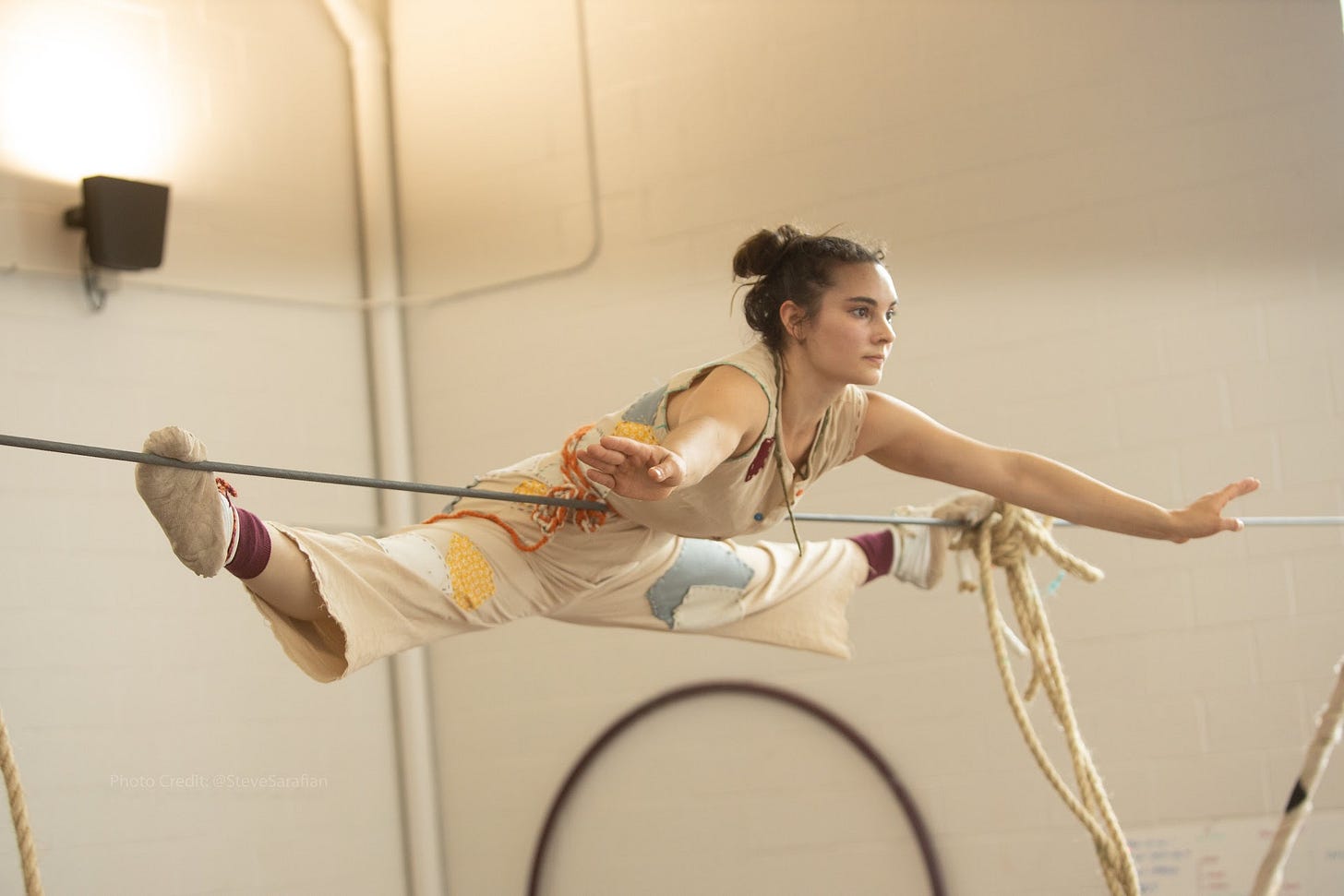 Tickets for RagTag are available now through Lebanon Opera House (click here). Going on foot? See below.

The LOH Box Office has temporarily relocated to 2 West Park Street, Suite 289, Lebanon, NH. PERFORMANCES REMAIN AT THE OPERA HOUSE AS SCHEDULED.
To visit the box office, enter through glass door on the pedestrian mall between Salt hill Pub and Twice on Sundae ("Whippleplace"). Go up one level to the second floor. Suite 289 is on the left. Enter the suite and the LOH Box Office is on the right down a short hallway, door #22. For elevator access, enter through the outside door and at the end of the hall take the elevator to the second floor. Walk through the glass doors across from the elevator. The suite door is down the hall on the right.

(Photos, Rena Dimes, top, and above, Sorrell Nielsen from Temple, NH in a previous performance. Photo of Nielsen by Steve Sarafian, photos courtesy of Doug Stewart and Cirque Us)
———————-
This is Artful. I write about arts and culture in the Upper Valley. If you like what you're reading, please sign up (if you have not already done so) to receive future posts right in your inbox. And please, share with your friends by hitting the blue button. Thank you.