Cole Cemetery. Lebanon. Taphophile.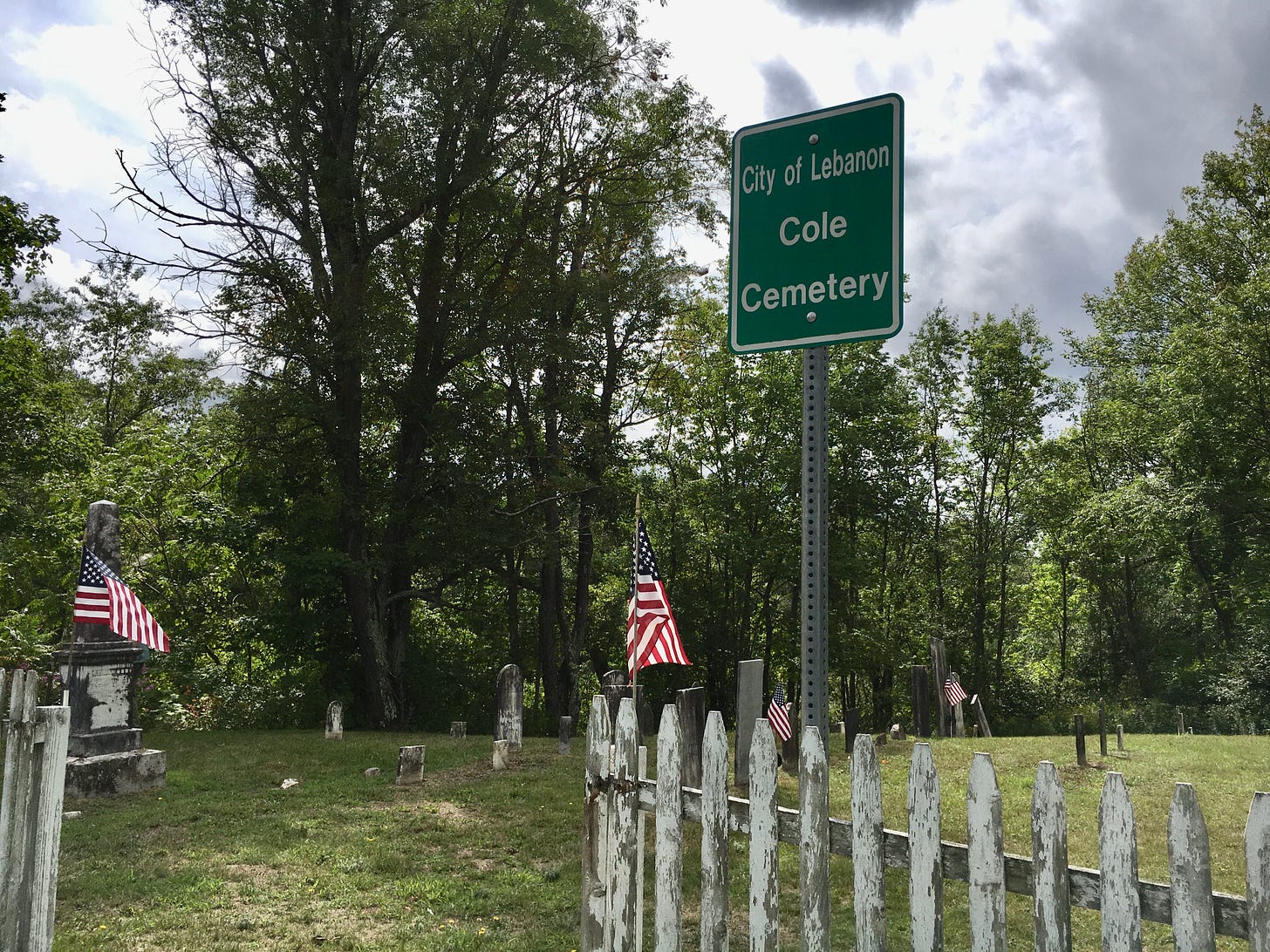 I am a lover of old cemeteries, and I'm not alone. But I didn't know there was a term for people like me. Apparently, I am a taphophile.
taphophile. Noun. (plural taphophiles) A person who is interested in cemeteries, funerals and gravestones.

A less elegant term is "tombstone tourist," also the title of a 2003 book by Scott Stanton about the graves of famous musicians. The "tourist" part bothers me as it brings to mind those folks who travel to solemn historic sites merely to take grinning selfies. No respect.

My town, Lebanon NH, has eight municipal cemeteries. I have regularly visited the one on School Street, and recently wrote about Glenwood and the return of its fountain. Last week, I discovered Cole Cemetery on Great Brook Road, out toward Meriden. If you're looking for an immensely peaceful, traditional country cemetery bursting with some hidden-in-plain sight history, this is it.

It's a little bigger than a postage stamp, holding approximately 60 graves, bunched together in family plots. Many of the stones are difficult if not impossible to read, but the names Hough, Ticknor, Wood, and Kimball keep showing themselves. (For a complete list of burials, click here.) According to Fran Hanchett, Lebanon's new city historian, Cole, originally called The South Cemetery, is one of the oldest. Thanks to the efforts of Hanchett, the new cemetery sexton Patrick McCarthy, and a handful of others, Cole Cemetery has just been spruced up, with sagging gravestones righted and five still waiting for needed repair.
One ancient stone bears the name of David Hough, still readable with just the barest of squints. Hough was born in 1753, in what was then known as Norwich, Connecticut Colony, British America, which means he would have been a young man in 1776, the year of the signing of the Declaration of Independence. (Think of John Adams and my umpteenth great uncle, John Hancock, pens poised.) In fact, Hough married Abigail Huntingdon in 1775, just a few months into the Revolutionary War. The flag on his grave indicates he was a soldier, which Hanchett confirmed. He moved to Lebanon, NH in 1778, joining the area's earliest settlers, including Eleazar Wheelock, who had founded Dartmouth College just eight years earlier.

David Hough became a farmer and politician, and a member of the Federalist Party, which if you remember either your history or your Broadway theater, was the party of Alexander Hamilton. The state legislature claimed Hough for a few years, and he went on to serve in the US House of Representatives from 1803 to 1807. He and Abigail, who is also interred in Cole Cemetery, raised ten children.

Fran Hanchett supplied another historical tidbit, about Vermont architect, Ammi BurnhamYoung, who went on to become the Supervising Architect of the US Treasury in 1852, and designed many federal buildings and post offices. Several of Young's buildings played a part during the Civil War, including his Virginia Customs House in Richmond "that withstood the raging battle blazes to hold the trial where Jefferson Davis was eventually indicted on charges of treason." (Read more here.) Young's first wife, Polly Hough Young, is buried in Lebanon's Cole Cemetery.
———————————
You're reading Artful, a blog about arts and culture in the Upper Valley. Please subscribe (still free) to receive an email notice of each new post, so that you don't have to comb through the internet and social media to find me. And please share with your friends.