Dartmouth Coach To Resume Service, Elixir Restaurant Reopens
And what's up at The Baited Hook and the Etna General Store?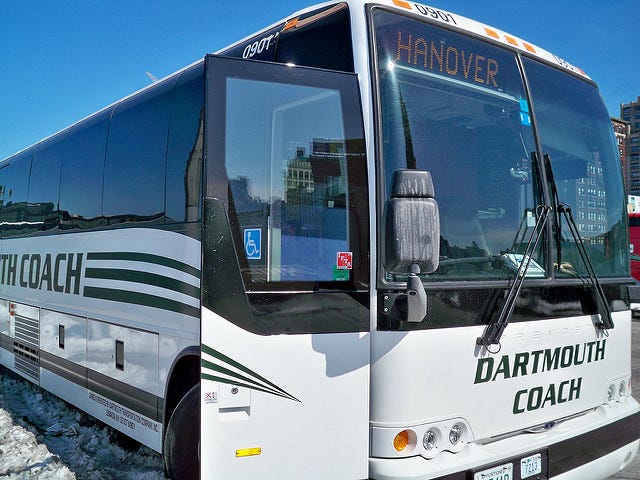 Dartmouth Coach will resume service from the Upper Valley to both New York City and Boston beginning on August 16. For now, the New York City routes are limited to one bus each way twice a week, on Fridays and Sundays. Boston service will begin with 6 trips daily. See the Coach website for schedules and information about safety measures being taken in light of the Covid-19 pandemic.
Elixir Restaurant in White River Junction, VT—among the finest of dining destinations in the UV—has been dormant since the State of Vermont's spring shutdown order. It reopens Thursday, August 6, for dinner (inside though limited-capacity seating) and takeout. It plans to serve dinner on Wednesdays through Saturdays thereafter from 5:00 to 8:00 pm. More info is available on Elixir's Facebook page.
A sign outside of the Etna General Store has bad news and good news. The store had been for sale and is now closed. But the sign also cryptically states "Reopening August 10." Hmmm . . .
Coming soon(ish): Patty and Chris Carroll and family have handed off to the Beatties, who plan to reopen The Baited Hook at Mascoma Lake. The new owners are introducing themselves and their team on the restaurant's Facebook page. Their website sports their spiffy new logo and says The Baited Hook is a "Relaxed family lakeside restaurant that tastes like every good memory you've ever had."
——————————-
You're reading Artful, a blog/newsletter about arts and culture in the Upper Valley. Keep me company by signing up and sharing this post with friends.