Daybreak, From The Inside
A conversation with Rob Gurwitt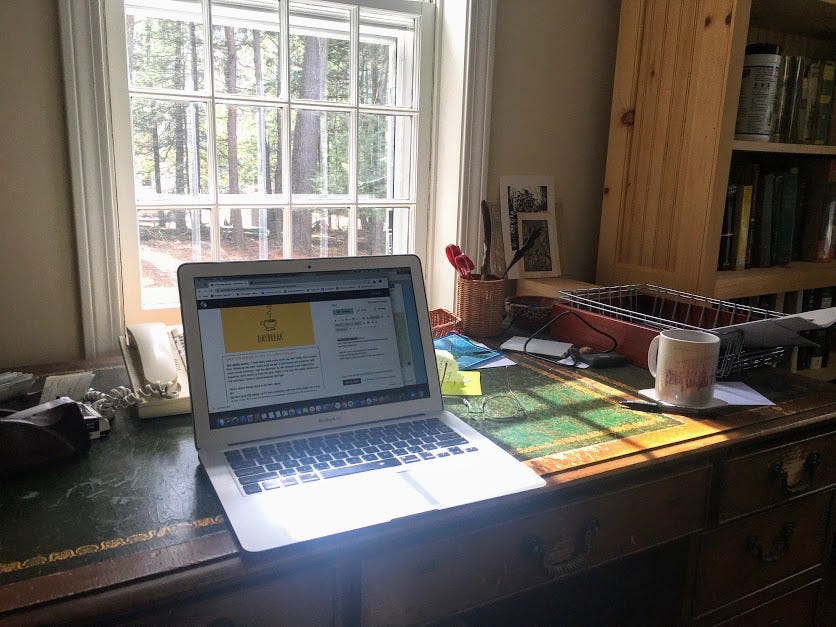 Mornings at my house seem to be coming earlier. It's both the season and the sleeplessness. My husband and I sip sludgy espresso, watch the birds outside at the feeders and poke at our iPads. Then one of us begins a conversation with this: "Rob says . . ."
That's Rob Gurwitt, author and publisher of Daybreak, the Upper Valley's early morning newsletter that's been landing in subscribers' inboxes every Monday through Friday for the past year. In any given post, you might find links to stories about a local school board vote, a quirky town character, a farm that's offering a CSA, the latest news from DHMC. Sometimes there is drone's eye footage of an Upper Valley nook or cranny; always there's a suggestion of where to go, what to do, or what to read.

But how does it happen? What's behind the curtain? Is Daybreak actually written in the dark? Here's my interview with Rob, professional journalist and my former colleague at the now-shuttered DailyUV.com. As you can see, as is true for all of us, the coronavirus pandemic has brought changes.

What time do you get up? And what is the process like every morning?
Actually, I start putting Daybreak together the day before, checking the weather forecast, looking for news stories or other things that might make for good items, and writing them up. Before the pandemic, I could usually do that in a couple of hours late in the day. Now, it takes longer than that. But it's worth it, because when I get up at about 4:30 (though this week, it's more like 5), I can just do a scan of what's come in overnight, add those items, and get the newsletter out in an hour and a half or so. 
What made you decide to start each newsletter with the weather? 
It's a funny thing. It wasn't really calculated. I just felt that I like knowing the weather first thing, and that whatever else readers might be interested in, that's one thing that ties everyone together. A lot of people like that. A decent number just ignore the weather, because they have their own habits for checking on it. And a few people actively dislike it (one guy even unsubscribed because of it). But I figure it's like everything else: Just skip it if you don't want it.
Say that a typical Daybreak newsletter has 10 to 12 stories. How many have you read before whittling down? 
Well, there's pre-pandemic and now. I used to try to keep it to 14 stories, tops, plus 3-5 events (feels like so long ago that there were events to choose from, doesn't it?). I'd probably read through double that number. Often, a headline would draw me, but I'd discover the article was either so poorly written or so disjointed that I didn't want to link to it. On the other hand, I also discovered early on that behind headlines I was tempted to skip over sometimes lay really good stories. So I tried to read as much as I could without going crazy. These days, there are no events, but there are lots more items, and if I think it's going to be helpful or interesting to readers, I just stick it in.
Why does Daybreak work?
Every reader brings her, his, or their own tastes to it, so I'm a little reluctant to generalize. But from what people tell me, I think it's that we all want straightforward, useful information in a friendly voice that helps us feel connected to the community around us and doesn't waste our time. 
We know what Daybreak does for your readers. What does writing and publishing Daybreak do for you?
Boy. So much. People email me every day, and I love that feeling of connection. Research keeps me on top of news and events around the Upper Valley, which I like. In this particular moment, I feel like I've got some skills that can be useful to people, and that's a good feeling. And while I have no idea how Daybreak will evolve over time, I think it's shown that there's an audience for news delivered this way, and am looking forward to being a part of whatever the Upper Valley's information ecosystem looks like down the road. 
Daybreak started how long ago, and since then, what if anything is surprising, unexpected?
I started it up at the tail end of February, 2019. So it's been a bit over a year. Readers are always interested in photos and videos, but I've been surprised by how even some of the wonkiest articles I've linked to have gotten strong readership. I was also a little surprised at the beginning by how important the tone was (and remains) to a lot of people: It's just me writing to neighbors, and that sense of connection with a real human being really matters. And over the last few weeks, the sheer growth in readership has been pretty astounding, though it's shared across the news world: newspapers report skyrocketing numbers even while the bottom's falling out of their budgets. Solid reporting and straightforward facts always matter, but never more so than now.
Coronavirus. It has altered Daybreak in terms of its content. Have there been other changes as a result of this pandemic?
 I'm working much longer, more intense hours. The email traffic has kicked up several notches. Readership has grown. And I've just convinced a friend to become an informal collaborator — he's a doc who's skilled at making sense of (and vetting) news stories and scientific articles, and will help me feel less at sea in a world of rapidly changing coronavirus information. 


(Susan again) "It's just me writing to neighbors . . ." If you're not already a subscriber, and you're looking for an informative and engaging conversation, you can subscribe to Daybreak by clicking here. It goes particularly well with your morning coffee, and you'll be smarter and better-informed before you're even out of your pajamas. And maybe you'll feel more connected to your neighbors and the world right outside your window, because, well, that's what Daybreak is for.

(Photo, top, is courtesy of Rob Gurwitt. It's the room where Daybreak happens.)
————————————
This is Artful. I am writing about arts and culture in the Upper Valley. I'd be grateful if you shared this post by hitting the blue button. You can post on social media or email it to your friends. And if you haven't already, please sign up! No spam, still free.