Dream Weaver
Vermont's own Kate Smith at Mount Vernon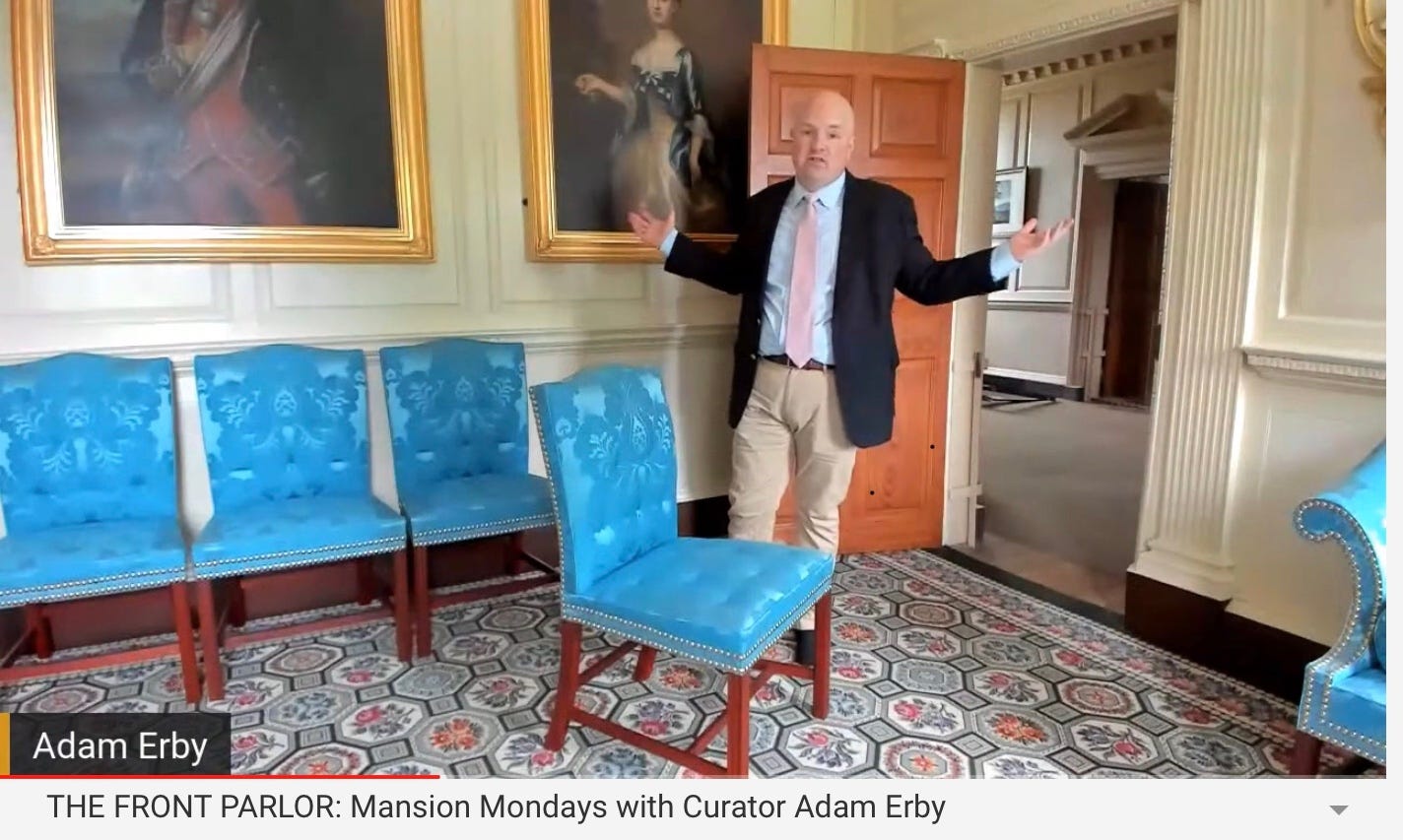 Before the word "Vermont" caught and startled my ear, I had already learned at least three things about Mount Vernon and 18th century life: Comfortable chairs are a relatively new invention, as are sofas. "Saxon Blue" was a daring and fashion-forward color for home decor in the time of George Washington. And men ruled the dining rooms, women the adjoining salons.
The abundance and variety of online content—even that of just the arts—is both welcome and overwhelming. It has sent me searching for unusual and short pieces that draw me in without requiring hours more of screen time. On Monday at noon, I happened upon the Facebook/YouTube pages of Mount Vernon, where a live-streamed Curator Adam Erby spent my lunchtime giving a rather bite-sized tour—a single room—of the former home of George Washington. Last Monday was devoted to the newly refurbished Front Parlor. Others rooms, each in their turn, will follow on successive Mondays. (Next up: 2nd floor bedchambers)

I was becoming more informed by the minute when Curator Erby turned to the reproductions of the chairs and sofa that had tantalized since the opening shot. He caressed the fabric (as well he should) and I heard him say "Kate Smith of Eaton Hill Textiles in Vermont." And I immediately hoped to be able to bring you this story within a story. Not only might you want to attach yourself to the Mount Vernon website and its future live-streams (link above), you might also want to know more about the Vermonter who helped to bring those chairs to life.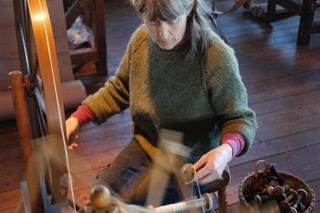 Kate Smith is no stranger to 18th century textiles. After a long apprenticeship, she founded Eaton Hill Textile Works in Marshfield, Vermont. I had a few questions for her, which she graciously answered.
1. Could you tell me how you came to be involved in the reproduction of the textiles used for the chairs and sofa in the refurbished front parlor at Mount Vernon? And what did your work consist of?
When the Marshfield School of Weaving closed in 1992, ( I had been assistant instructor there since 1987) I had to find another way to earn a living so I leapt off the cliff edge and started Eaton Hill Textile Works.
I had been influenced by Norman Kennedy - founder of MSW - since coming to the school as a student in 1979 and had always felt drawn to the textiles from the 18th century. Beyond the fabrics themselves there were also the techniques used to make them in a world where EVERYTHING was done by hand without electricity or running water. If you look at the fabrics from this period, especially those worn by royalty it will blow your mind to realize how much work went into them and how skilled these workers were. I was awed and humbled by these fabrics and vowed to keep some of those techniques alive if it meant the next 30 years of my life were spent in discovering these lost arts. The fabrics that intrigued me the most were those that were calendared or embossed - known then as harateen, vermicelli, cheney and watered moreen. After 15 years of research and experimentation I was finally able to reproduce these fabrics and offer them to museums and private collectors. The fabrics for Mount Vernon were part of this long gathered research.
2. Have you been involved in other historic work of this type, this level of prominence?
Over the years, Eaton Hill has done work for many museums and private collectors. We have work at the Metropolitan Museum of Art, the Philadelphia Museum of Art, Colonial Williamsburg, Monticello, Boston's Museum of Fine Arts , and the DAR Museum to name a few. It has been so rewarding to also work with private collectors who have perhaps one unique piece of 18th century furniture and to work with them meticulously to create the perfect reproduction fabric for their treasured piece.
3. "Saxon Blue" is such a brilliant color. How did you learn how to reproduce it?
I have been studying the dyes of the 17th & 18th c. for the past 35 years and was first contacted by Nancy Britton at the MET to try and confirm the dye receipts that were originally used to make Saxon Blue. They wanted to use these results to check the color against period fabrics to see if it was the same dye. We located the exact materials used to make this dye in the 18th c and I followed a period receipt for dyeing wool, silk and linen. When I was contacted by Adam Erby at Mount Vernon to replicate this color for a piece of fabric - cited in an invoice to George Washington in the 1700s - I was able to use those results to match the color that they needed.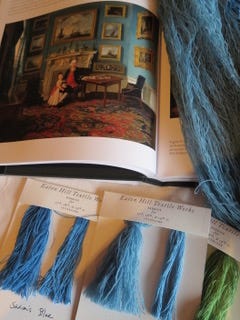 For a closer look at Kate Smith and her work, click here for a short video on the Eaton Hill website, featuring her as one artist in a video series, The Makers. At the video's end, Smith is contemplating who will follow in her footsteps, claiming she is still looking for "the one" or "the few." Asked today whether she had as yet found him/her or them, she responded:
In some ways, yes, but since that video was made I have come to realize that instead of one person taking over my life work it will be many. I have some students who are interested in the dyeing aspect of my research, others in teaching historic weaving techniques, and others in using and preserving the historic equipment and in reproducing the period fabrics. Instead of a one woman show it is now a community effort which appeals to me much more.
(Photo, top, is a screenshot from YouTube video. Other photos are courtesy of Kate Smith/Eaton Hill Textile Works. The Marshfield School of Weaving, referenced in this story, reopened in 2007 and serves approximately 100 students each year. Please share this post with those you love.)

——————————————————-
Susan B. Apel is a freelance writer whose work has appeared in various online and print publications such as the Fredericksburg Literary and Art Review, Literary Mama, and Persimmon Tree, as well as Art New England, Boston's The Arts Fuse, and Image Magazine. Her blog, Artful, in which she writes about the arts in the Upper Connecticut River Valley, appears regularly at https://artful.substack.com. She is an art correspondent for The Woven Tale Press and a former legal columnist for the newspaper Vermont Woman. She lives in Lebanon, NH.