Dreaming Big
Man of La Mancha in rehearsal at the Briggs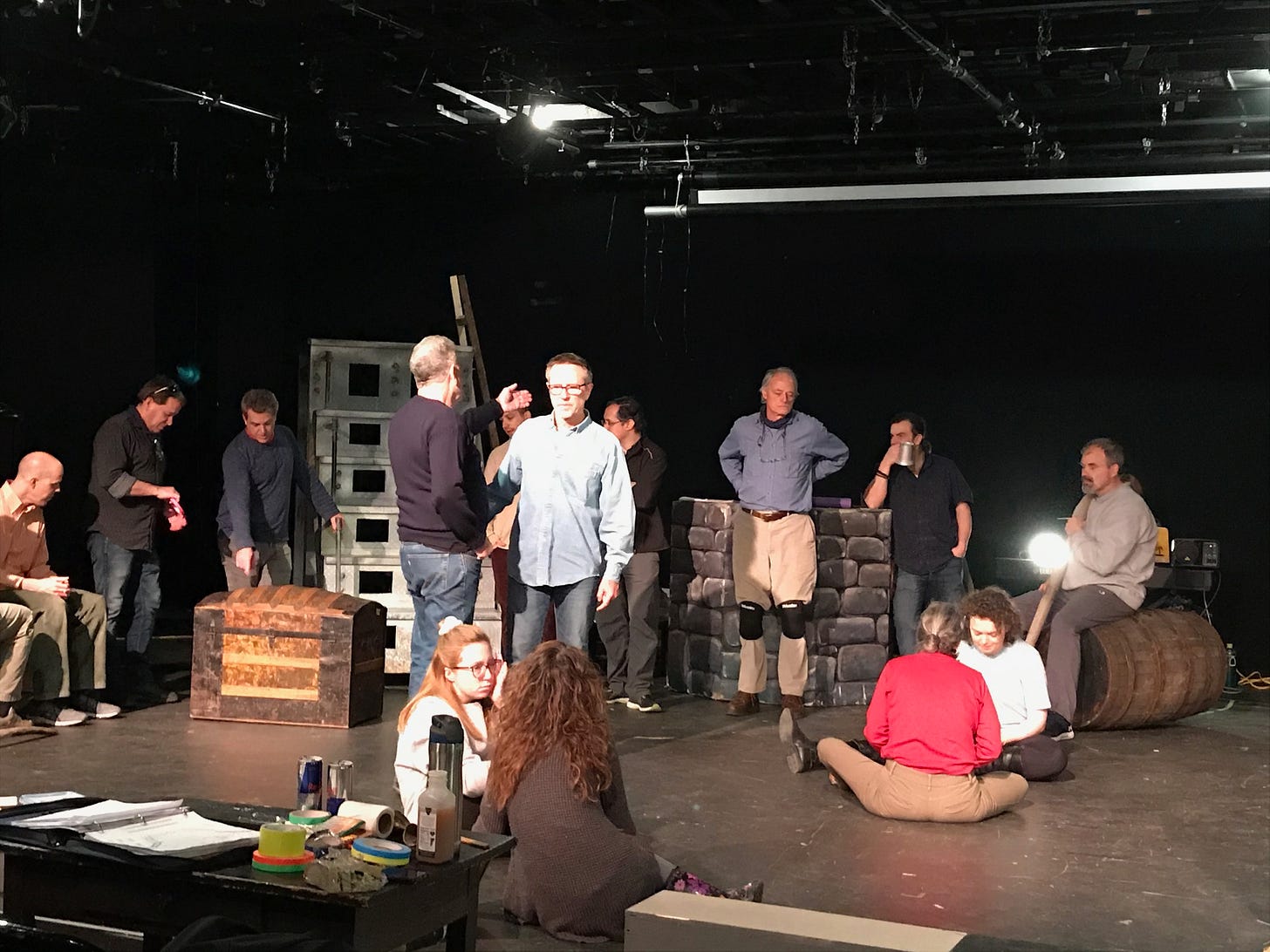 Coronavirus, dismal politics, plunging markets, mud season. What the world needs now is more dreamers who dare to dream big.

We The People, the Upper Valley's home-grown community theater with a reputation for sold-out performances (1776, Working), is looking to bring solace to our fractious times with its upcoming production of Man of La Mancha, opening on March 20 at the Briggs Opera House in White River Junction VT.
The play originated off-Broadway in 1965 and moved to Broadway three years later, where the popular Rex Harrison was rejected for the title role in favor of actor Richard Kiley, who then became a Tony Award-winning star. It is based on the novel Don Quixote by Miguel de Cervantes, written in the early 1600s and, second only to the Bible perhaps, the most popular book of all time. The character Quixote is unfazed by the misery around him except in his desire to vanquish it. He's an avid reader of heraldic tales who turns himself into a superhero. Everyone thinks he's delusional; he prefers his dreams, even (or especially) the impossible ones.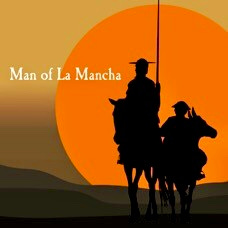 Ham Gillett from Windsor VT plays Don Quixote, a return to a role he had previously portrayed early in his acting career. He says, "This production is stirring the same deep well of emotions and blessing me with the same joys of human connection that I recall. Add to that the current state of the planet and it seems a perfect time to be celebrating the human condition and human connections with all of their flaws."

Producer Perry Allison chose this play for this season because "at a time when the world feels upside down, we need stories like Man of La Mancha more than ever. People are looking for answers, for hope, and for the will to create a brighter future. Man of La Mancha offers the hope that if we turn inward, to each other, and to our dreams, perhaps we can create a better world." Select performances will be followed by talkbacks featuring local residents who see and are helping to create a brighter future for the Upper Valley and beyond. As described by the play's producer, these four talkbacks bring the play's message close to home:

Sunday, March 22- Dreams for our Country

This discussion will be led by Maynard Goldman, a long-time political participant on both sides of the aisle.  Maynard teaches a popular course for OSHER— "The Greatest Show on Earth"—and will share some of his insights about the current political process and the upcoming election.  

Sunday, March 29- Dreams for our Region

Maureen Burford, Founder and Director of Creative Lives and Gabe Zoerheide, Executive Director of Willing Hands are working to enhance health and well-being in our region. They will have a conversation about serving a need in the community and galvanizing others to help address that need. 

Thursday, April 2- Dreams for our Youth

Man of La Mancha presents some important questions for young people. Can you be considered "crazy" and still have important ideals and goals?  What kinds of people do you choose to attach yourself to along the way? How does it feel when the people in your life see you as you really are? What does it take to pursue a dream?  This talk-back will be geared to families with teenagers. Two cast members who are educators will lead the discussion: Bill Hammond (Duke/Dr. Carrasco,) former principal of the Marion Cross School and Drama Advisor to the Footlighters at Hanover High School and Darik Velez (Sancho), a Physics and Astronomy teacher at St. Paul's School in Concord, NH.

Sunday, April 5- Dreams for White River Junction—The Birth of a Creative Economy

The transformation in White River Junction over the last several years has been truly stunning.  We'll hear from some local people who have been instrumental in revitalizing our funky little town at the junction of two rivers and two states. 

Man of La Mancha opens March 20th at the Briggs Opera House and runs for ten performances through April 5.  Richard Waterhouse directs, with musical direction by Carol Cronce, and choreography by Susan Lamontagne. For tickets and further information, including a list of all cast members, click here.
(Photo, top, is courtesy of Perry Allison. It's the cast and crew of Man of La Mancha in rehearsal, making the dream possible.)
————————————
This is Artful, a blog and newsletter about the arts and culture in the Upper Valley. If you like what you're reading, please sign up. Still free and no spam.

Most readers have found their way here though word of mouth. You can help me by sharing this post with your friends. Just hit the blue button.