Farewell, Morano Gelato
Not good news . . .
"Watching customers get excited over our
daily flavors brought me much joy, and I will forever appreciate these wonderful memories. Thank you to all."
And with that, Morgan Morano has announced the end of Morano Gelato, once named in Forbes Magazine as the best gelato in America. The gelateria on Hanover's Main Street will not be reopening.
Morano characterized her decision as "final" on the business's webpage. Among the reasons are cost-prohibitive, pandemic-era safety protocols, including restrictions on the number of customers permitted on the premises. Morano stated that her business relied on heavy foot traffic to keep it going.
Morano Gelato brought life to the southern end of Main Street. During the winters, nothing was better than the syrupy hot chocolate, or sometimes an affogato. In the summers, lines were long and we who indulged spilled out onto the terrace with our cones or cups and the authentic tiny spoons. Post- or pre-theater, or during an afternoon of errands, a small cup (always two flavors) of gelato was my not-so-guilty pleasure.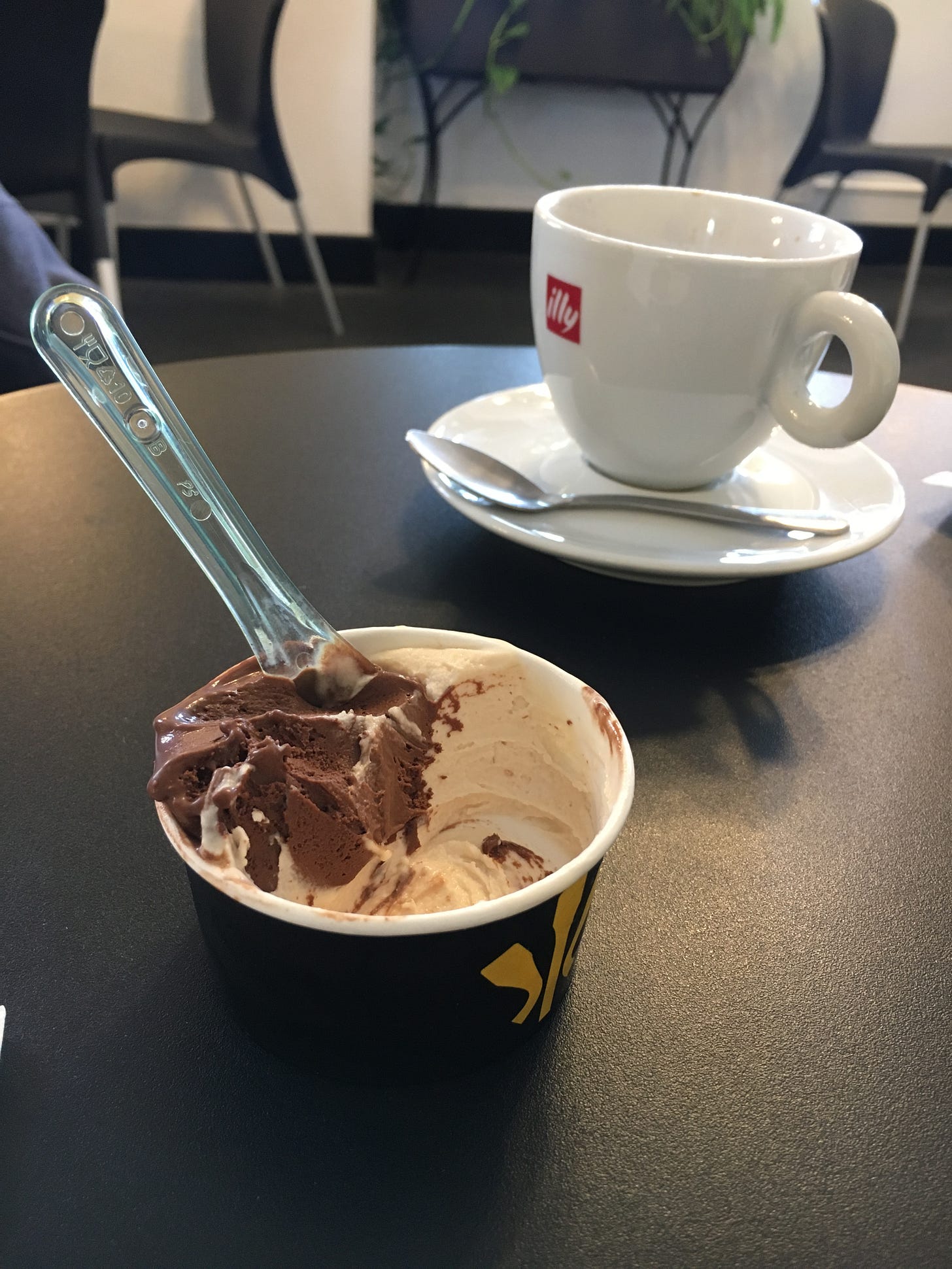 Above is a photo taken during one of my recent trips to Morano Gelato. I believe that's dark chocolate and maybe hazelnut gelato with a side of steaming espresso. I remember clearly, however, that I took the photo in order to send it as a good-natured taunt ("guess where I am") to a friend who formerly lived in Hanover and who used to meet me there for gelato and soulful conversation. (You know who you are.) I now wish—fervently—that I had opted for the larger, multi-scoop cup. Every time.
Thank you, Morgan Morano and everyone at Morano Gelato, for having brought the wonder of your gelato to the Upper Valley for the past 10 years. We will miss you. Summer will not be the same, and Main Street will be the poorer for your absence.

————————————
You're reading Artful, a blog about arts and culture in the Upper Valley. Please sign up, and share this post with your friends. Much appreciated.