Discover more from Artful
Arts and culture in the Upper Valley
Over 2,000 subscribers
For I Was Hungry . . .
A food pantry in downtown WRJ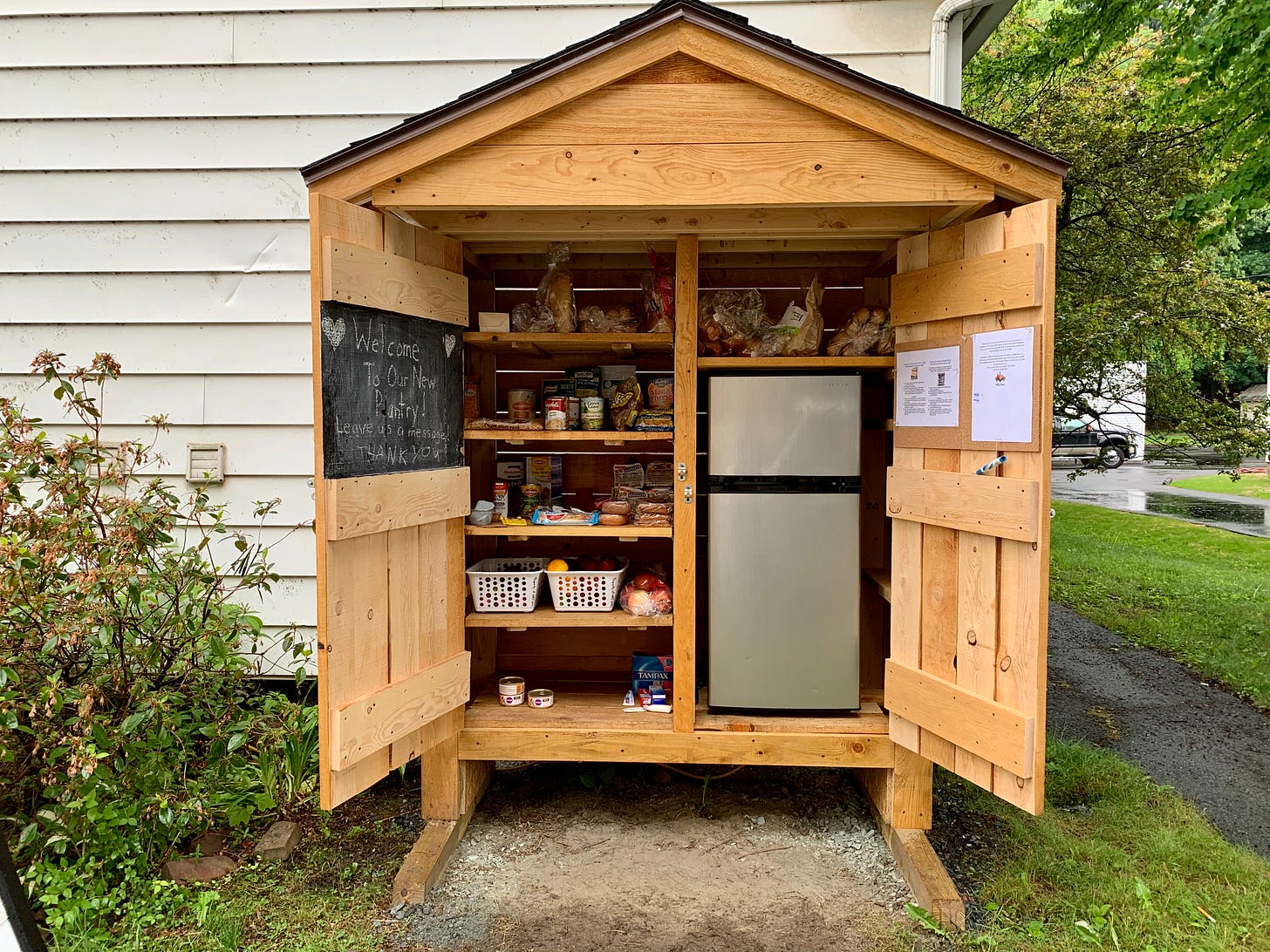 Hannah Cerasoli worried that her neighbors might be hungry. So she did something about it. With a little help from her friends and the White River Junction United Methodist Church, she created a local, free-of-charge food pantry. It started on March 20, when Cerasoli placed a few covered bins of food in the church's driveway with a sign that read "Free Food for All." So was born the Sharing and Caring Food Program, of which Cerasoli is now the director, or as she puts it " . . . the needle in everyone's side" who made a plan and "put it into action."
I caught up with Hannah Cerasoli—lifelong church member and White River Junction resident (she is from one of the Town of Hartford's founding families), paraprofessional at the White River School, and singer of women's barbershop with the Valley Chords—to chat with her about this enterprise. As you can see from the photos, the pantry recently morphed from a handful of coolers into a more permanent structure (thanks to Cover Home Repair and Wright's Sawmill), complete with refrigerator.

Who can use the program? Any limitations regarding income, town or state residency, etc? And do you anticipate that the program will continue until . . .? 

Our program is unique in that absolutely anyone in need can access our food at anytime of the day in any weather. This can range from the elderly person living down the street to the single mom just trying to make ends meet to the homeless person living in a tent around the corner. Our pantry is not "manned," so most of the time there is no one there overseeing it. We use the honor system: you decide your own need and take only what you need. We truly hope to continue this program as permanently as we can based on the community need and support.


The Haven—with a substantial food pantry—is located nearby. What does your program offer that is different from that of the Haven?
Yes, the Upper Valley Haven is located not too far away from us and they are absolutely wonderful! We are so fortunate to have a resource like that in our community. As I mentioned before, the fact that our pantry is open 24/7 providing nonperishable food items, perishable food items, pet food, and personal care items as we can, sets us apart from the Haven. Many of the downtown residents are not easily able to access places like the Haven for many different reasons (mobility, no car, etc). Our location is perfect for those people. 
We also pride ourselves on creating an anonymous system. . . At our pantry, [our patrons] don't have to ask anyone, they can just help themselves to what they need. . . We are a supplemental, free food resource so we cannot support anyone alone. However, for the person that just needs something small, we are perfect.
I read that you had some thefts of items. What are your thoughts about that? Did you ever consider closing the program as a result?
Ah yes, the thefts and vandalism. That has been extremely frustrating, as I think anyone would feel. When the first cooler was stolen, many community members said they felt like it must have been someone who really needed it. That definitely may have been the case, but at some point there has to be a line. To find our totes vandalized, things stolen, trash left in and around the totes, it is disheartening. . . . It definitely crossed my mind "at what point do people not really want this?" But then I would receive a sign showing me that there are more kind, generous, giving people in the world and we should continue with this outreach. I hope going forward in the new pantry to see respect. It seems like not so much to ask.


Where does the food that you offer come from?

This is a great question! Initially, I went out and bought all the nonperishable food. I was able to arrange some fantastic community partners, as well. Stern's Quality Produce has been a huge supporter of our program and we are so grateful to them. We never thought that we would be able to consistently provide fresh, quality produce . . . The Hartford Community Coalition (HCC) does so much for our community, but the last couple months has been diligently accepting and distributing the extra "leftover" meals from the school's lunch distribution program. We partnered with them to access some of those extra meals. . . Another amazing partner has been Jake's Market & Deli. The Hartford location of Jake's generously donates the food they must pull from their shelves every single day. This ranges from deli sandwiches to prepared food/soups/chili to baked goods.

We also receive frequent donations from the residents of Harvest Hill Assisted Living Community in Lebanon, NH. Due to COVID19, all residents have to eat within their apartments. Unfortunately, this also increases their food waste. The wonderful staff and residents work together to clean out their refrigerators/cupboards to pass onto others in need. . . . All of these local businesses have been incredibly generous! We would not be where we are today without their support. I would also like to give a huge shoutout to the Lebanon Church of Jesus Christ of Latter-day Saints, who reached out offering to hold a food drive for us. Their amazing youth group was the "hands" of this food drive. They incredibly donated over 1,900 items to us on Sunday, May 31.
I would be remiss if I did not mention the community members. They have stepped up for us. I see donations just about daily from them in the pantry. I am constantly humbled by their generosity and kindness. We are able to grow and continue because of them.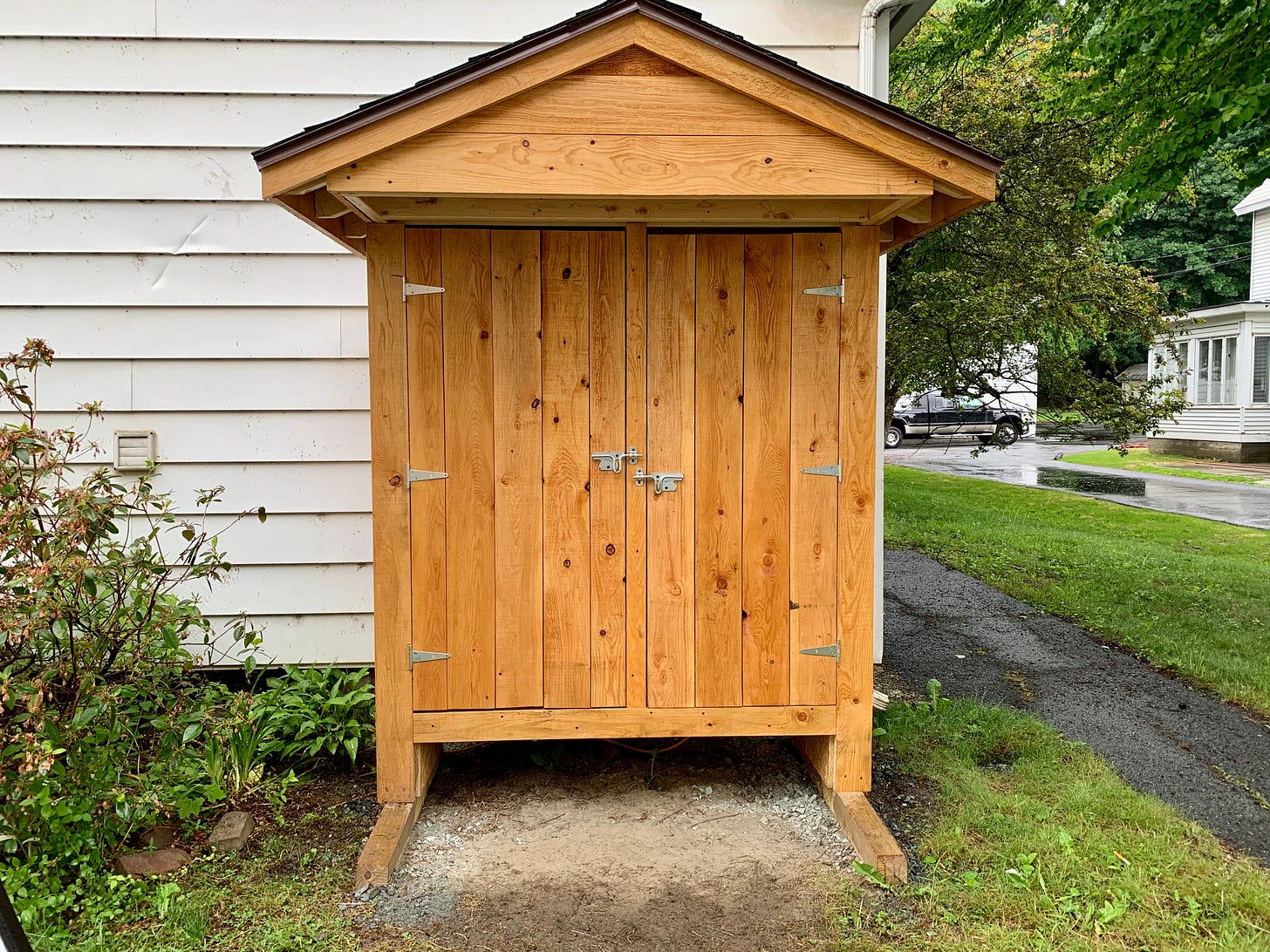 Cerasoli reports that the pantry's much needed refrigerator was made possible through a grant from the Freedge organization, and that the pantry has just linked up with Willing Hands. The new structure will soon have a donated sign that is currently a work in progress at Old Glory Flag Company.

The Sharing and Caring Food Pantry is located at 106 Gates Street, White River Junction VT. If you need food, feel free to take what you need. If you wish to donate food, drive right up and place your items on the shelves. For larger donations, it is best to contact Hannah Cerasoli through the church Facebook page, by email (hccelie@gmail.com), or by calling the church's office at 802.295.7091. Monetary donations are welcomed via mail slot at the end of the church driveway or through the mail, addressed to White River Junction UMC, Sharing and Caring Food Program, 106 Gates Street, White River Junction VT 05001.
(Matthew 25:35 New International Version "For I was hungry and you gave me something to eat . . ." Photos by Hannah Cerasoli)
————————————————
You are reading Artful, a blog about arts and culture in the Upper Valley. Please sign up if you haven't already, and share this post with your friends. For previously posts, you may want to scroll down in the online version to see a few (or more) that readers particularly liked.