From the Upper Valley to . . . Yes, Stonehenge
What's on. Stonehenge. Not kidding.

It's a frenzy of activity out there. Restaurants are reopening, there are cars on the road and people in the streets and in the sidewalk cafes of our ever-pivoting universe. But the pandemic is still here, and gatherings of all kinds—birthday parties, concerts, play readings—are still abundant on Zoom or the equivalent. Here's my quirky curated list of activities—real world and on screen—for the next few weeks.

The Forest Canopy Walk at VINS in Quechee VT: Opening June 15. Outdoor activities only, but that includes that stunning stroll amidst the trees. As VINS suggests: "Elevate your perspective." Click on the link for more info.
MudZoom returns to the AVA Gallery: June 11 at 7:00 pm. (Zoom link will appear on AVA's website the day of.) It's the sophomore production of MudZoom, formerly known as the Mudroom, a quarterly live storytelling event of 8 years duration at AVA Gallery. Its first Zoom event in April brought in 180 households. The theme for the current MudZoom is what we in the UV have been doing all along: "Pulling Together." Free, with donation suggested.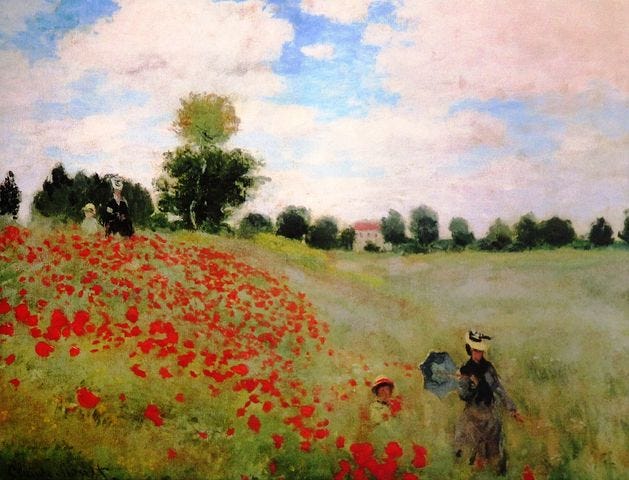 Hood Museum Dishes the Impressionists: June 17, 12:30 to 1:15 pm. The Hood's midday conversations are among my favorite lunchtime companions. This one is "A Virtual Conversation: Impressionist Paintings Everyone Should Know." As a young person, Impressionists were the first artists I learned to identify, and I visit them like old friends as often as I can, especially at Paris's Musee d'Orsay. Above is Claude Monet's Poppy Field, Near Argenteuil. Which ones has the Hood chosen? Free of charge, sign up needed.

Start searching for those library books. I have found mine. Lebanon Library's book drops opened on June 3. Among the many online services it continues to offer are one-on-one virtual tech tutors. Can't figure out how to get on Facebook, move a photo from a phone to a laptop, or any other task involving electronic devices that you think should be simple but just isn't no matter how many friends you consult? Librarians know. Norwich Library is gearing up for curbside pickup AND is hosting a 3-session conversation on Frederick Douglass beginning June 15. In Hanover, Howe Library plans for curbside service in early July. Book drops reopen on June 15.
And . . . Stonehenge. (!) Transport yourself from the Upper Valley to one of the world's sacred sights on its most important day—the summer solstice. "JUST BECAUSE STONEHENGE is thousands of years old doesn't mean it can't adapt to the virtual age," says its latest press release. In normal, non-pandemic years, thousands gathered at Stonehenge on June 21 to experience the sunrise. The tradition continues, but "only" via livestream. It's more than good enough for me. Click on the link above for further info.
——————————-
You are reading Artful, a blog about arts and culture in the Upper Valley. Please sign up if you haven't already, and share this post with your friends. For previously posts, you may want to scroll down in the online version to see a few (or more) that readers particularly liked.