Going out?
Me too. Maybe. I don't know . . .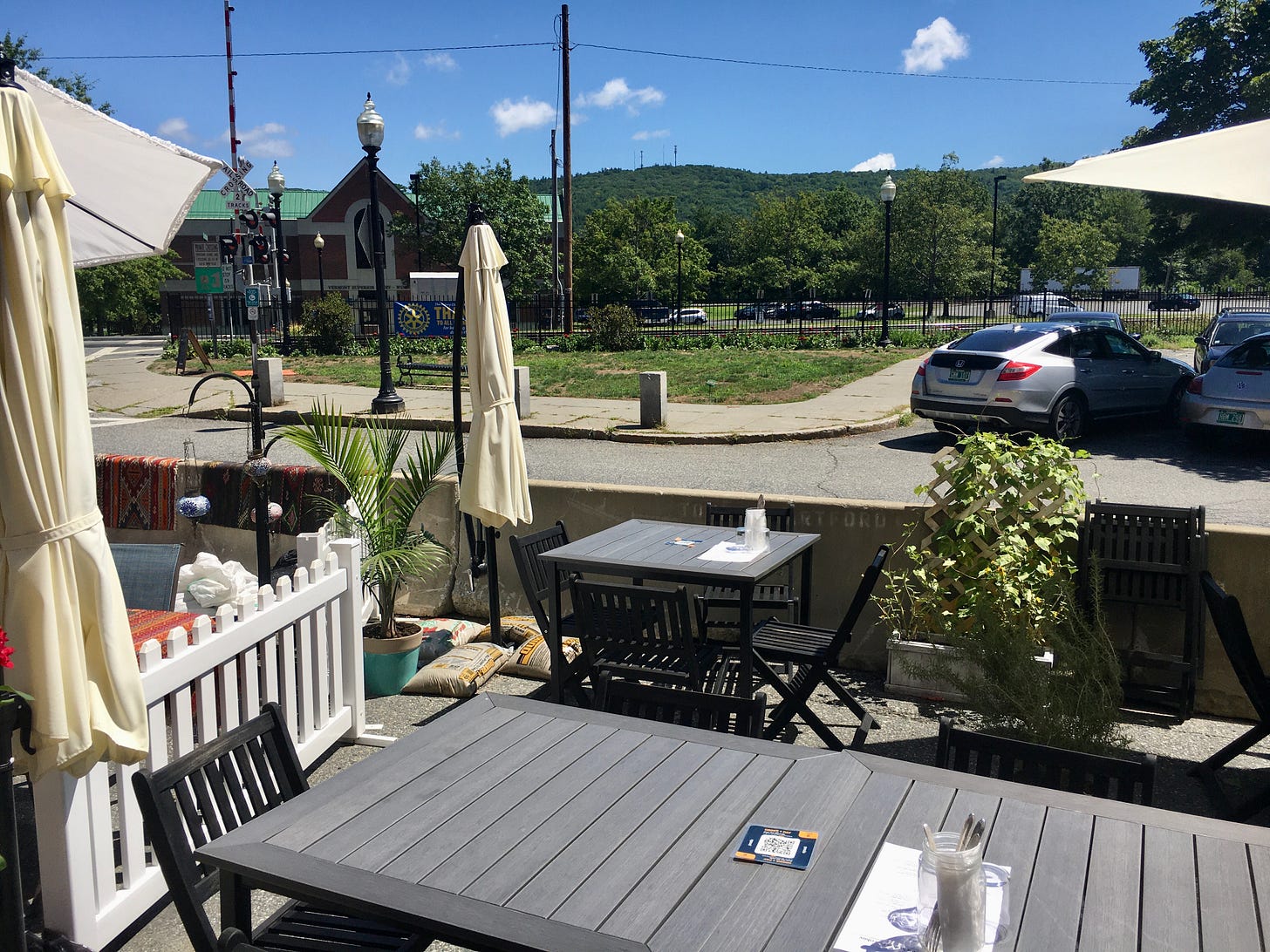 Are you going out, issuing invitations, taking socially-distanced walks with friends? Or are you staying home, dodging invitations, walking (masked, maybe) as a form of solo meditation? In the early days of this lockdown, my husband and I were strict with ourselves and because of that, all was a little easier: stay home, go nowhere unless absolutely necessary to maintain life or health, check in with friends by learning to Zoom. Now, well . . . A rare coffee date here, a physical therapy appointment there, a rendezvous with friends looking out at the lake from rocking chairs on an old-fashioned, very spacious porch. We're making up the rules as we go, but our rules are not clear even to ourselves .
We were early adopters of take-out as a way to support local restaurants, then gingerly, selectively, started to slip into the sidewalk seating that has sprung up throughout the Upper Valley. Very European bistro-like, which along with a robust imagination might help to melt the cold thought that travel anywhere in the near to mid-future just ain't happening.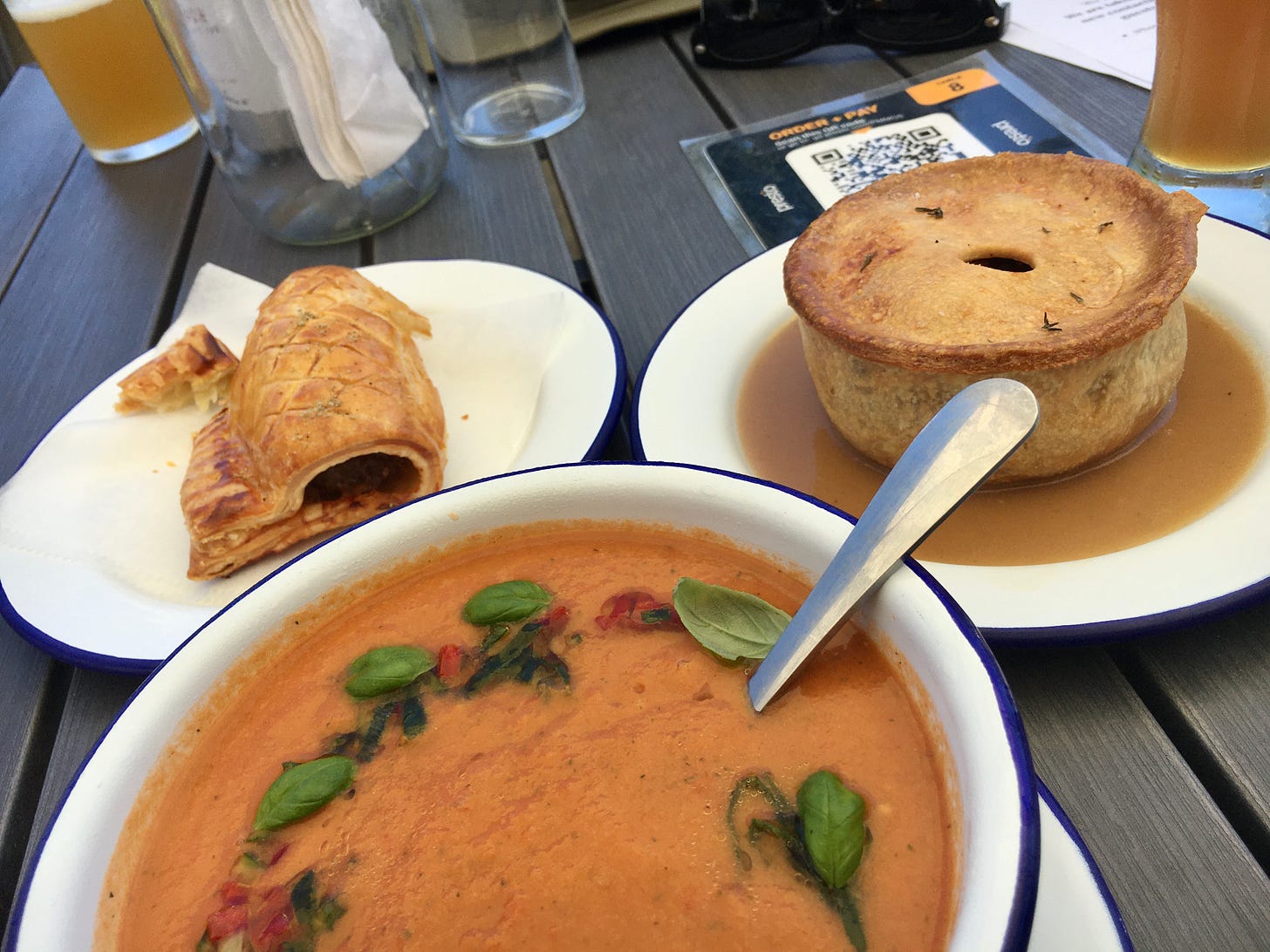 Today we lunched in downtown White River Junction at Piecemeal Pies, where their British-style savory pies are constructed of sturdy, leather-looking pastry that turns out to be tender and flaky. The rabbit cider gravy—on just about anything—is always worth the extra charge. Order that dressed-up gazpacho (above), because it's summer. If you give Piecemeal a try, you might improve your digital tech skills by hovering your phone over the table to upload the menu. You can order directly from your screen and then pay the bill. Virtually contactless; if you need help, servers are standing by.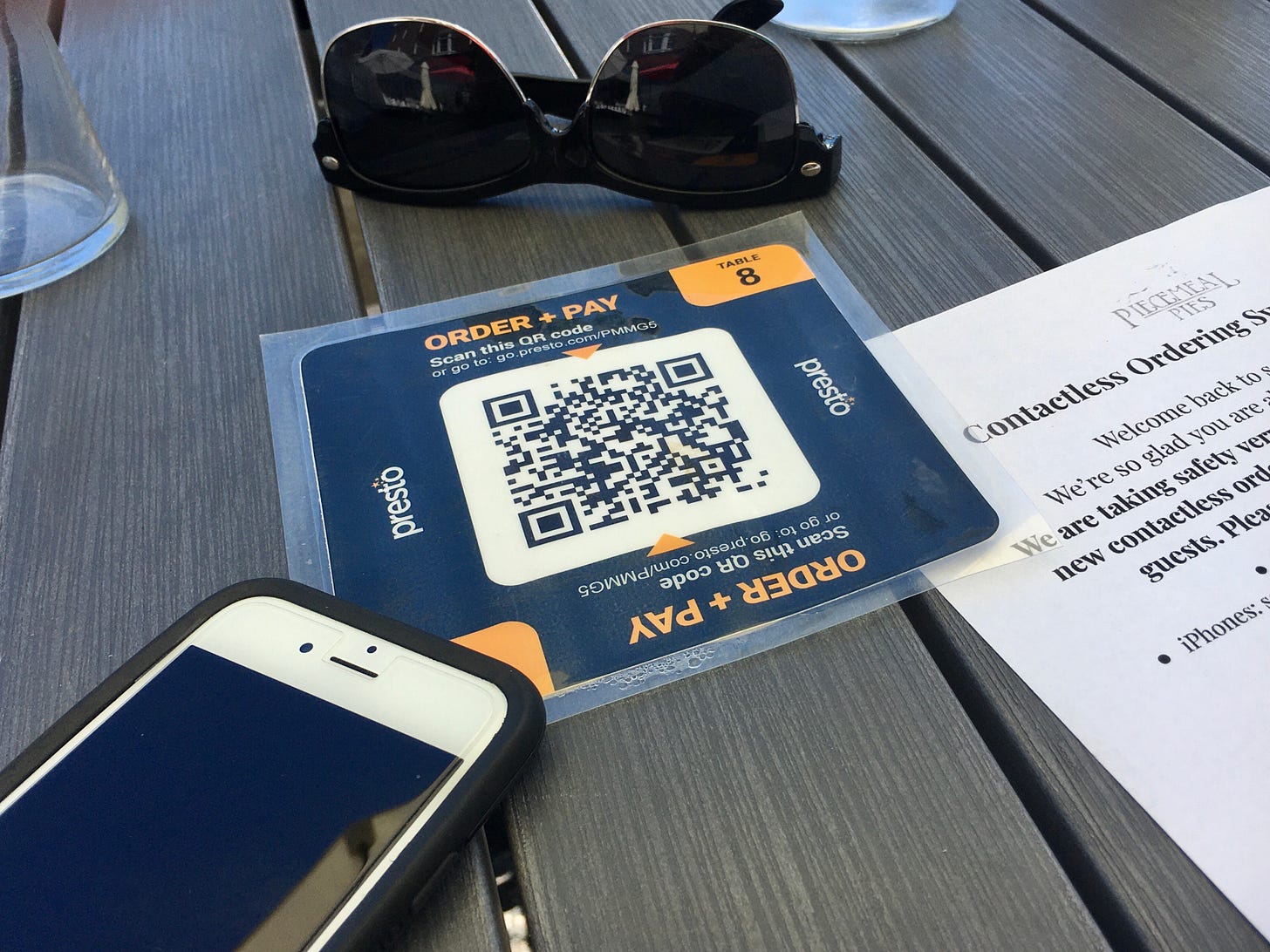 We marveled aloud. Who could have predicted, even six months ago, that we'd be lunching in the middle of the street on a summer afternoon, watching and listening to the train blast by? How has the experience of this pandemic been for you, I asked my husband, on a scale of 1 to 10? "8," he said, but the "8" is shaky depending on how much longer this strange new world goes on. Me too, I thought. 8. We are retired, " . . . well in body but [sometimes] considerably rumpled up in spirit,"* and missing our friends and family, but so far, we have had only inconveniences rather than real problems. Truth be told, if you ask me on a difficult day, I could also say "3." Just thinking about the components of a "3" kind of day started my spirits drifting downward, and then . . .
We witnessed two people, impossibly (it seemed) wobbling a full-sized canoe on a tiny, two-wheeled dolly, up from the river through the town traffic, tending to it as though they were coaxing a recalcitrant dog, returning the smiles of passersby, including ours. Our eyes tracked them as they portaged to the door of the Hotel Coolidge. Not something you see every day. So this particular afternoon in the era of the plague? A solid 8.5.
*from Anne of Green Gables, quoted in her latest newsletter by author Louise Penny.
——————————————
You are reading Artful, a blog about arts and culture in the Upper Valley. Please sign up if you haven't already, and share this post with your friends. For previous posts, you may want to scroll down in the online version (clicking on this post's title should take you there) to see a few (or more) that readers particularly liked.
Susan B. Apel is a freelance writer whose work has appeared in various online and print publications such as the Fredericksburg Literary and Art Review, Literary Mama, and Persimmon Tree, as well as Art New England, Boston's The Arts Fuse, and Image Magazine. Her blog, Artful, in which she writes about the arts in the Upper Connecticut River Valley, appears regularly at https://artful.substack.com. She is an art correspondent for The Woven Tale Press and a former legal columnist for the newspaper Vermont Woman. She lives in Lebanon, NH.