JAG Productions Presents Its 4th Annual Festival of New Plays
Esai's Table Moves To Off-Broadway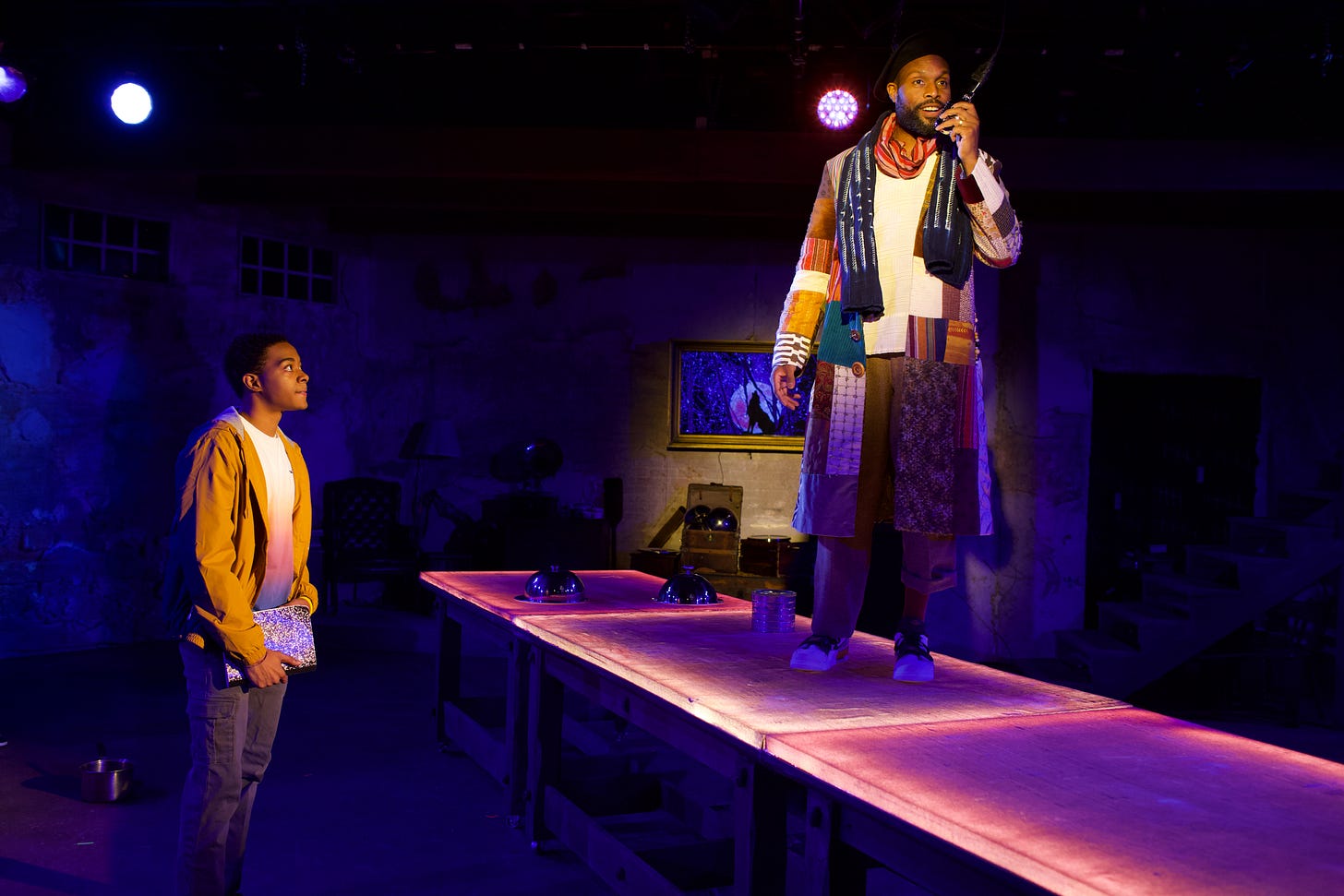 5 new works by 5 playwrights. A family magic shop facing gentrification, an interracial couple meeting the family in Port Arthur, Texas, and fear and impending parenthood, are just some of what awaits, February 7 through 9.
JAG Productions is presenting JAGfest 4.0, its 4th Annual Festival of New Plays, staged readings of new works by five playwrights-in-residence in White River Junction VT. Most readings will take place at the Briggs Opera House; the final play, Demons, has a new venue this year at the Bentley Theater in the Hopkins Center for the Arts at Dartmouth College in Hanover NH.
The theater company, named for its founder Jarvis Antonio Green, has been bringing African-American theater to the Upper Valley since 2016. In early 2019, Green took one production, Lady Day at Emerson's Bar and Grill, on the road (and the high seas) from White River Junction to the Discover Jazz Festival in Burlington VT to a Royal Caribbean cruise ship with stops in Haiti, Honduras, Belize, and Mexico. The company has won several awards and honors, including the Northeast Theatre Conference's Regional Award for Outstanding Achievement in the American Theatre.

Last fall, JAG Productions produced Esai's Table, a fully-staged world premiere, at the Briggs (photo, above, by Rob Strong) and prior to that, at a JAG-staged reading of new plays. Esai's Table has just moved on to the renowned Cherry Lane Theatre, off-Broadway in New York City, where performances will begin on March 19.
From JAG Productions' press release, here are the five plays of this year's festival:
JAGfest 4.0 | (Re)surface: A Poetics of Fish/Flesh
Written by Isaiah A. Hines
(Re)surface: A Poetics of Fish/Flesh is best understood as a kind of 'body drama'— a form of expression that incorporates poetry, prostheses, gesture, and jazz — cleaving a critical site/ space for exploring questions of blackness and being. Writing after Ntozake Shange, Isaiah draws upon her conception of the 'choreopoem' and 'a poetic imperative'. In this solo performance piece Isaiah considers the junctures, lacunae, and ambiguities that give form/texture to black queer disabled existence, thinking through the dramas of mundane life using notions of embodiment, agency, madness, speech, refusal, refuge, and unfreedom. (Re)surface functions as a living-moving cartography, attempting to map the oscillating processes of making and unmaking my Self — fleshing out the rituals of dis/embodiment thru movements that both counter-invest in the black queer body as a site of possibility and gesture toward more ethical and pleasurable modes of being in and with the world.
JAGfest 4.0 | A Curious Thing; or Superheroes K'ain't Fly
Written by Jeremy O'Brian 
Directed by Tyler English-Beckwith
Synopsis: Virgo and Aries are just past the newlywed stage when they start to reconsider their plans to become parents. As they ask the hard question they uncover deep-seated fears. A Curious Thing; or Superheroes K'ain't Fly is an animated and erratic play exploring the universal question of parenthood in a world laden with danger.
JAGfest 4.0 | The Problem with Magic, Is: 
Written by Johnny G. Lloyd 
Directed by NJ Agwuna
Synopsis: After the death of their mother, Jodie goes back home to help her brother, Clarence, run the family magic shop. But as the pressure mounts, they find themselves dealing not only with loss and new responsibility but also the forces of gentrification — and, perhaps, a malevolent snake deity called forth during a magic spell gone wrong. Will the magic shop and its owners find solid ground or will the business, the family, and the neighborhood get literally swept away by the currents of time? The Problem with Magic, Is:  is a fantastical exploration on family, gentrification, time, and what it means to be home.
JAGfest 4.0 | Cntrl+Alt(Right)Del 
Written by Sheldon Shaw
Directed by Kambi Gathesha
Synopsis: A white woman who attends The University of Texas brings her black African boyfriend home to meet her family for the first time. The woman's family, her father, uncle, and aunt (from her deceased mother's side) live and run a trailer park in Port Arthur, Texas. When the family and new boyfriend meet, there is a race and culture clash with twists and turns, and a big family secret unearthed, rehashed, and finally dealt with, sort of...
JAGfest 4.0 | Demons
Written by Keelay Gipson
Directed by Keelay Gipson
Bentley Theater, Hopkins Center for the Arts
Synopsis: When the death of The Patriarch brings a family home, they must reckon with the manifestations of grief and the haunting, sometimes otherworldly, realities that death can often bring to the surface. Demons is a magical meditation on getting older, the reality of losing your parents, inherited trauma, and that ever elusive attempt at living up to your family's idea of what your legacy will be.
Admission is $25 per performance! For more information and to buy tickets to the plays go to https://www.jagproductionsvt.com/jagfest-4-0
———————————
I write about arts and culture in the Upper Valley. If you like what you're seeing on Artful, please share with your friends by hitting the Share button. You can email, or place on your Facebook or Twitter page. Word of mouth is good, too.
Thank you!