Northern Stage Invites You To . . .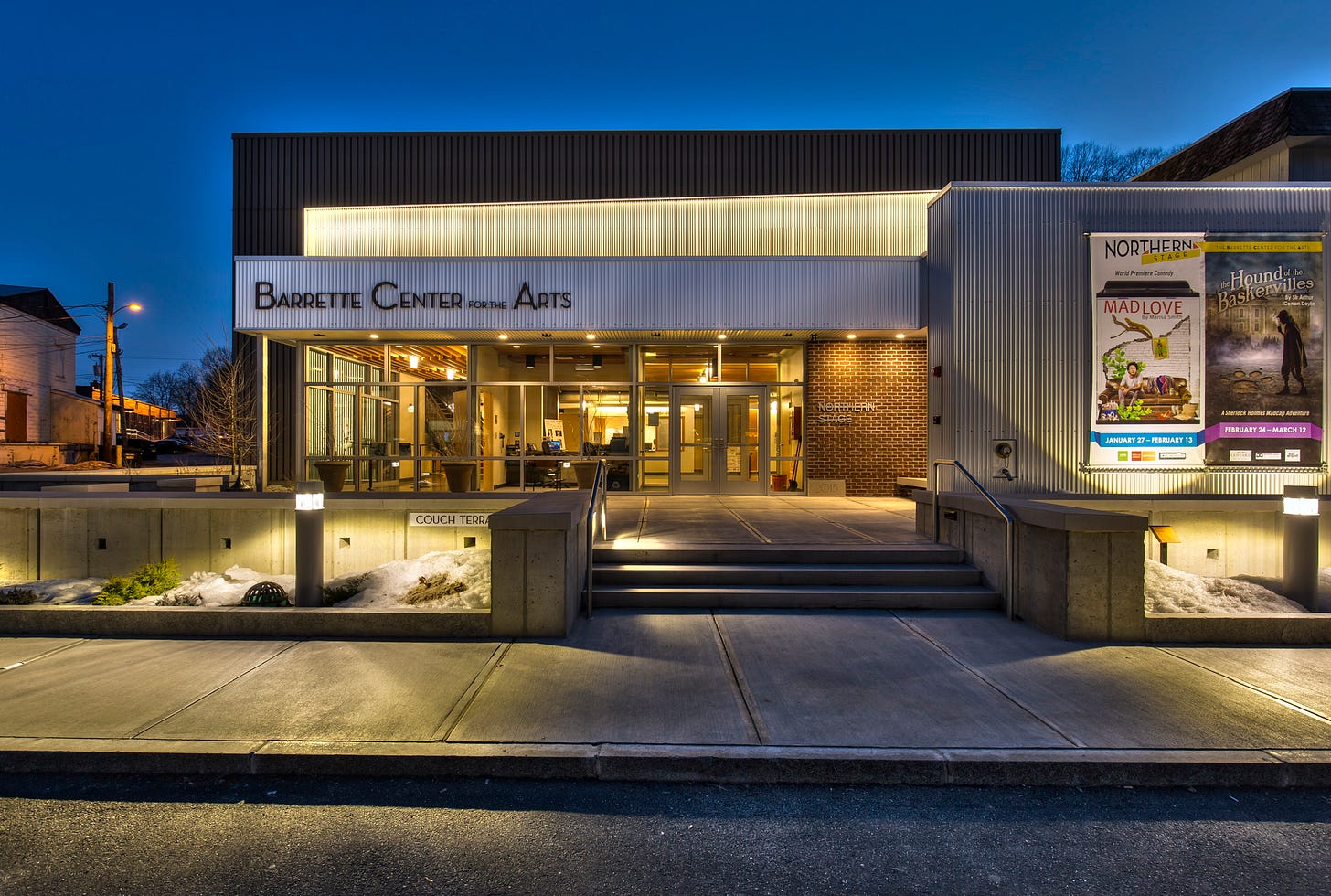 Small Town Trilogy. Because most of us live in small towns and villages, and because many of us read the listserves even before we read the day's obits. And if you are not a listserve reader, Small Town Trilogy may school you in what you've been missing.

[UPDATE: Northern Stage just decided to postpone this webcast. Emails have been sent to ticket holders. They may reschedule but at the moment there is no replacement date.]

I know. Our screens are saturated in recorded performances and our eyes may have passed bleary a long time ago. The sheer number of choices plus my hobbled attention span have been keeping me from appreciating filmed productions from Broadway and London's West End. Too many, too much, too long; my mind wanders. I have a garden to mulch or soup to stir.

But Small Town Trilogy is different. It's a web cast of three 10-minute refreshingly funny plays (The Dogwalker, Can You Hear Me Now?, and Downtown Crossing) presented together; your time commitment is a manageable half-hour. And it's live. Live presentations always crackle with the unexpected. Most importantly, playwright Elisabeth Gordon (photo, below) will wow you with her spot-on take of life in these parts. You'll think she's been living in your town and taking notes.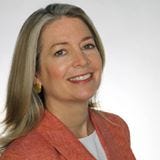 The truth is that she does live here in the Upper Valley with her husband, Gordon Clapp, and as for the notes, you've been inadvertently passing them to her with every listserve post. Small Town Trilogy was inspired by Gordon's reading of town listserves, newer-age electronic bulletin boards that purport to sell old couches or to beseech residents to look for lost dogs. But Gordon saw them as inspirational gold. According to her, from a home in Boston, " . . . I realized that I could pretty much tell what was going on in town--who was moving, what the issue of the day was--just by reading the town list serve." The Dogwalker was the first play of the trilogy, performed as a piece of pop-up theater at a meeting at the Norwich Town Hall (and later, as part of Northern Stage's Thirsty Theater). Gordon "thought of it as a way to give a little 'gift' to the town on which the play is based."
Gordon answered some questions about her work:
Q. The Dog Walker (as I remember) was very clever and funny. Are the other two plays comedies as well? And if yes, besides the humor of life in a small town, is there something else your work conveys about the experience of village life? 

A. The second and third plays are both comedies as well. I write comedies because I see a lot of humor in everyday life and because I feel more comfortable confronting issues in that format.  These include the conflict between those who embrace the "modern" world and those who want to keep things the way they are; those who embrace a more conservative approach to government and those who approach it more liberally. I have seen those politics play out in our small town, which I see as a microcosm for our nation as a whole. So I like to think that my plays speak to these larger debates.
Q. I love the 10-minute nature of the plays. What do you see as the challenge in writing very short pieces like these?

A. I am actually really comfortable writing in this format. I find that you can create a complete world and succeed in creating a story arc in ten minutes. I think the key is to get in and get out--to tell a story succinctly knowing what message you want to convey . . .
Northern Stage invites you to the live web cast of Elisabeth Gordon's Small Town Trilogy* on Friday, June 5 at 7:30 PM. This web cast is free and open to the public. To register and receive the link, please email boxoffice@northernstage.org or call (802) 296-7000. [UPDATE: Northern Stage has just decided to postpone this event. Emails have been sent to ticket holders. ]
*Featuring Irene Green, Christopher Jacobs, Danielle Cohen, Charlotte Albright, Christopher Flockton, John Griesemer, and Gordon Clapp.
————————————————
You are reading Artful, a blog about arts and culture in the Upper Valley. Please sign up if you haven't already, and share this post with your friends. For previous posts, you may want to scroll down in the online version to see a few (or more) that readers particularly liked.
Susan B. Apel is a freelance writer whose work has appeared in various online and print publications such as the Fredericksburg Literary and Art Review, Literary Mama, and Persimmon Tree, as well as Art New England, Boston's The Arts Fuse, and Image Magazine. Her blog, Artful, in which she writes about the arts in the Upper Connecticut River Valley, appears regularly at https://artful.substack.com. She is an art correspondent for The Woven Tale Press and a former legal columnist for the newspaper Vermont Woman. She lives in Lebanon, NH.