Not Another 10 "Best" List: What We're Actually Reading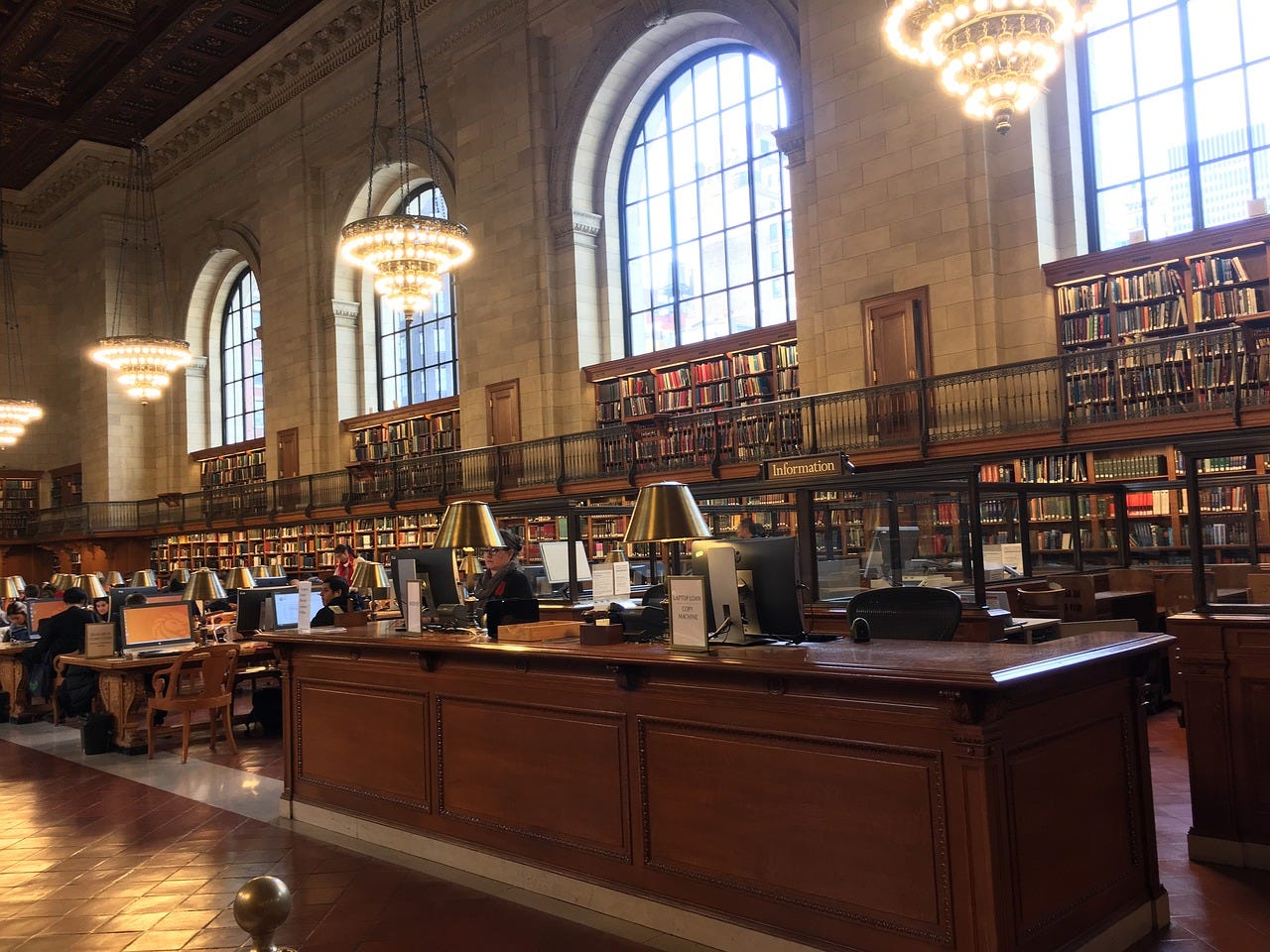 2019 is no different. Every year, book reviewers compile lists of the "best books" of the year. When I eye those lists, I feel satisfied if I have read one or two of them, and I am a more or less constant reader. Often reviewers loved books I have never heard of, and I suspect their standards might be different (and a bit more rarefied) than mine.
Which is why I was especially drawn to the Top 10 list below. Not necessarily a reviewer's favorite books, nor the most deserving, nor best in some undefined way. No, these are the top ten titles checked out of the New York Public Library (photo of the Bryant Park location, above) during the past year. They are, in fact, the books that people—or at least New Yorkers—are actually reading. (Keep scrolling for the reading preferences of readers closer to home.)
Becoming by Michelle Obama

Educated: A Memoir by Tara Westover

Little Fires Everywhere by Celeste Ng

A Spark of Light by Jodi Picoult

Where the Crawdads Sing by Delia Owens

Pachinko by Min Jin Lee

Circe by Madeline Miller

Nine Perfect Strangers by Liane Moriarty

Bad Blood: Secrets and Lies in a Silicon Valley Startup by John Carreyrou

Milkman by Anna Burns

I fare better with this list than with the usual "best of." I have read the first 5, and saw someone on the subway reading Number 6 and asked how it was. Number 4 was written by our own Upper Valley author Jodi Picoult, and with regard to Number 3, I sussed out Celeste Ng's connection to Pittsburgh (city of my birth) from details in her story that only a Yinzer would know.
What of readers in the Upper Valley? Here are 2019's top sellers and borrowed books from a few local book suppliers who were kind enough to tally up and share.

From the Lebanon Library, Lebanon NH (thank you, Carolyn Crocker et al.)
Becoming by Michelle Obama

Kingdom of the Blind by Louise Penny

Where the Crawdads Sing by Delia Owens

A Spark of Light by Jodi Picoult

The Reckoning by John Grisham

Long Road to Mercy by David Baldacci

Redemption by David Baldacci

Turning Point by Danielle Steele

House Next Door by James Patterson

The A List by Judith A. Jance

From the Norwich Bookstore, Norwich VT, according to Liza Bernard:
"Ann Patchett's Dutch House was a best selling novel for us, along with Where the Crawdads Sing. Non-fiction was led by Michelle Obama's Becoming - again! Followed by Madame Fourcade's Secret War by Lynne Olson and Erosion by Terry Tempest Williams. I am happy to say that the reissue of Wally the Wordworm by Clifton Fadiman was right up there in the top 10!" Liza notes that books about history and current events are trending, and fiction and mysteries remain strong.
From Still North Books and Bar, Hanover NH:
It's only right to check in with the Upper Valley's newest bookstore, Still North Books and Bar. Owner Allie Levy has been in business at the former Dartmouth Bookstore location for just about two weeks. Her bestseller? The Testaments by Margaret Atwood, the anticipated-for-decades sequel to The Handmaid's Tale. Levy reports that "Malcolm Gladwell's new book Talking to Strangers and a staff favorite The Starless Sea tied for second place. After that we have Maybe You Should Talk to Someone, Trust Exercise, and a couple of surprising smaller gift/novelty books: Sad Animal Facts and a book called Nihilism from MIT."
Feel free to comment: What did you read in 2019 that knocked your Darn Tough socks off? And what book will be your first of the new year?
———————————
Happy new year! If you like what you see, I could use your help. Please sign up (if you haven't) and then share with your friends. Just hit the blue button to share via email and/or social media.