Discover more from Artful
Arts and culture in the Upper Valley
Over 2,000 subscribers
Poems Appearing at the Super Suds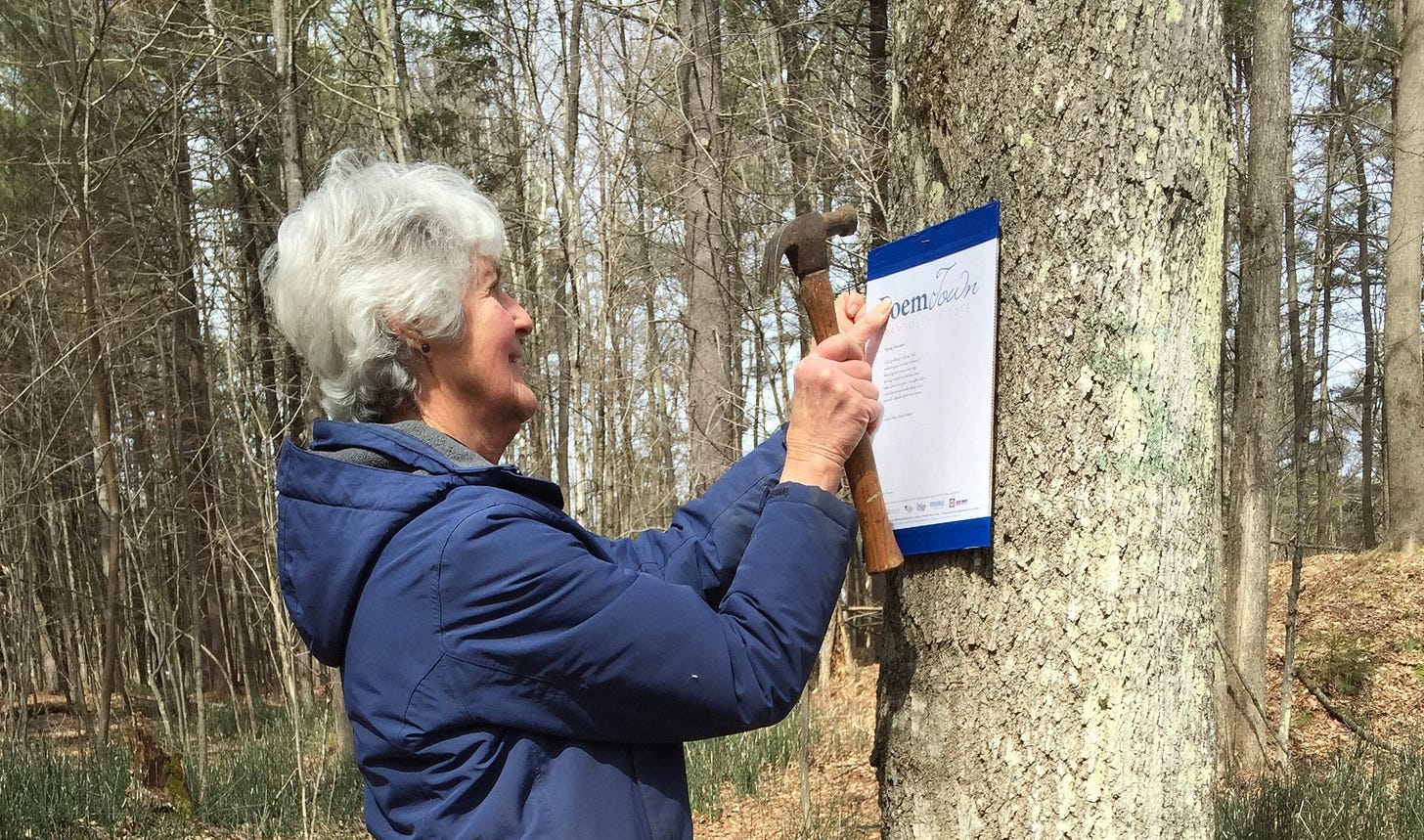 . . . and in the auto parts store, local restaurants like Al's Pizza, the barbershop, a real estate office, along the riverfront trail (photo, above), not to mention in the town's other laundromat, and in over 30 more businesses and locations. So went PoemTown in the town of Randolph, Vermont last year. And Randolph is gearing up for PoemTown 2020.
If you're writing poetry and living in Vermont and have some poems you've been agonizing over, just stop that (the agonizing, that is), tidy them up, and submit them for a chance to be part of this celebration of National Poetry Month in April. The deadline for submissions is February 1. See below for everything you need to know.
And for today's unrelated but saucy little poem, "The Editor's Ex" by Caitlin Doyle, click here to read or to listen, or both. Then please share this entire post with your friends by hitting the blue "SHARE" button.


PoemTown Randolph 2020
PoemTown Randolph organizers are excited to announce the seventh annual celebration of poetry in Randolph throughout the month of April, National Poetry month. They are seeking submissions from Vermont poets as the centerpiece of the month-long event.
Originally inspired by Montpelier's PoemCity, the organizers of PoemTownRandolph 2020 once again plan similar public opportunities for Vermont poets to share their work. Throughout the month of April, posters of selected poems will be displayed in the main windows and doors of businesses, churches, and organizations, and along forest paths in Randolph.
Organizers are currently soliciting original poetry submissions from poets of all ages residing anywhere in Vermont. This year, as we move into a new decade on our planet,  poets are encouraged, though it is not mandatory, to submit poems that consider our climate emergency.
No more than three poems should be submitted, each of them 24 lines or less. The deadline for submission is February 1.
Poets should send 1-3 original poems as MS Word or rtf attachments to musbird@gmail.com. In the text of an email, included must be the poet's contact information (name, mailing address, email address and telephone number). Then each poem should be attached separately with the title of the poem as the document name and no identifying information other than the poem's title on each document. Poets are asked to not submit any work that has been previously displayed in any PoemTown or PoemCity celebrations, and also to not submit any poems that have previously appeared in print anywhere else.
For poets without access to email, please contact Janet Watton at 802-728-9402 to clarify an alternate submission process.
By sending work to PoemTown 2020, poets agree that PoemTown may use any poem in display, in promotional materials, and in associated online, print and other media. Poets will be credited for their work in all places their poems appear.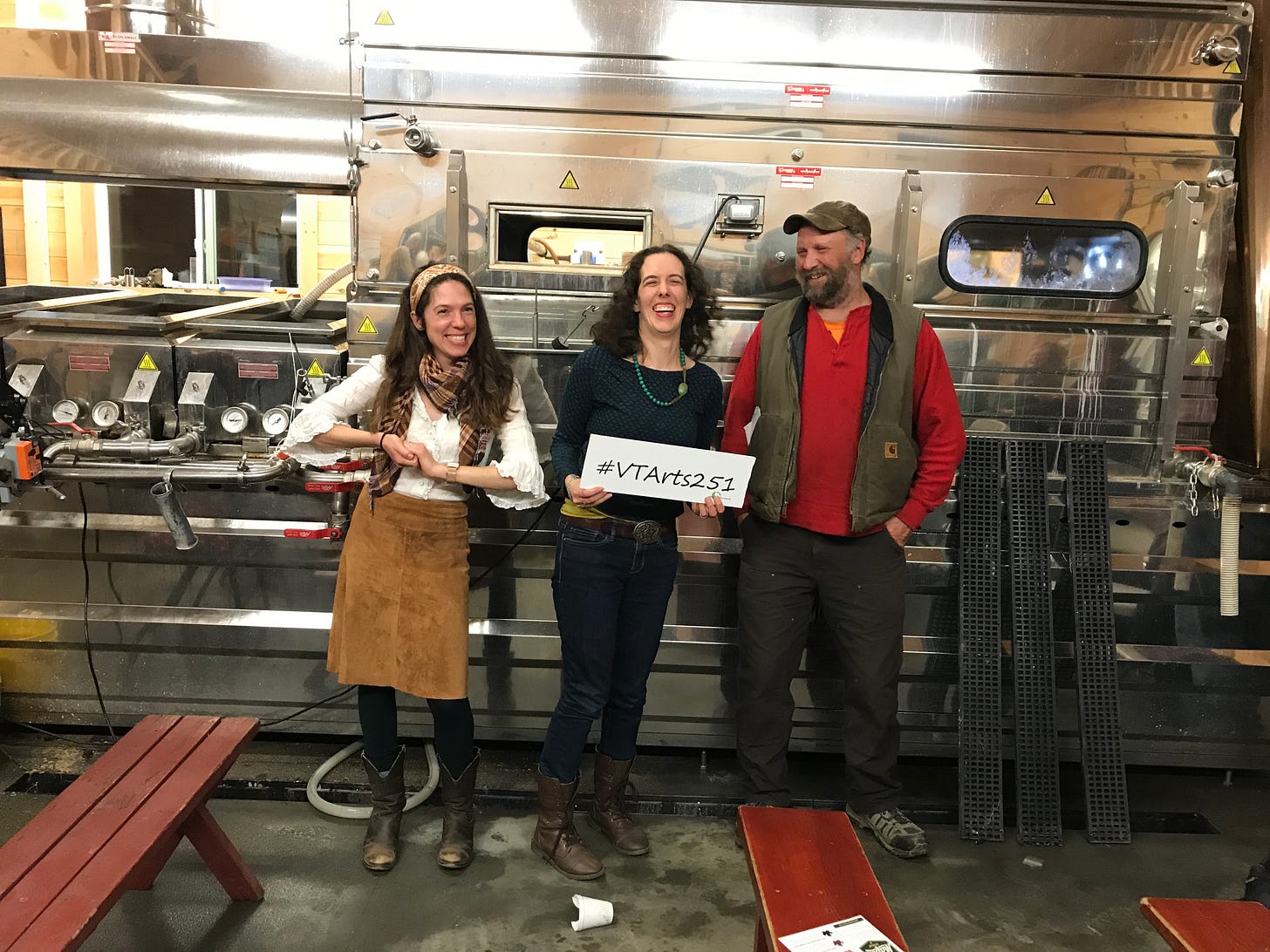 PoemTown organizers are planning special poetry events throughout April, including dinner with poet Elizabeth Powell at the Black Krim, an open mic night, an evening featuring local published poets, a performance of climate-focused poetry, a workshop, "Poetry in Protest," and the popular evening of readings by farmer poets at the sugarhouse of Silloway Maple in Randolph Center.
Photo, just above, from last year's Farmer Poets Night with Taylor Katz, Carl Russell, and Caitlin Gildrien. Each read from their work at Silloway Maple in Randolph Center. All photos used with permission from PoemTown.
————————————————
Sign up here on Substack, if you haven't already, to receive Artful in your very own inbox. Free for now and oh-so-easy to do.