Discover more from Artful
Arts and culture in the Upper Valley
Over 2,000 subscribers
Red Kite Candy Opens in Hanover NH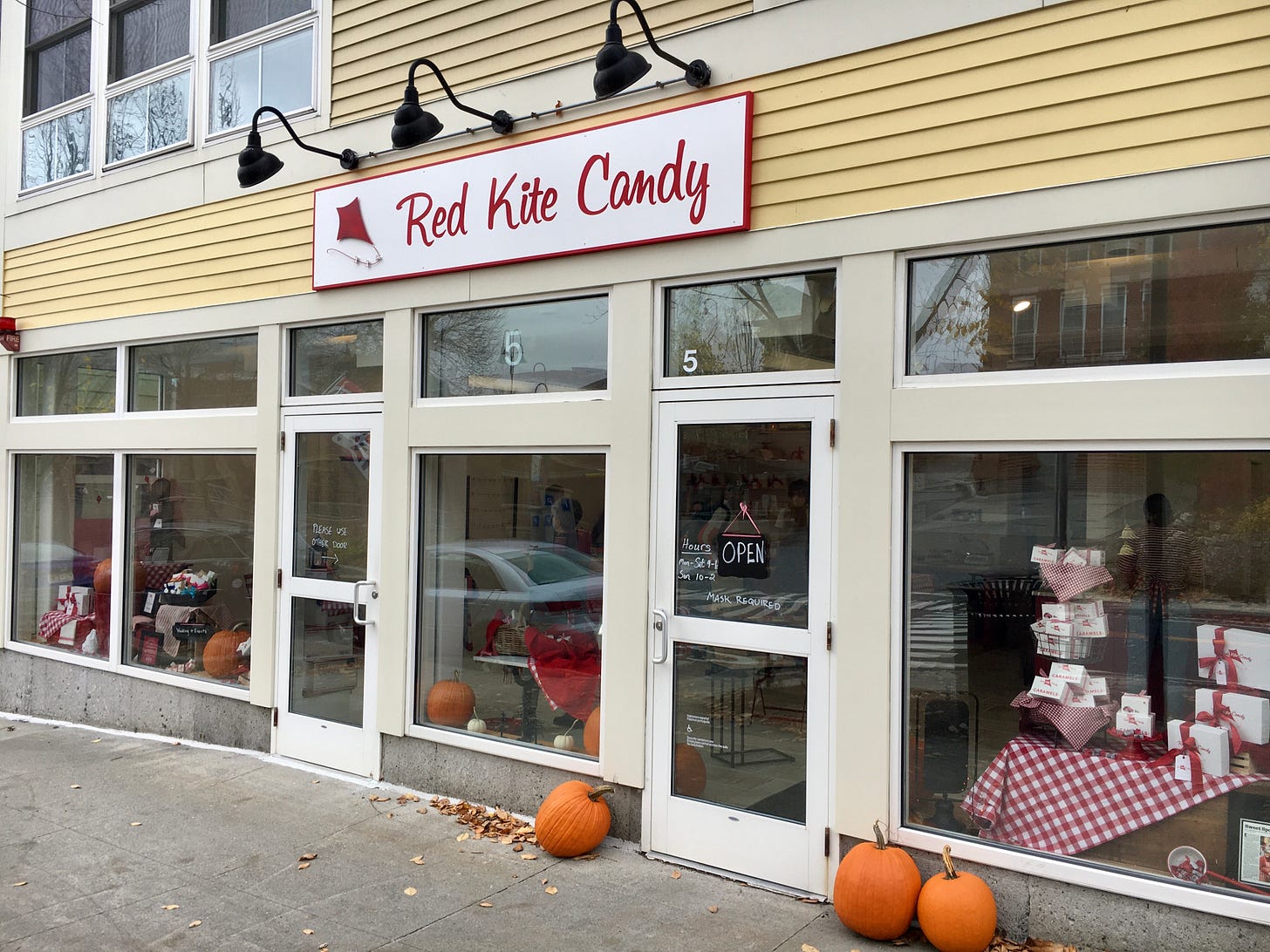 Red Kite Candy is open, if softly, awaiting customers who crave its caramels and other confections. Head for the space formerly occupied by Verizon on South Street in downtown Hanover NH.
At a time when Hanover is struggling to retain retail businesses and Upper Valley residents are decrying the creeping presence of national chain stores in the downtown shopping district, nothing could be better than the arrival of Red Kite, a very local enterprise that started in Thetford and whose manufacturing base is now in Bradford VT. Its caramels, rated by one customer on the company's website as "the only candy that I eat," are famously good (acclaimed by the New York Times), and have been available online and through other retail establishments for the past decade or so.
Elaine and Mike McCabe own Red Kite Candy, and while they have a small storefront at their production kitchen in Bradford, this is their first true retail store. According to Mike, they are aware that ". . . this may not seem like the best time to be opening a brick-and-mortar, but we've already seen a lot of support from the community even as we're not yet fully open. We're excited about creating a store that will let people know what our brand is about."
The Hanover location has an on-site kitchen that will focus on additional small-batch limited-edition candies. Mike McCabe also sees the kitchen as a way "to engage customers, being able to take on custom requests and maybe even holding events where customers can participate in their own candy making."
Samples were being offered last Saturday when I happened by. The kitchen is still a work in progress. Red Kite Candy will have its "official" opening when the kitchen project is completed, likely during the first week of November.

You might want to put Red Kite on your list for holiday gifts. It's sweet to shop local.
——————————-
You're reading Artful, a blog and newsletter about arts and culture in the Upper Valley. If you haven't already, please subscribe to receive a notice when each new post is published. And feel free to share Artful with your friends.