Shadowing Alfred
If you've ever loved a dog . . .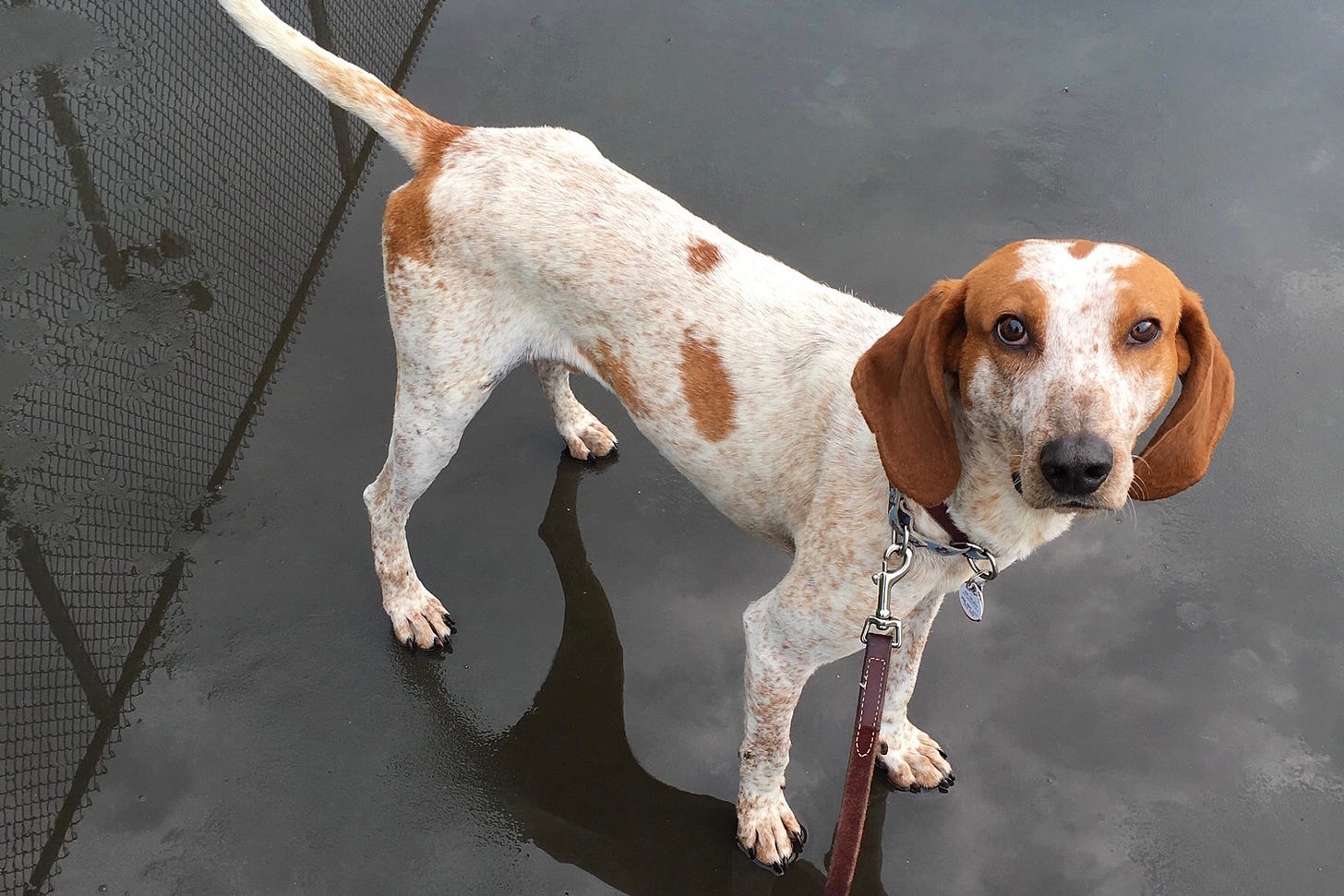 Alfred got up and went to work every day to take up his post as an official greeter at AVA Gallery and Art Center in Lebanon NH. He had the most soulful eyes, and his own Instagram account.

Shadowing Alfred: An AVA Dog Show, is an exhibition that celebrates Alfred's life, and it has been extended until November 6 in AVA's new Members Gallery. AVA explained the history of dogs on its premises:
The relationship between humans and dogs is the world's oldest inter-species relationship. AVA has been a dog-friendly space throughout its 30 years in Lebanon, beginning with the gentle presence of Bente Torjusen and Clifford West's two German Shepherds, Vincent and Phoenix, in the galleries. (Phoenix was even happy to pose for life drawing classes when the model was late!) Through the years, staff and artists have brought their dogs to AVA to share their spaces, and from spring 2018 until his death in June of 2019, a special rescue hound named Alfred touched staff and visitors at AVA.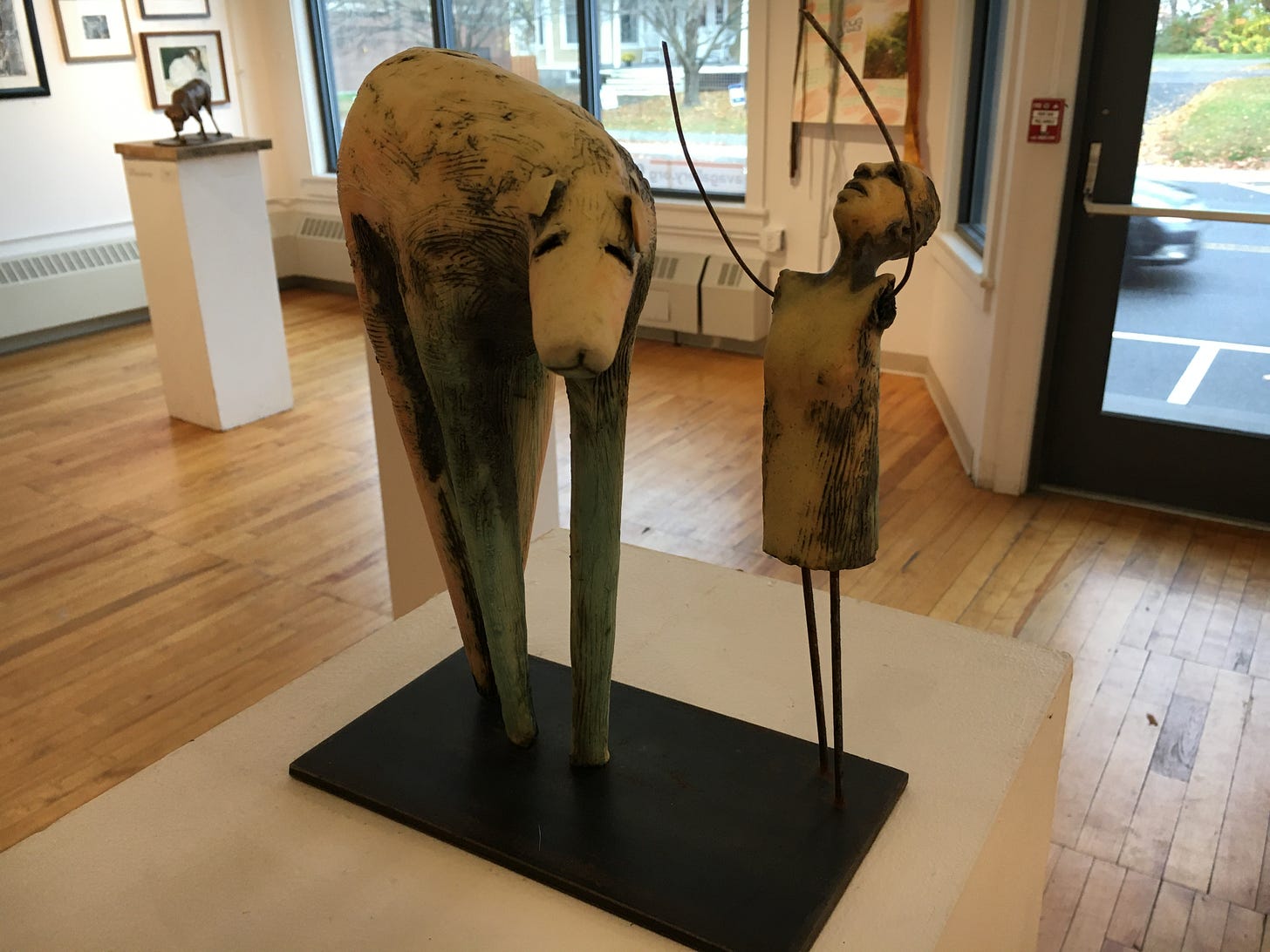 The exhibition is small and heartfelt, and while Alfred remains its inspiration, contributing artists submitted works that portray their own relationships with their canine companions and the meaning of dogs in our lives. Among many paintings, including some by children who knew Alfred, are four freestanding stoneware sculptures by artist Susan Wilson, including "Wait for Me." (photo, above).

We tend to express our love for dogs (and in my case, cats as well) from our own human point of view, that is, how we feel about our pets. Wilson, however, appears to have captured how the dog views him- or herself in relation to its people, as it towers protectively over the home that holds them in "Night Watching." (photo, below)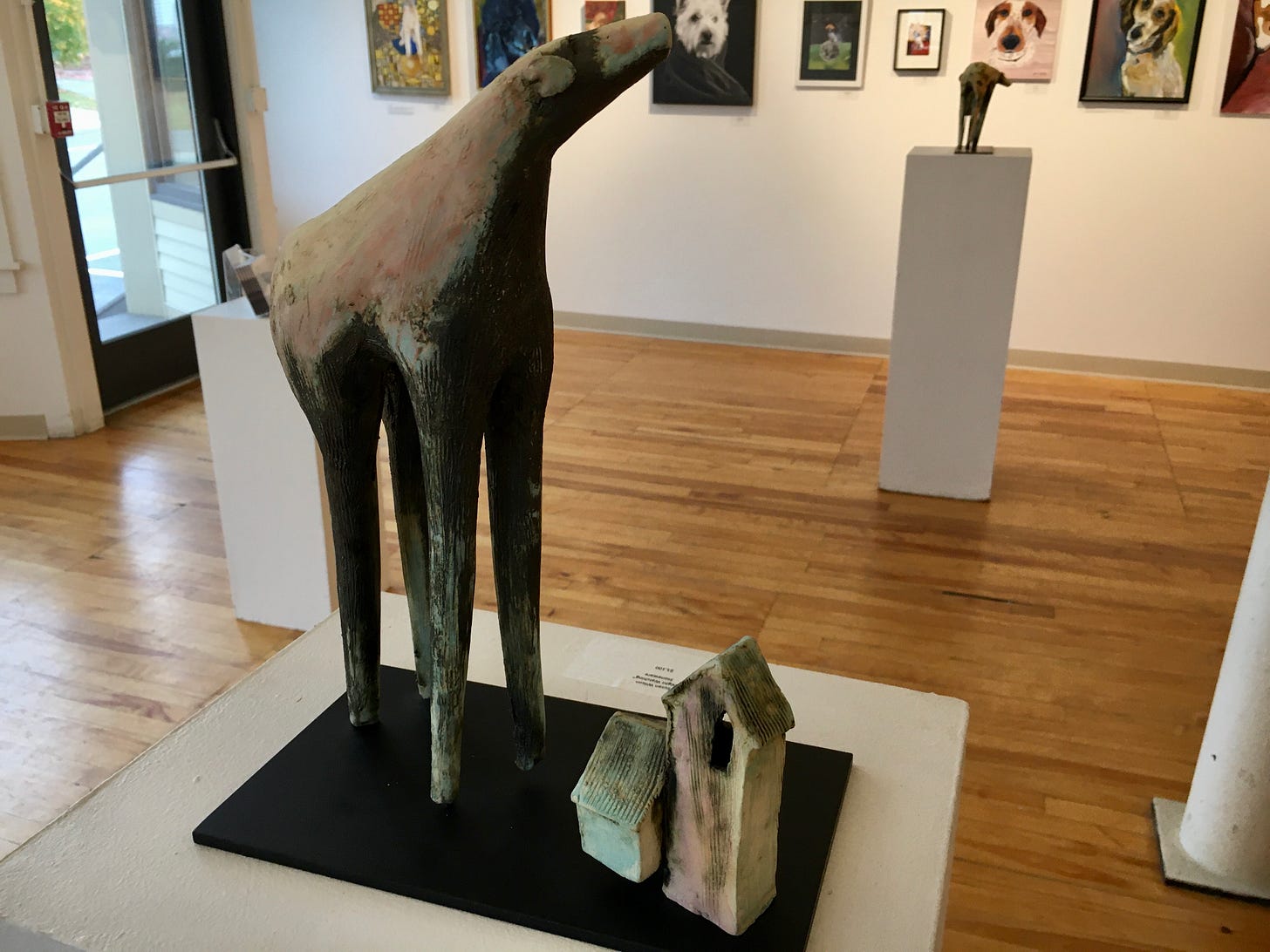 10% of all artwork sales from Shadowing Alfred will be donated to Long Trail Canine Rescue, the organization that rescued Alfred and brought him to the Upper Valley. For further information, dates, and times, please check AVA's website.
And . . . if you have ever loved a dog and are in need of a good cry, you'll want to shed a tear with actor Jimmy Stewart as he reads his poem "Beau" (click here) on a long ago broadcast of the Tonight Show with Johnny Carson. "Just to make sure the old one was there. . ."
—————————————
Welcome! You're reading Artful, and I hope you'll subscribe and then share this with your friends and on your social media. And in case you are wondering . . .
Susan B. Apel retired from a lifelong career as a law professor to continue an interest in writing. Her freelance business, The Next Word, includes literary and feature writing; her work has appeared in a variety of lit mags and other publications including Art New England, The Woven Tale Press, The Arts Fuse, and Persimmon Tree. She connects with her neighbors through Artful, her blog about arts and culture in the Upper Valley. She's in love with the written word.