Shopping list as art
Coming to The Museum of Everyday Life.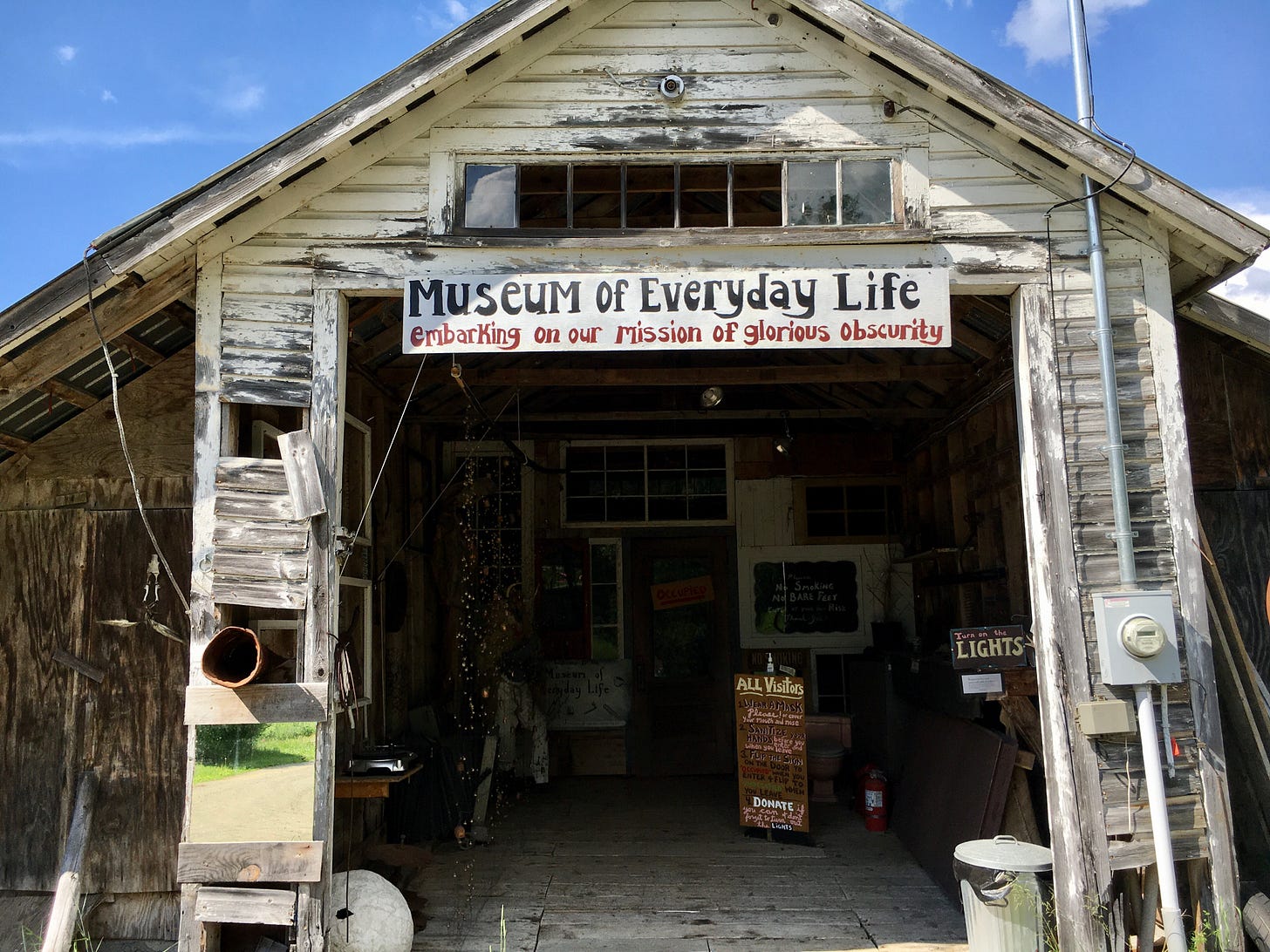 If I should die famous, a possibility that grows less likely with each passing day, my biographers will know me both for and through the lists I make.
For my entire adult life, every day has begun with a to-do list. As a working professional, the list was long and involved back-to-back appointments—with clients, students, and with various and mostly dreaded committees. As a retiree, the list is shorter, more flexible. Today's, for example, includes "make radish pesto" and "draft post about lists," but no specific times for doing either. (Postscript: the experimental "radish pesto" project ended up getting held over until the next day. And the pesto was delicious.)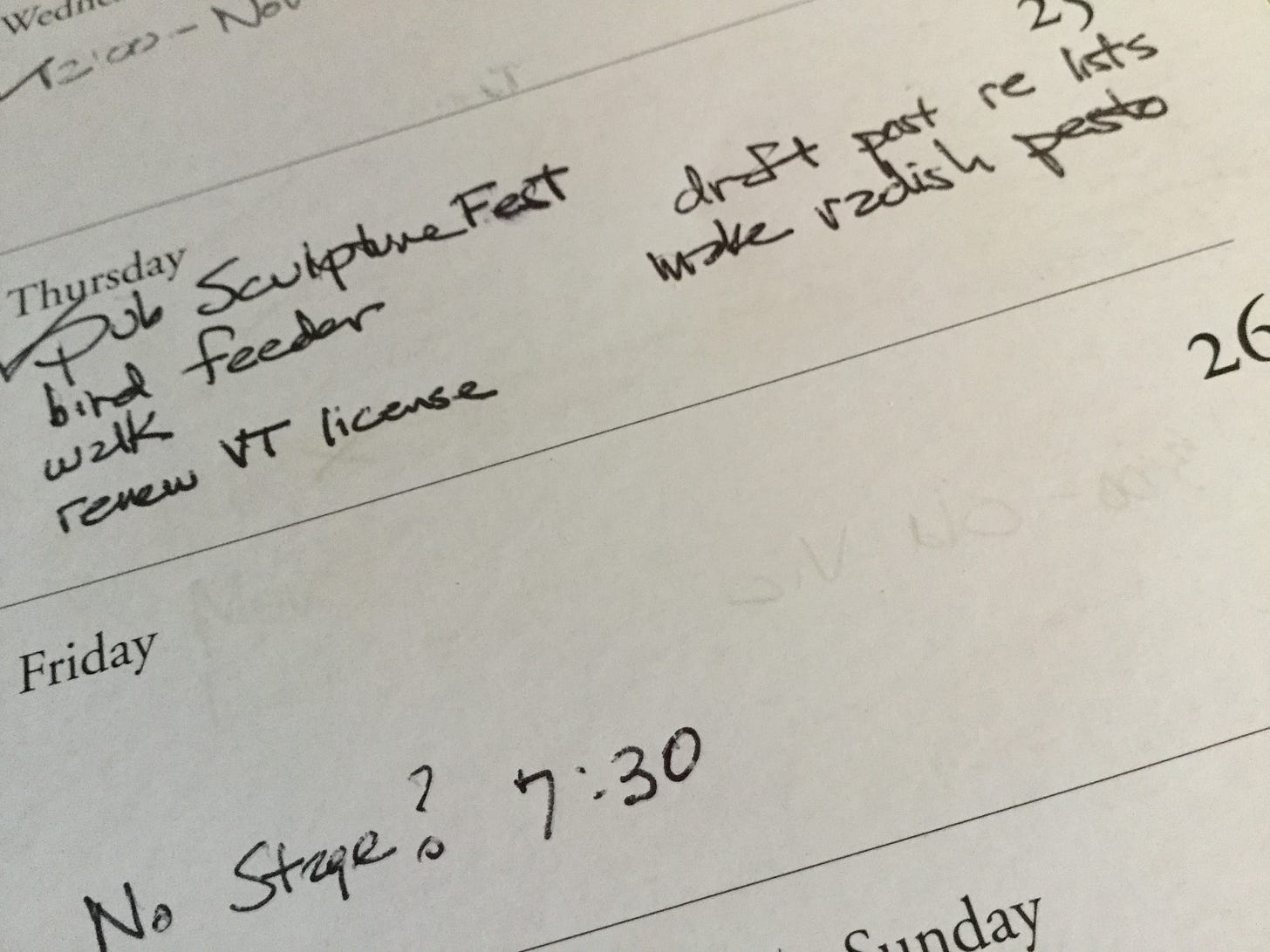 There are always grocery lists. The running one on the refrigerator catalogues each item as needed. "Put it on the list," we (nicely) order each other as soon as one of us remarks on the dearth of chutney or the use of the last paper napkin. A portable list goes with me to the store. It's dreadful if I should happen to lose the list while shopping; it's delightful when I find someone else's list forgotten amidst the peppers in the produce department. I am partial to handwritten ones.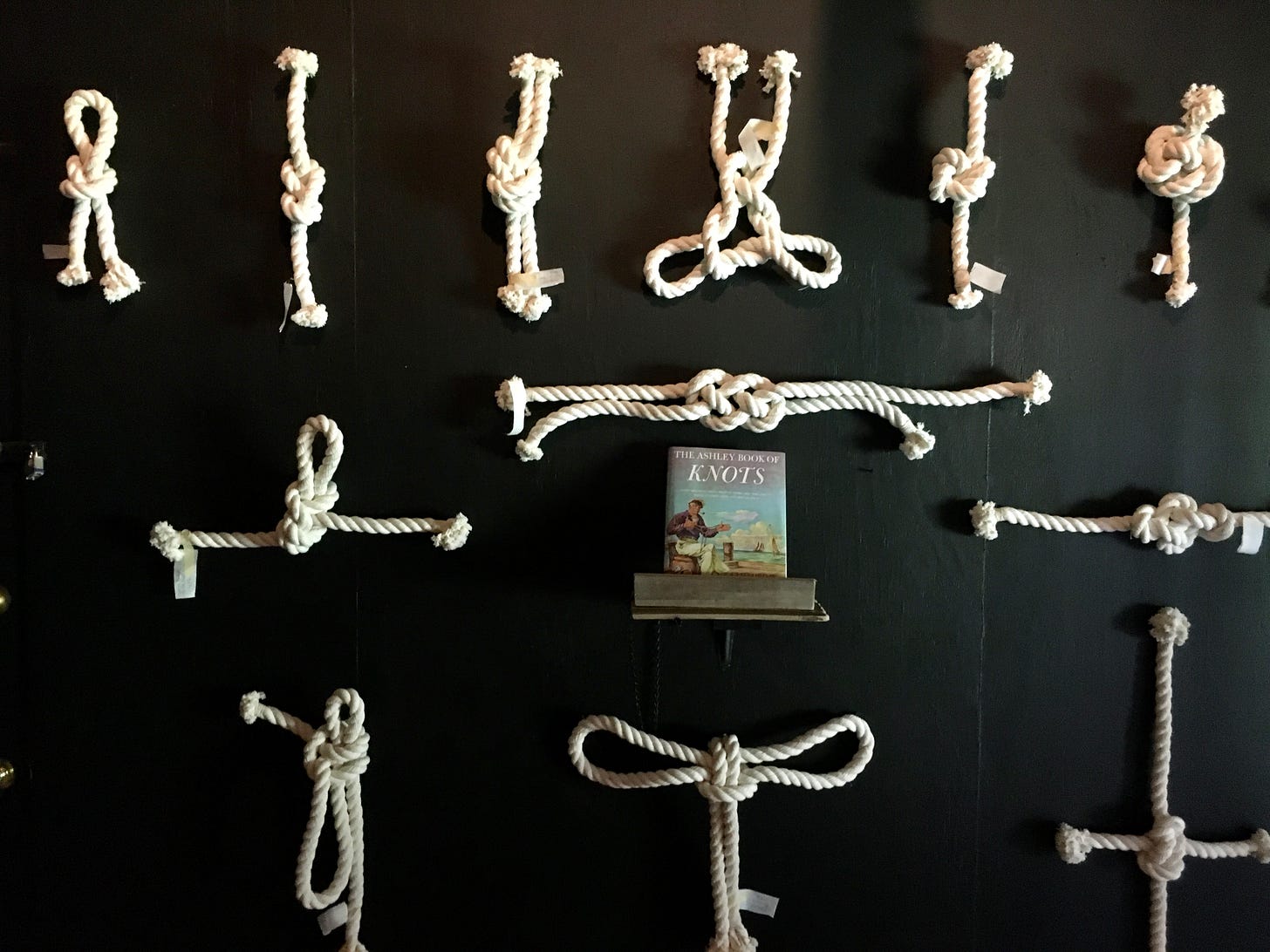 Until last week, I had not thought of my lists as art, which brings me to the Museum of Everyday Life in Glover, Vermont. A prior (and quite good) exhibition dedicated to scissors has closed, replaced by the current one on knots. (Photo, above) According to the Museum website, a future exhibition is all about lists:
FOR A FUTURE EXHIBITION,  the museum 
is continuing to collect lists and notes of all kinds
 – from handwritten shopping lists to love notes tucked under pillows to stern memos from a boss – we want them all! We don't have nearly enough, so don't be shy – send in random odd notes you come across in daily life, even standard classics like "back in five minutes" – our interest here is in any kind of brief (mostly handwritten) message. Send them to the museum at the above address, or email a snapshot to us.
At last, perhaps, I have found my artistic medium. I'll be sending those grocery lists, especially the archeological-quality ones I keep finding in my coat pockets from unspecified earlier times. I'm hoping the Museum of Everyday Life might make an artist (a famous one?) of me yet.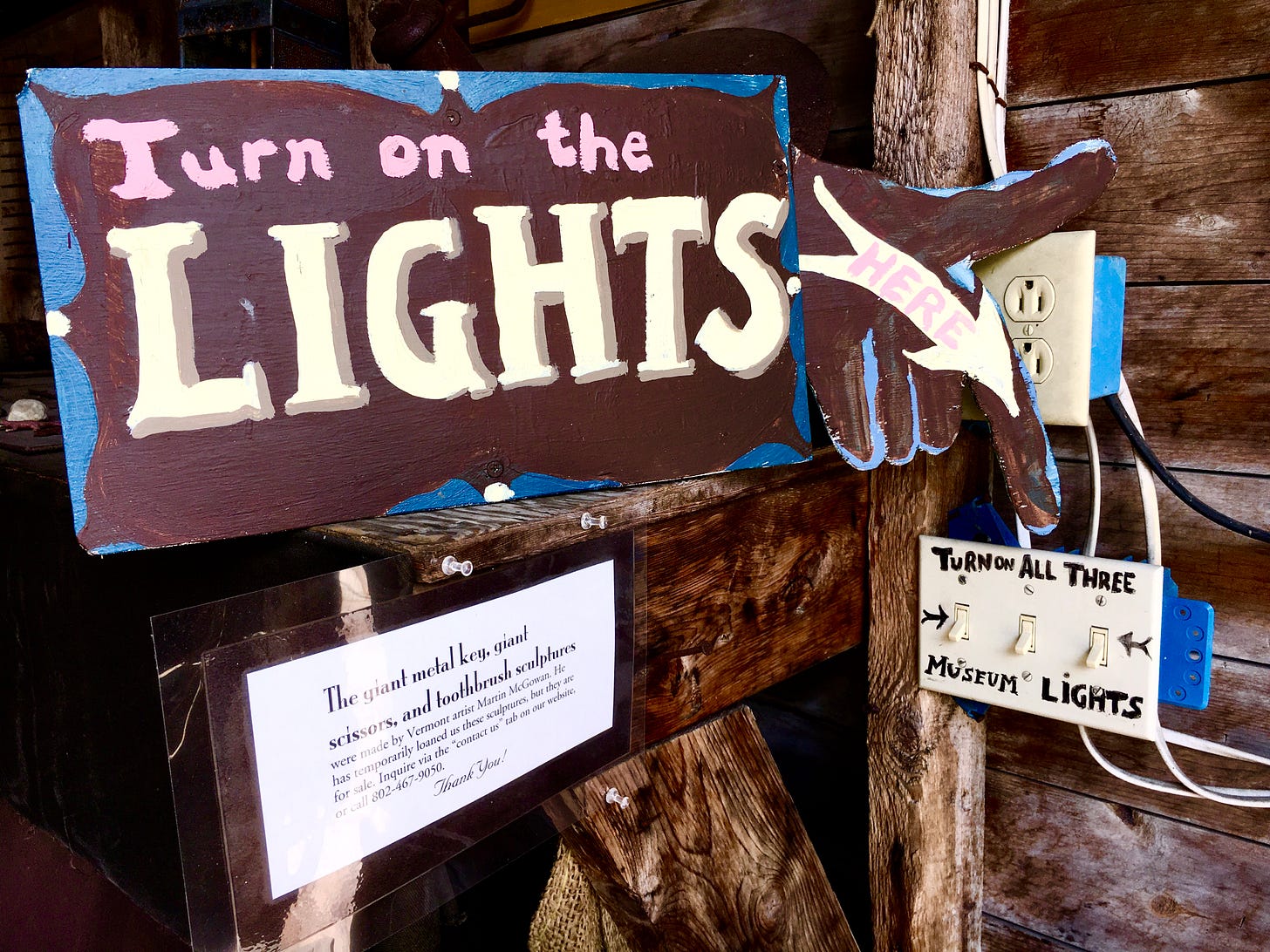 (The Museum of Everyday Life is entirely self-guided; just like home, you'll even turn on the lights upon your arrival and turn them off when you leave. For more information, click here for its website.)
And since you're in the neighborhood, Parker Pie in West Glover bakes up world-class (seriously) pizza. Try the Green Mountain Special: Baby Spinach, Red Onion, Bacon, Apple, Fresh Garlic, Cheddar Cheese & drizzled with Deep Mountain Maple Syrup.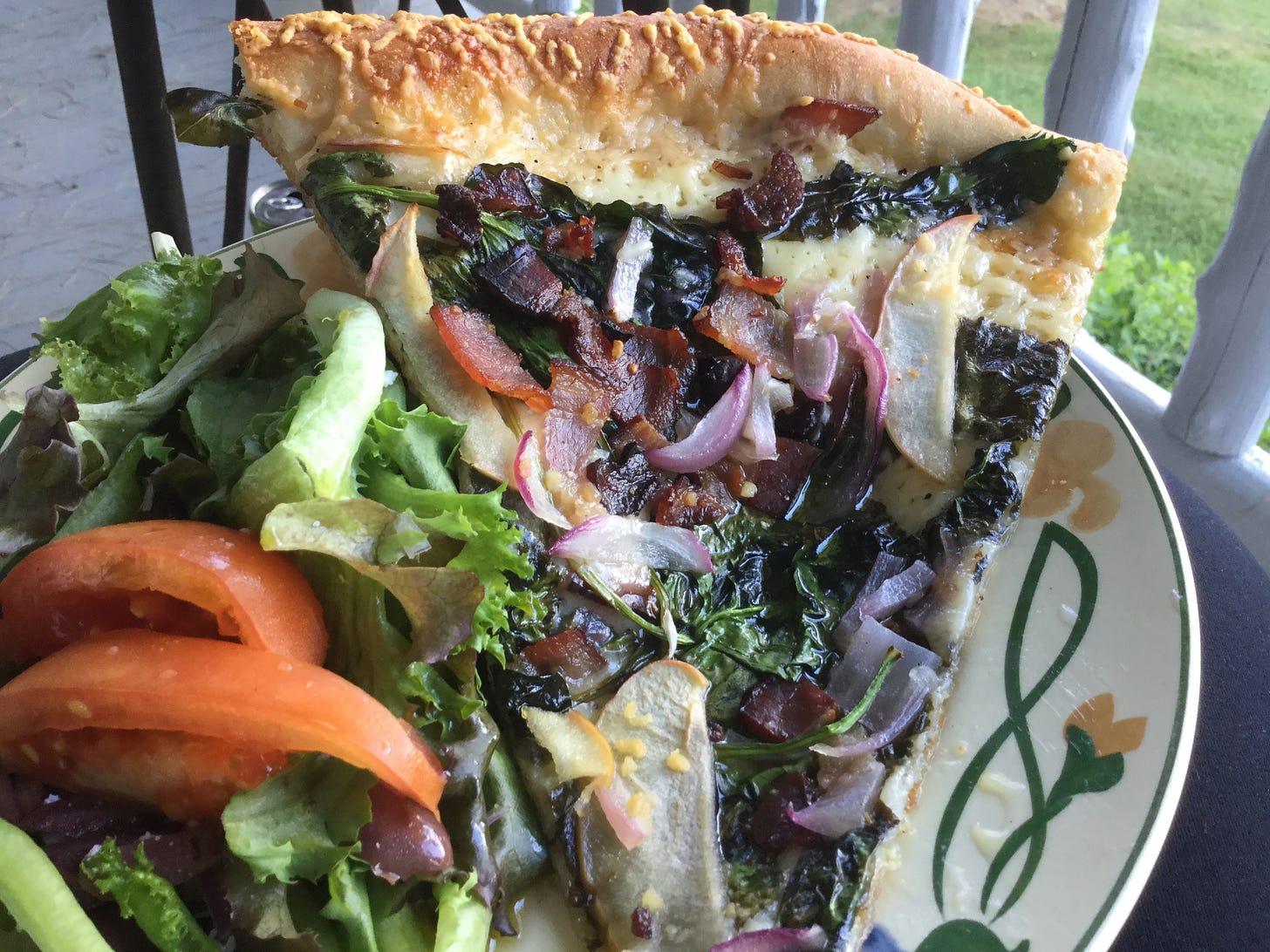 ——————————-
You are reading Artful, a blog about arts and culture in the Upper Valley. Please sign up if you haven't already, and share this post with your friends. For previous posts, you may want to scroll down in the online version (clicking on this post's title should take you there) to see a few (or more) that readers particularly liked.