Sticky Heaven: Blueberries, and Ice Cream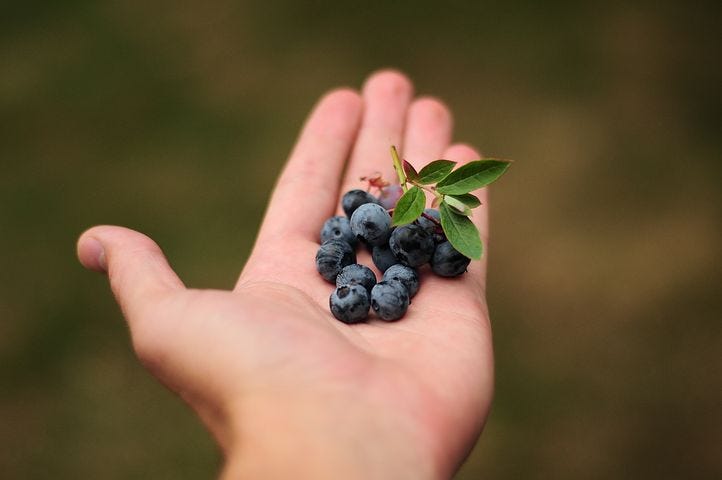 The balm and thrill of blueberry picking. I had forgotten.

Looking for an outdoor activity that is forgiving of aging knees and cranky feet? Something not overly challenging in the fresh air that has a bonus of (maybe) two kinds of sweet goodness at the end? Consider taking yourself (a couple of kids, a friend, your mother) to the pick-your-own blueberry fields near you.

Most have similar setups. There's a barn, or a farm stand, or a card table-with-awning where you check in to have your empty containers weighed. You'll want to bring your own Tupperware, berry basket, whatever suits, although some places may provide you with cardboard or plastic tubs if you prefer. Then you drive or walk to the fields, where you might find flags advertising the best areas in which to pick. You begin, according to your own style, plucking berry by berry, or better, choosing thick bunches of the ripe fruit which you coax with your thumb into the hollow of the same hand. Six, ten, eighteen berries in the bottom of a pail always seems like a feeble beginning. Take heart. You're in it for the long haul—forty-five minutes or so—of picking and, in my case, meditating. (I don't speak much while harvesting, but you could.) At some point, you'll be surprised to find your bucket half full. It's easy after that.

Berry-picking locations seem to come and go. A favorite in past years, in Hartford VT just off of Jericho Road and operated by Killdeer's, appears to be no more, as is true of Noda's Farm in Meriden NH. Last weekend my husband and I discovered Riverview Farm in Plainfield NH. Quite stunning location, friendly folks, and spacious blueberry fields where we saw few other pickers. Everyone masked, hand sanitizer at the ready.
We came home with just over $11 worth of fruit. We spilled some into bags for the freezer, and continued to munch mindlessly on the remainder throughout the day. Some early morning before the heat is too heavy, I plan to make a blueberry crostata (recipe here) , a sort of rustic pie that begs for a scoop of ice cream alongside.
And speaking of ice cream, in addition to our berries, we scored a second sweet treat for our efforts last weekend. Riverview Farm is within shouting distance of Mac's Maple, home of the best creemees in the Upper Valley (you may disagree but not before you taste one). The physical exertion of picking berries in the hot sun demands a cold cone or dish of maple softserve, which, no matter how careful you are, will run in sticky rivulets down your forearm and drip from your elbow. Such is your good fortune.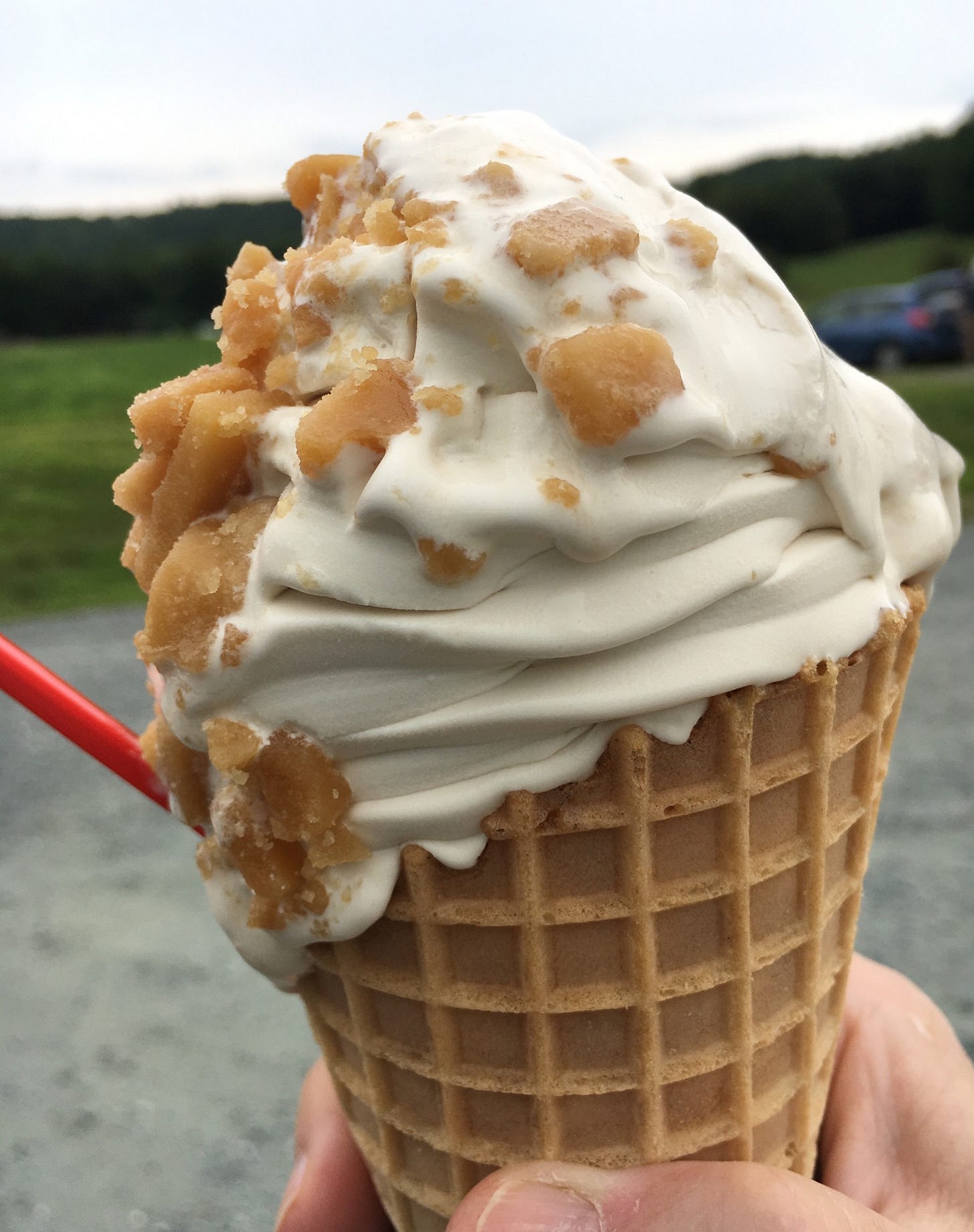 ——————————
You're reading Artful, a blog/newsletter about arts and culture in the Upper Valley. Please sign up if you haven't yet, and share with your friends. (Photo, top, via Pixabay. Photo, above, by Susan B. Apel)
Unless you are hoarding your knowledge of blueberry picking establishments for selfish but understandable reasons, feel free to go onto the website (click on the title of this piece), scroll down to the comment section and tell us where to go.