The Art of Sheltering in Place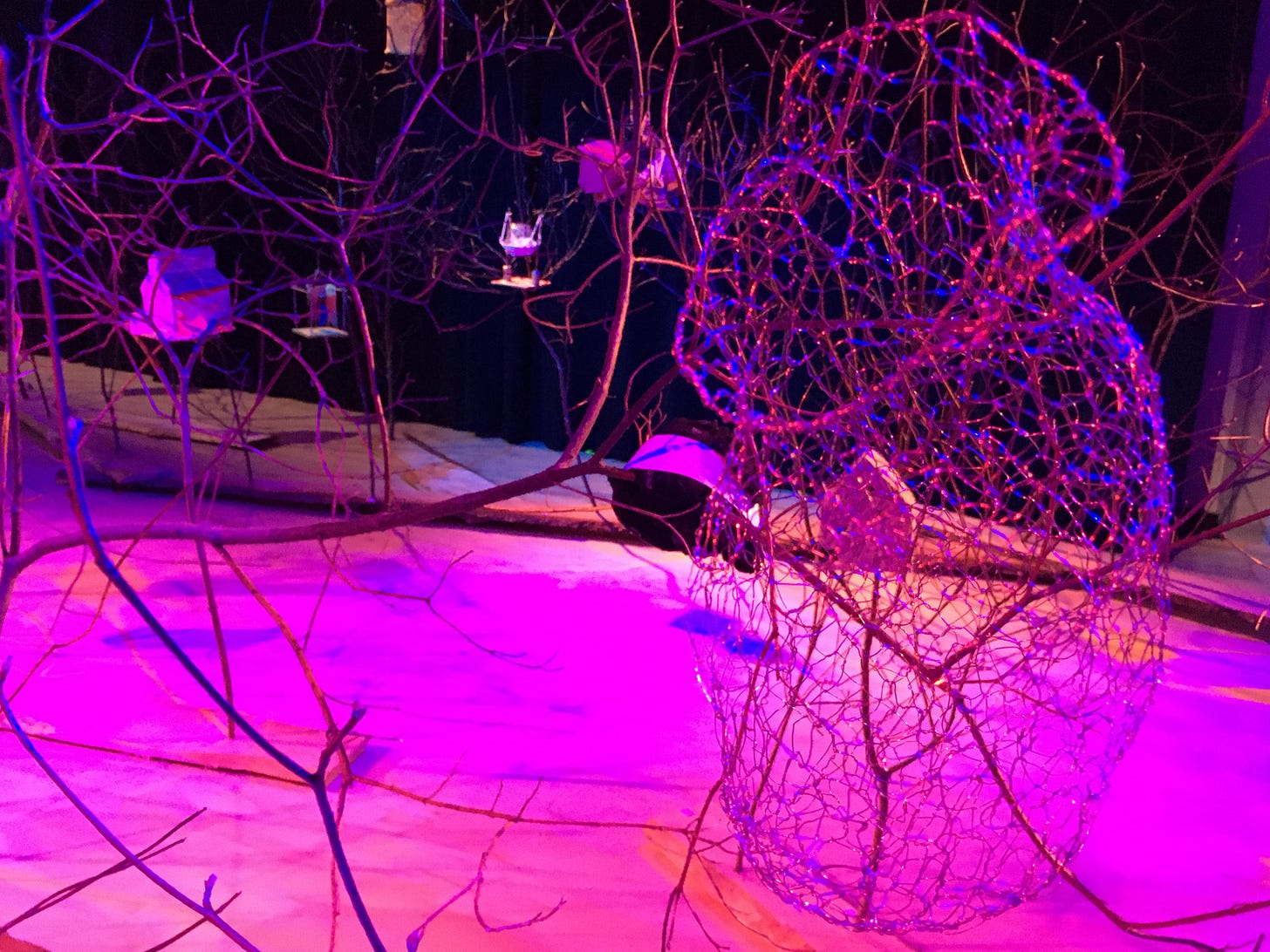 What will the art of the pandemic era look and sound like? Maybe like this haiku by April Ossmann:
Like the dripping of a tap . . .

I cannot escape

plague's slight, insistent thunder.
Ossmann's words are part of an exhibition, The Sheltering in Place Project, currently at the Highland Center for the Arts in Greensboro, Vermont, viewable at no charge and by appointment, one or two lonely tickets at a time. The exhibition was created by artist Hasso Ewing, who invited Vermont visual artists (and writers, via Calais poet Geof Hewitt) "to join her in creating reflections of their time spent Sheltering in Place to stand as a memorial to what was lost, and gained, from sheltering in place during the time of Covid-19." Visual art submissions had to be small in size and made from materials found in and around one's shelter.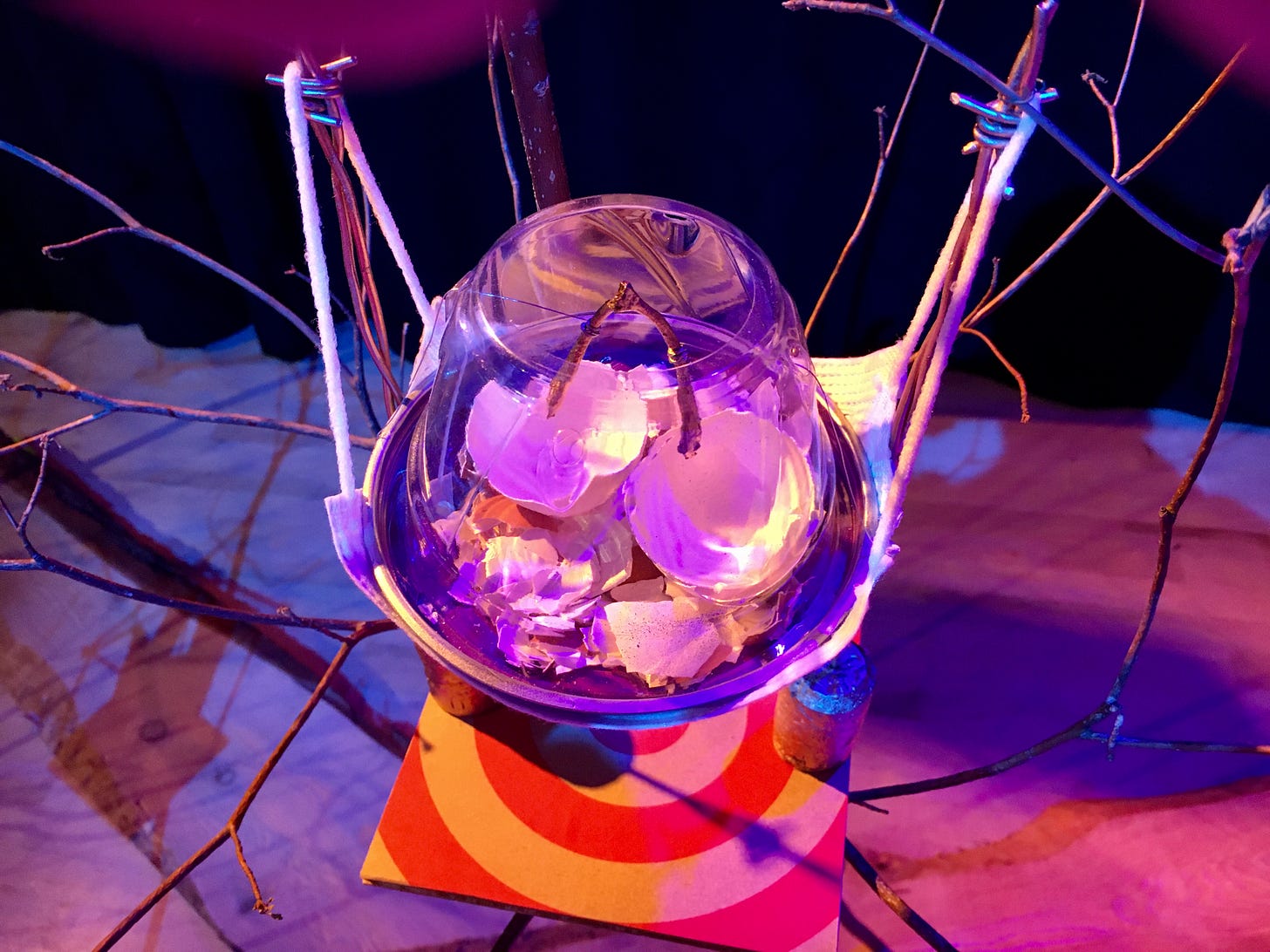 The exhibition is a dramatically lit near-fairy garden with a winding path through stylized trees that hold each artist's individual creation. Among many is Mary Admasian's "Hovering," (above) made of a plastic tomato container, chicken wishbone, egg shells (ubiquitous and indicative of nourishment) barbed wire, Champagne corks, Target shopping bag, wire, and gold paint.
An evening meal is taken, either with a sense of loneliness or of solace in Susan Winslow's paper collage, "Dinner for One."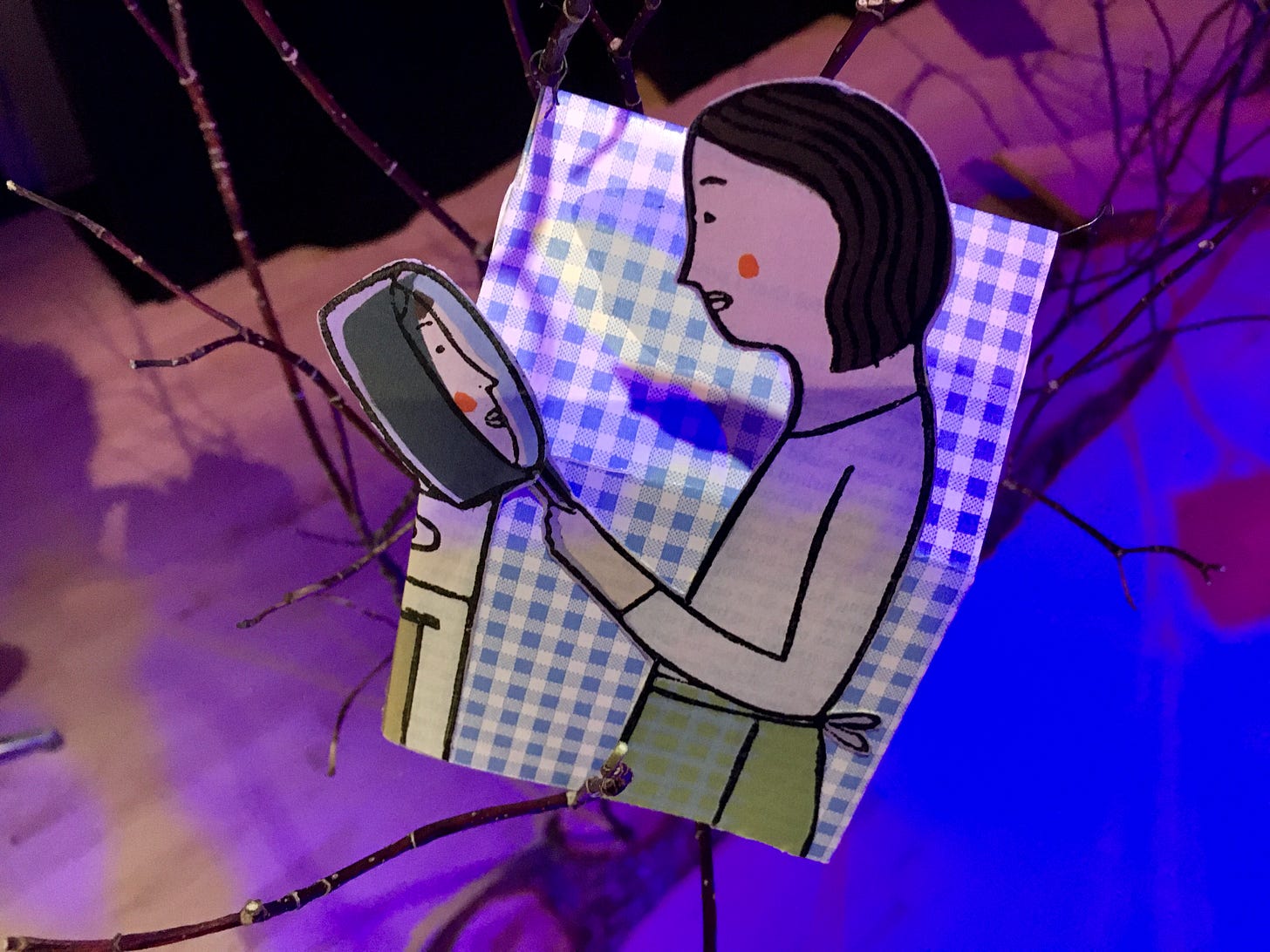 Many of the individual works are representations of shelters/homes. A solitary figure transfixes and is herself transfixed by the view from her window in "Hanging Out at the Bothy: Sheltering in Place" by Meg Walker.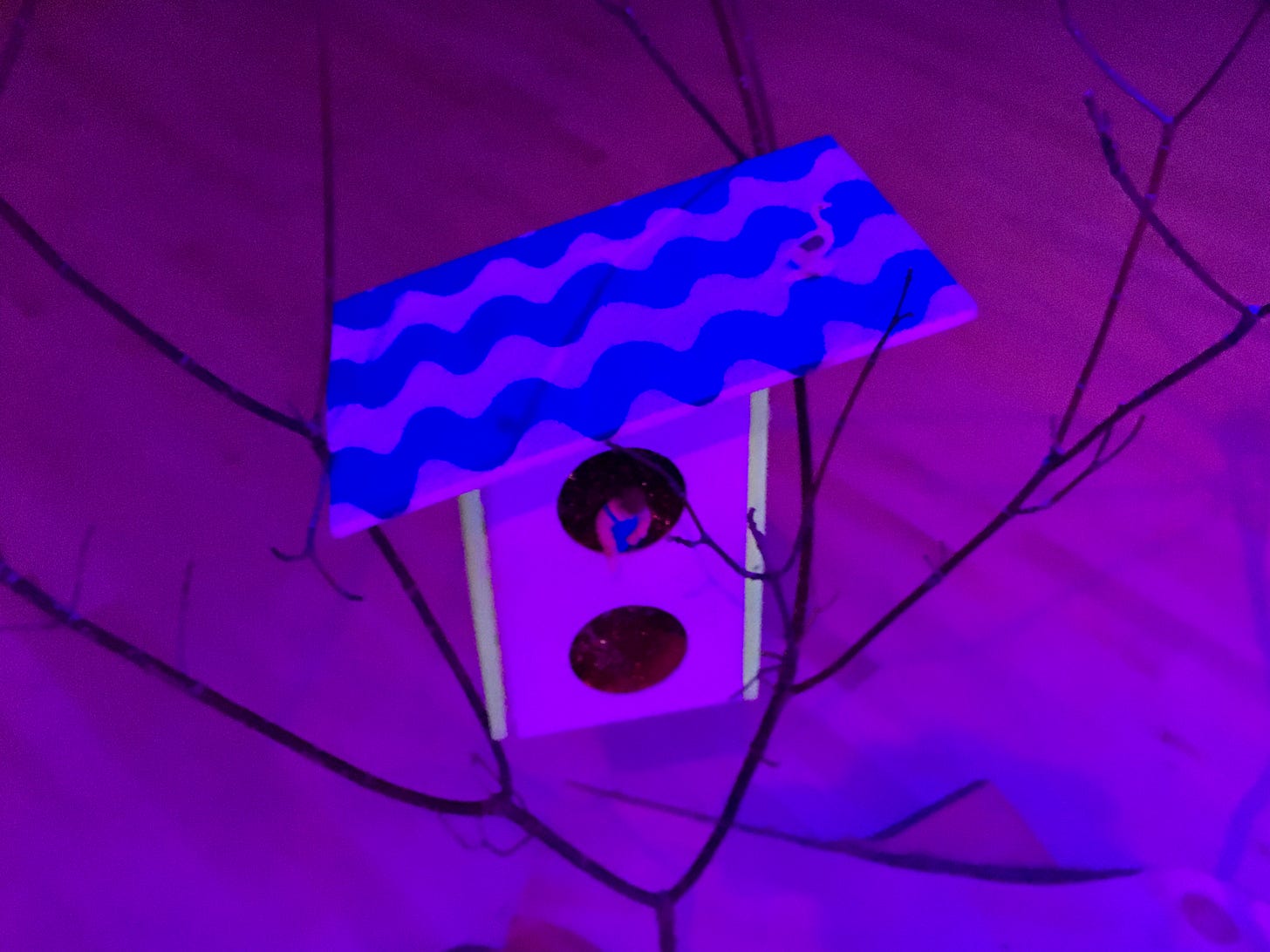 The Sheltering in Place Project soundtrack is a reading aloud of haikus, available in printed booklet form for post-view contemplating. For those missing the embrace of loved ones, two haikus stand out.
Someday I can stop
Pretending it is enough
Just to hear your voice
—-Trevor Robinson
I will crawl through cold
computer screens to simply
wrap you in my arms
—-Lee Ferry
For available tickets and further information, visit the Highland Center for the Arts's website. Sheltering in Place runs until August 9. Some works are available for sale or donation.
—————————————————-
You are reading Artful, a blog about arts and culture in the Upper Valley. Please sign up if you haven't already, and share this post with your friends. For previous posts, you may want to scroll down in the online version (clicking on this post's title should take you there) to see a few (or more) that readers particularly liked.
Susan B. Apel is a freelance writer whose work has appeared in various online and print publications such as the Fredericksburg Literary and Art Review, Literary Mama, and Persimmon Tree, as well as Art New England, Boston's The Arts Fuse, and Image Magazine. Her blog, Artful, in which she writes about the arts in the Upper Connecticut River Valley, appears regularly at https://artful.substack.com. She is an art correspondent for The Woven Tale Press and a former legal columnist for the newspaper Vermont Woman. She lives in Lebanon, NH.