The Sound of Music: See It Again
(Or Maybe for the First Time)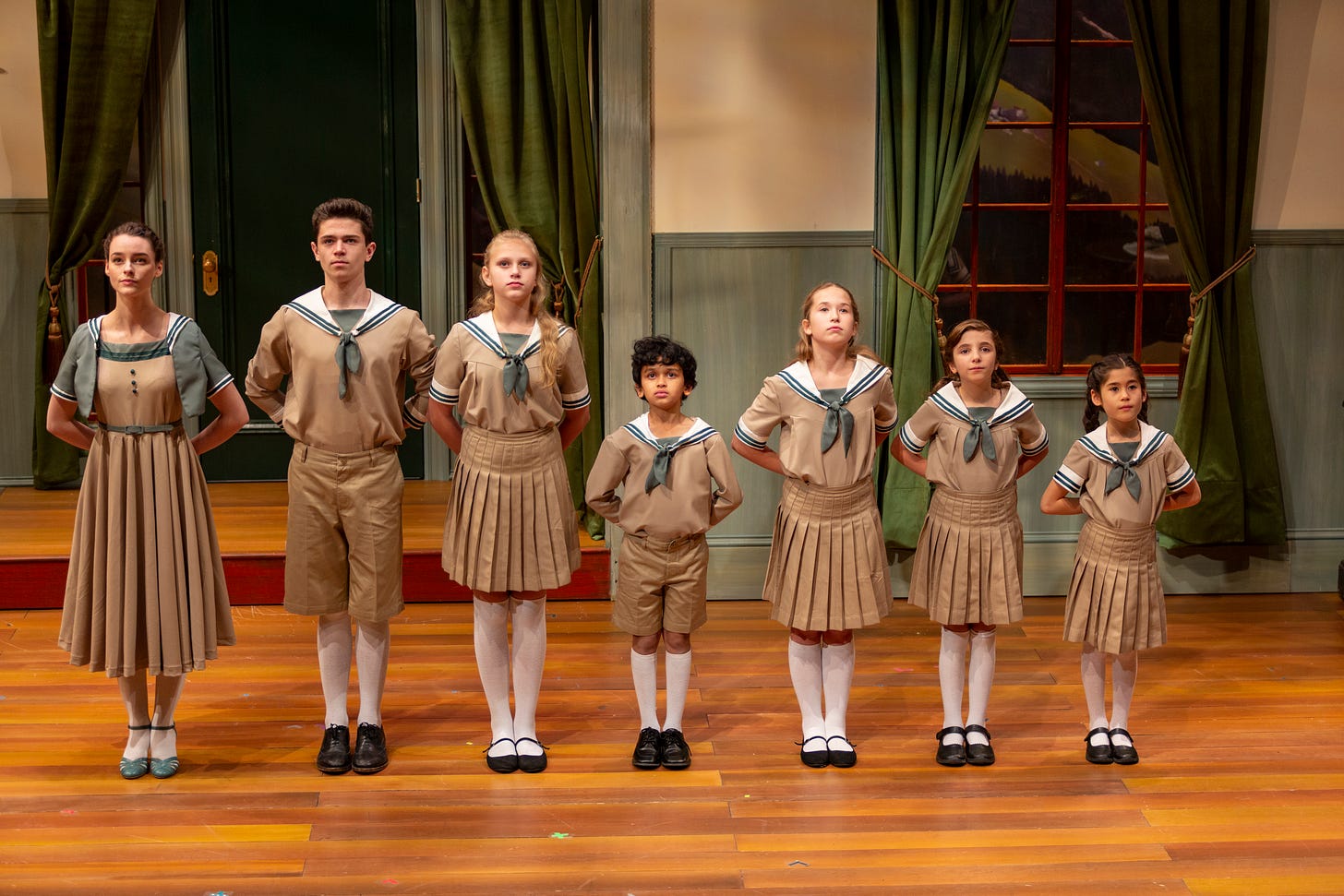 (Welcome to this blog's new home. I need your help. See below.)

You know the score, can sing the songs. You know that "a problem like Maria" gets solved very nicely by the end. And that the bad guys don't win, at least when it comes to the von Trapp family, who eventually made its way to home and safety in nearby Stowe, Vermont. But these are all the more reason to see The Sound of Music, at Northern Stage and currently almost sold out. This is one instance in which familiarity will most certainly not breed contempt. 
This is not the movie; it's better. True, that indelible scene of Julie Andrews singing "the hills are alive" to the 360-degree panorama of the mountains is absent, but no matter. The set by scenic designer Carolyn Mraz features mountains in the distance in an artfully sketched way. The abbey appears onstage through rolling arches, gliding in meditative silence and powered by nuns. As for the rest, large, inventive book-like structures are wheeled onto the stage, then opened to reveal various rooms in the Captain von Trapp household.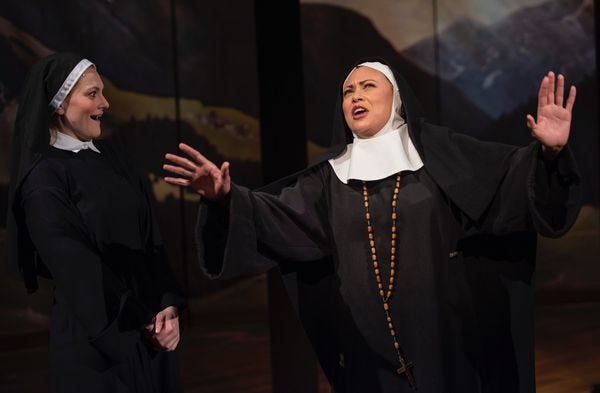 Kerstin Anderson and Alyson Cambridge. Photo by Kata Sasvari.
The principal actors, Kerstin Anderson as Maria and Matt Faucher as Georg, are believable as the naive, clumsily-clothed novice and the stern captain who are falling in love. The first act is full of flirtation, the second with darker scenes as Nazis draw closer to the family. 
Then there are the nuns, wrapped in the habits of my childhood with hands forever tucked into their sleeves. At the performance I attended, understudy Yvonne Elizabeth Strumecki stepped into the role of Mother Abbess and more than delivered on "Climb Every Mountain."
You can choose to view the play as eye and ear candy, but you'd be missing what it has to say about courage and principle in an age of (and in the face of) a burgeoning repressive regime. Previous reviews have questioned a culture that cheers on the charismatic von Trapps as they cross borders without papers, while demonizing would-be refugees in the present day United States and across the globe.
Like all Northern Stage holiday productions, this is a near sold-out event until its closing date of January 5. Try to get a ticket anyway. 
YOU CAN HELP! Once you have subscribed, would you please share the Artful link with at least 3 people you know? Share right from here (see the share button) or send an email to your friends. I need your help in migrating and building readership. Many thanks.
Featured photo, top, The Sound of Music Cast. Photo by Mark Washburn