Thyme Restaurant To Expand, Offer New Seating Options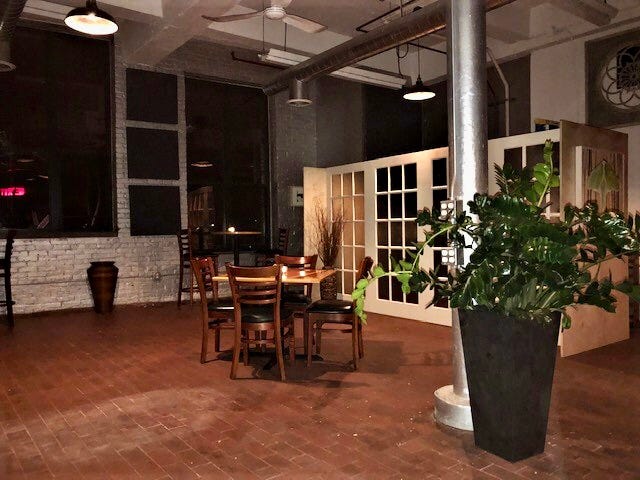 Thyme Restaurant is expanding. At a time when many restaurants are strategizing about how to continue through the upcoming winter, owner Eileen McGuckin's plan is to go bigger.

She has taken over a vacant studio in White River Junction's Tip Top Building and is renovating it into another dining room (photo, above). Together with the existing restaurant footprint, the additional space will provide greater overall seating capacity and improved possibilities for social distancing. She described the new project as follows:
My new space, like the rest of the building, has a lot of character. It has an industrial feel with high ceilings and exposed ductwork, there are large windows on one side that face the railroad tracks. I decided that I wanted to carry the theme and ambiance of the restaurant to the new space so that no one would feel like they were "banished to the back room". 

There's original artwork on the new walls by local painter Gaal Shepherd. McGuckin says "one painting was still drying when we hung it up."
As colder weather sets in, restaurants throughout the Upper Valley are grappling with diminished seating capacity due to social distancing requirements and the loss of outdoor tents and patio tables. Increasing choices for Thyme's diners, and flexible use of the spaces, is important to Eileen, whose philosophy is "We will do whatever makes people comfortable." Some may feel more at ease dining in the smaller space with fewer patrons nearby. If the weather holds, outside dining can still remain an option.
Thyme's new space will be available as of this coming weekend.

(For hours and further information, click here to see Thyme's website.)
——————————-
You're reading Artful. I am a freelance writer whose blog is devoted to arts and culture in the Upper Valley. Please subscribe, still free. If you like this post, please share the link with your friends and on social media. Thank you.