What Comes After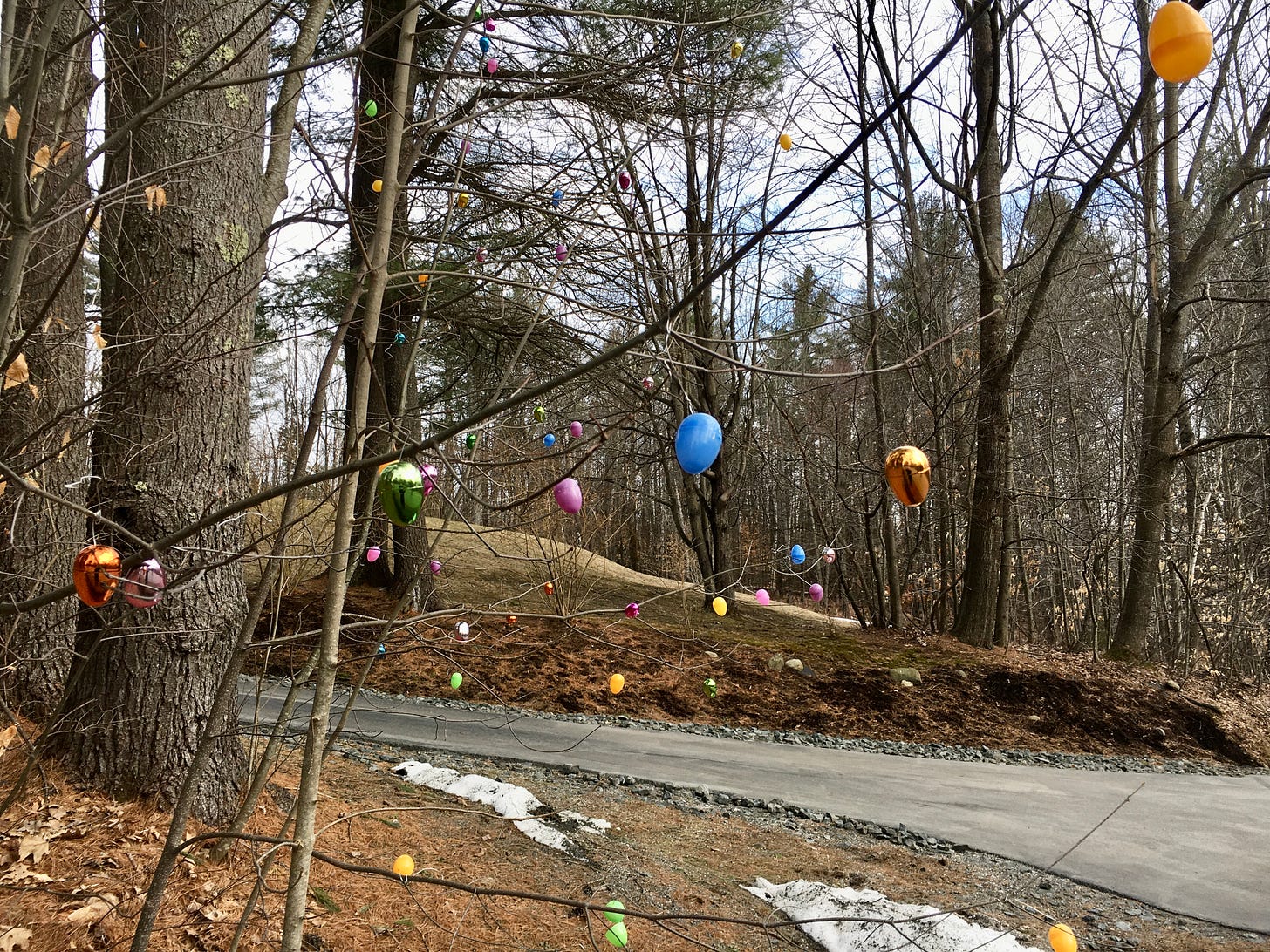 Kids were pumping the swings in Colburn Park on Saturday morning. It was such a fair weather sight, and it reminded me that spring always does return, even after winters that seem insufferably long. It helps to know that nothing, including this previously unthinkable period in which we're hunkered down and staying in with constant or even part-time fear, will last forever.

So to instill some hope in my fatigued soul, I'm trying to focus on the inevitability of the near future. Not next week or the two or three after that, which will be more of the same, but beyond, into the summer, when chances are that some sense of normalcy will slowly start to return. I'm envisioning sitting down to lunch with friends in a restaurant filled with the rest of you. Re-planning the canceled trip to France and rebooking the theater in London if I am able, starting with a seat on the no longer dormant Dartmouth Coach. Stocking the pantry at home without disinfecting each can and carton. Less of the smell and sting of bleach.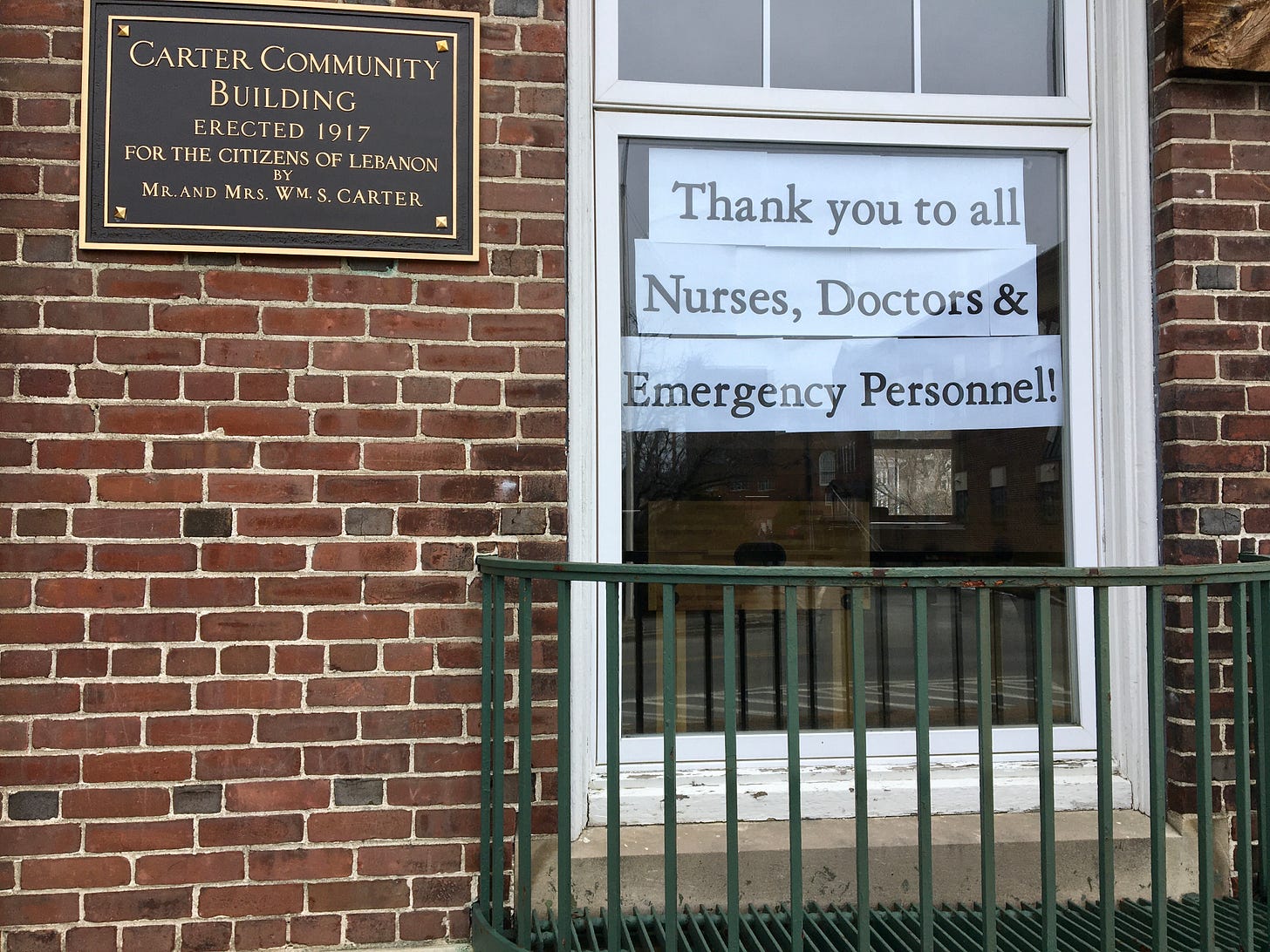 A short stroll this weekend in downtown Lebanon found lessons in hope in everyday places. Even as there were reminders of our current situation with expressions of appreciation for health care workers, Lucky's Coffee Garage, recently and sadly shuttered, showed a sliver of new activity, with people picking up online orders of coffee beans and selected merch at the walk-up window. We will drink coffee in public again.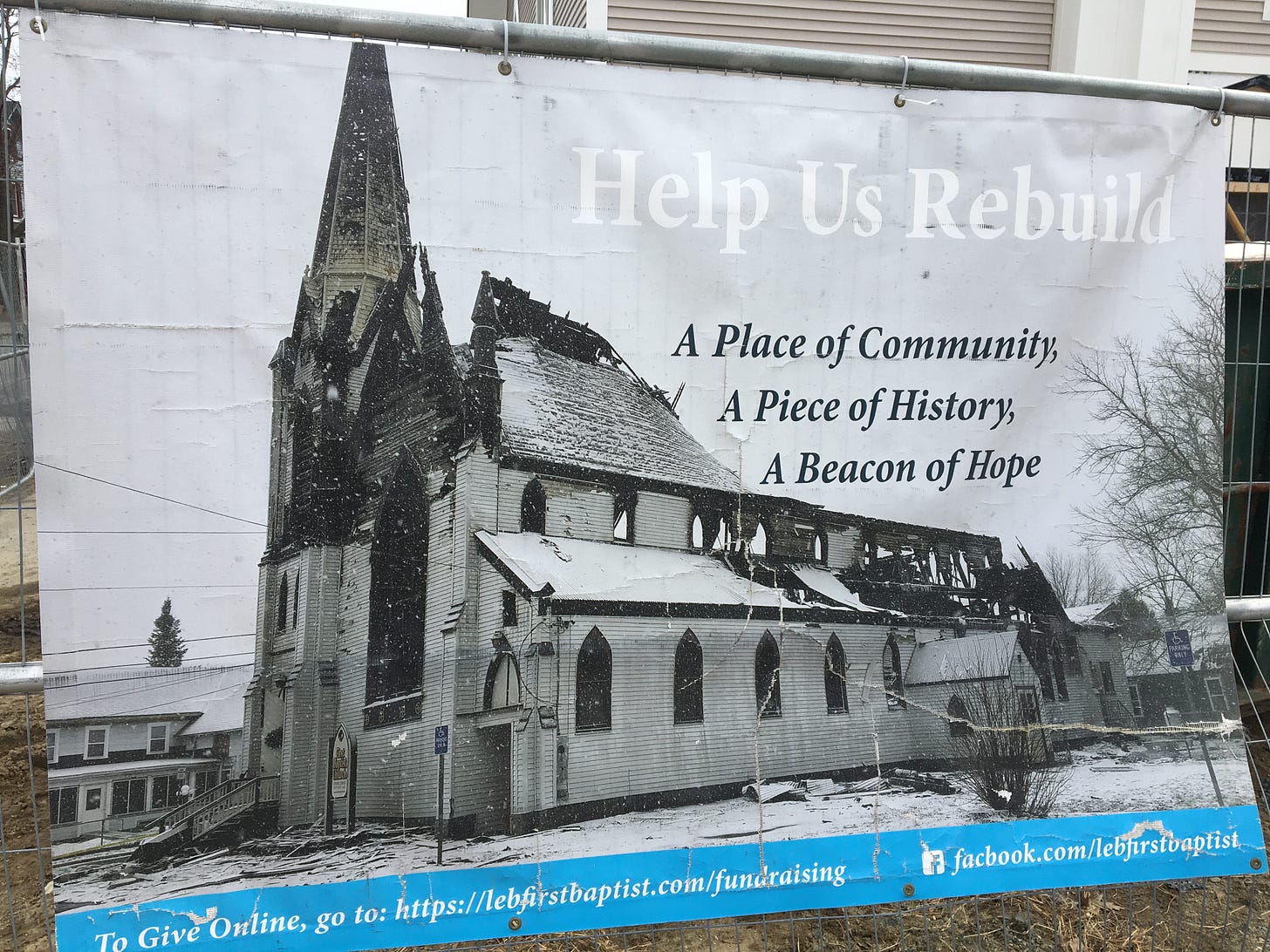 The Baptist church just off the green on School Street is testimony to the healing power and inevitability of time's passing. It was not so long ago that neighbors stood together in the cold, watching a crane lower the most precarious pieces of the rubble that remained after an act of arson. For a long time, it was an ugly hole in the ground that reeked of charred wood. Now a brand-new church—not yet steepled—moves toward completion.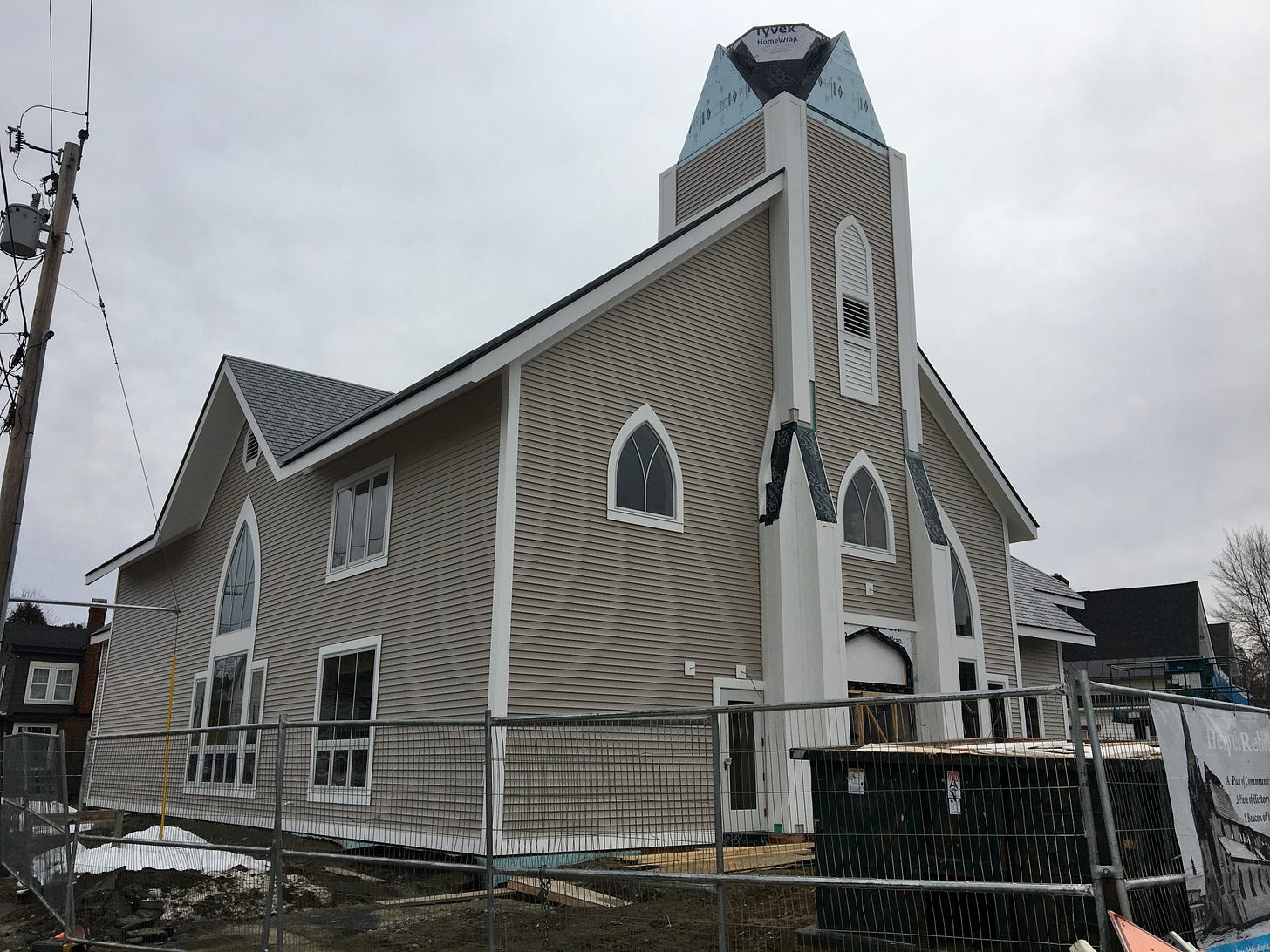 Despite presidential buffoonery on the subject, Easter likely will not be the marker of any significant change. It will, however, nudge us all a few weeks closer to the end of this weird time. It's why the sight of a neighbor's Easter egg tree (photo, top), buoyant with color and shine, gives me comfort.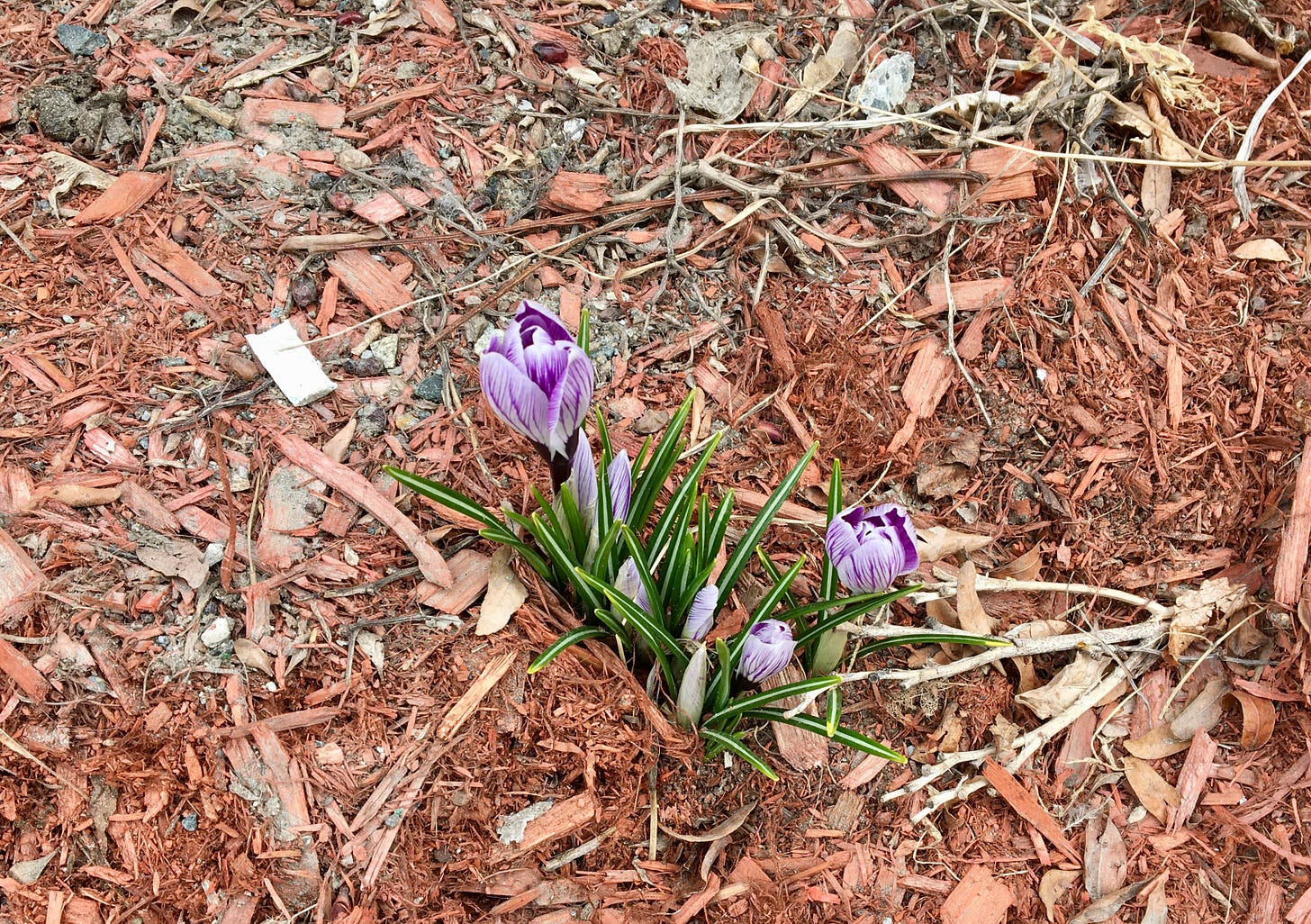 Finally, the best sight, always, is an initial glimpse of crocuses. I found the first of the season on the far end of the pedestrian mall. Spring (the real one, not the calendar one) will come. Then summer. This—our isolation wrapped in fear for ourselves and loved ones—this, too, shall pass.
————————————-
For a unrelated note of optimism from our young friends just down the road at Boston's Berklee College of Music:

Susan B. Apel is a freelance writer whose work has appeared in various online and print publications such as the Fredericksburg Literary and Art Review, Literary Mama, and Persimmon Tree, as well as Art New England, Boston's The Arts Fuse, and Image Magazine. Her blog, Artful, in which she writes about the arts in the Upper Connecticut River Valley, appears regularly at https://artful.substack.com. She is an art correspondent for The Woven Tale Press and a former legal columnist for the newspaper Vermont Woman. She lives in Lebanon, NH.