What's in the Oven
. . . and The Isolation Baking Show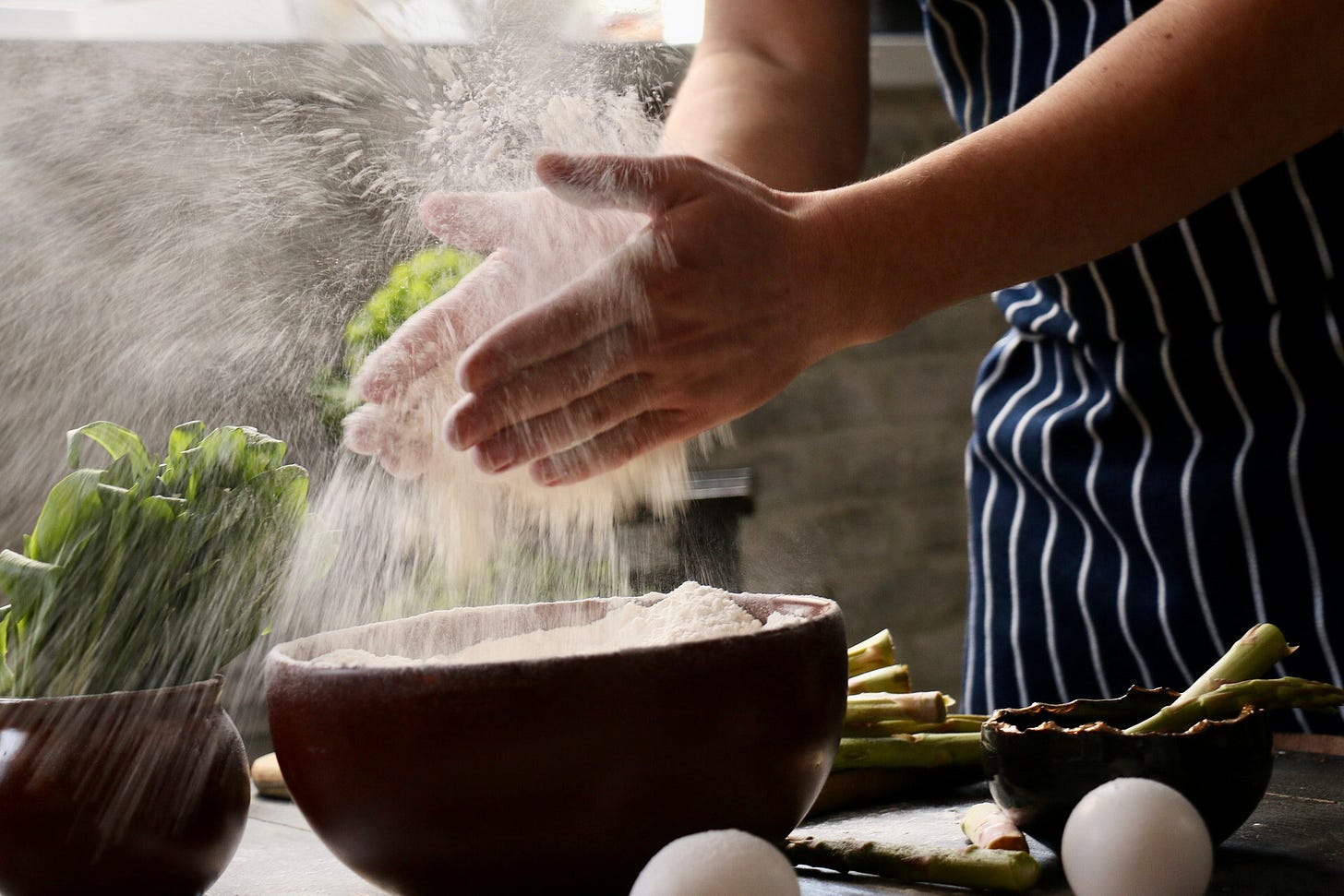 If you are not on a Zoom call, chances are you are baking banana bread. Google "banana bread & pandemic," and dozens, followed by more dozens, of articles will appear, attesting to the homemade loaf's resurgent popularity. So yes, it seems that banana bread has been called out of retirement, recruited in the current fight against hunger and isolation.

It's comfort food. It's economical. It uses up the bananas (now overripe) you bought because you thought (maybe wrongly) that you needed them, or because you couldn't suss out when your next trip to the grocery store might be and you had to have them just in case. Plus the guilt of tossing out food, even if it's on its way to becoming slimy by tomorrow, is too much to bear. And banana bread is easy; it's been called "gateway baking," because even those who are finding their way into the kitchen for the first time can do it.

In my case, I have been baking banana muffins. I set out to find a really good recipe, and did. (I refrain from calling it the "best recipe" because that only invites arguments.) Not so surprisingly, it happened to come from the Upper Valley's own King Arthur Flour. As reported by the New York Times, my favorite fact is its pedigree:

The easy recipe, which doesn't require any special equipment – just a couple of bowls – was adapted from one originally developed by a 9-year old named Meghan Cwikla. With it, she won the junior division at the 1997 State Baking Contest at the Connecticut State Fair.
Here is a link to the recipe. (If blocked, scroll down to Comments). By all means, banish those frilly paper liners or you'll forego that toothsome, crusty exterior. I skip the crumb topping in order to feel pious about avoiding the added and unnecessary sugar, and sub applesauce for half of the melted butter. With flour in short supply, I have rummaged through my cupboards to come up with some combo of regular all-purpose, King Arthur gluten-free, and coconut flours, and all have worked well. The muffins freeze, and reheat in the oven, beautifully. A little grated orange rind in the batter doesn't hurt. In the recipe's notes, one home baker allowed as how she'd made the banana muffins without any bananas, substituting sweet potatoes. For me that is a bridge just a trifle too far.

If you feel you've advanced beyond the "gateway" stage and want to move on to the harder stuff, you might try viewing King Arthur's The Isolation Baking Show with world-renowned Certified Master Baker Jeffrey Hamelman, and pastry chef ("get ready to meet your baker") Gesine Bullock-Prado who has taught small, highly sought-after classes at her Sugar Glider Kitchen in Hartford VT. She is the author of several cookbooks, including the fabulously titled "Confections of a Closet Master Baker: One Woman's Sweet Journey from Unhappy Hollywood Executive to Contented Country Baker."  In the show's latest episode, the two tackled pie crust and 5-grain bread, baking in socially-distanced companionship.

Bon courage, and bon appétit.
—————————————
This is Artful, where I write about arts and culture in the Upper Valley. Please share this with your hungry friends and loved ones.
Photo by Marina Davydenko from Pixabay