What's Not Going So Well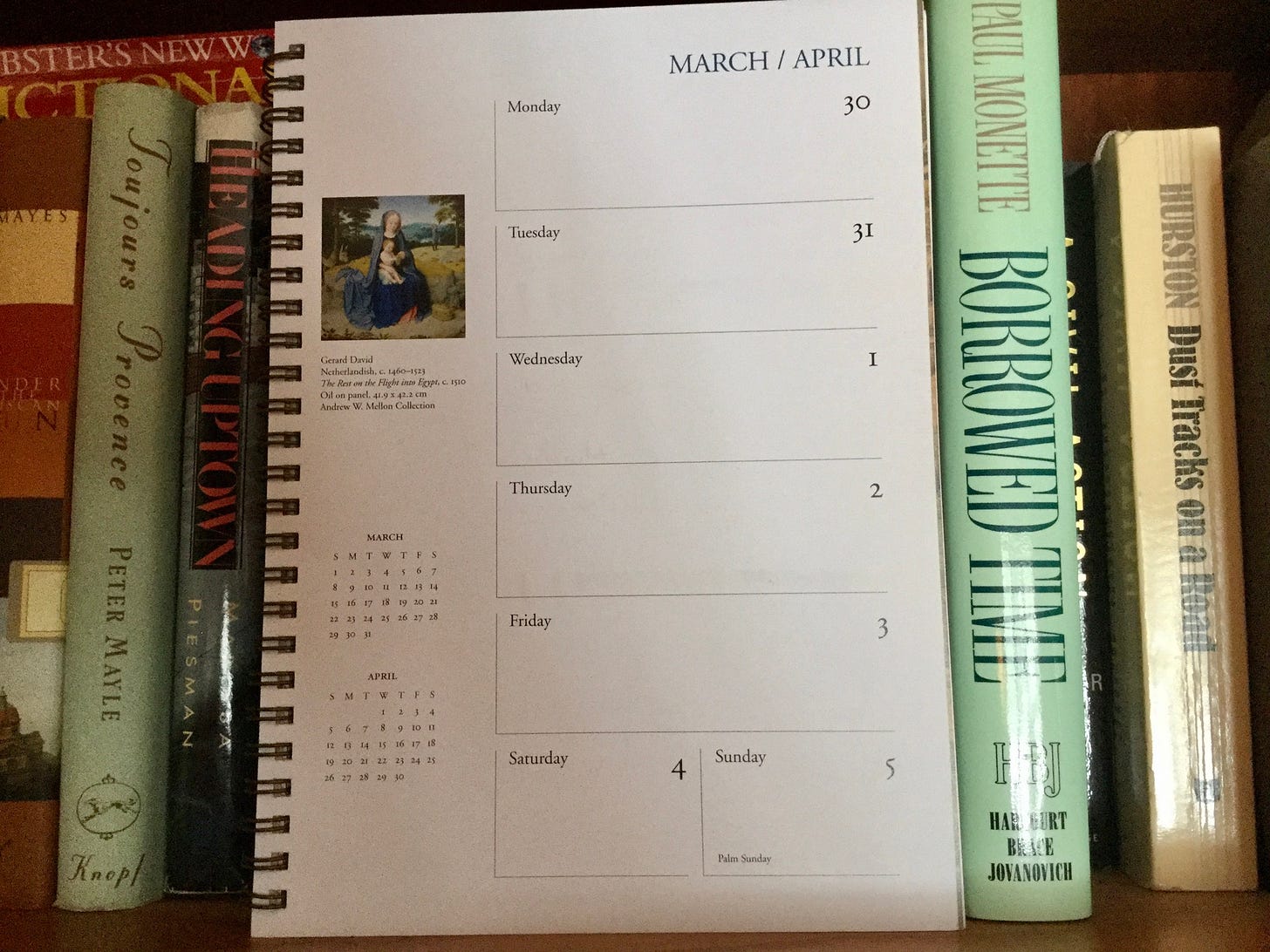 We're fine. We're alive with a roof over our heads and even though we have nowhere to go, our reliable plow driver had already removed the 10 inches of snow from our driveway even before we had arisen at 5:30 am, having not slept well in confinement. We are more than grateful for all of it.

It doesn't mean there aren't challenges, a word I keep using because it's cheerier and maybe more hopeful than "problems." Here are some of mine. (You are welcome to chart yours in the comments.)

Self-revelation. Turns out that all of those tasks, like reorganizing the linen closet, have not been put off because I lacked the time to do them. I have the time, have not done them, and they haven't even made the to-do list. When it comes to housekeeping, I could be judgey and call myself lazy, but maybe "profoundly uninterested" works too.

Irony is when you've been trying to cut the carbs and calories and all you want to do is bake, compulsively.
The press conferences that I don't have the courage and good sense to ignore. Even when Fauci is there, those pressers are mind-numbing and frightening at the same time. When Fauci is absent, it's cause for near-panic. I'm like a kid watching a scary movie, peering through my slightly splayed fingers, afraid to see and unable to look away.
That vaguely European practice of dropping by the market every few days for fresh produce is gone. My husband and I are shopping during those early morning old people hours, trying to figure out which veggies will last longer than a week in the fridge. My mind has never been able to do complicated mathematics at 7 am, and my cognitive functions are "challenged" as I am afraid to touch the cart or maybe even breathe.

That bagful of free plastic gloves that came with the can of paint for the living room? I tossed them years ago, no doubt because I found them stashed in the disorganized linen closet and said "when will we ever use these," or worse, "if we need these, we can always get more."

No haircuts, and no hope for any in the near-term. My husband is horrified that when the hair clippers come from Amazon—and they will—his head will serve as the practice run. I can't very well get the hang of it by starting on my own hair, can I? And we no longer have pets, so . . .
I now have every possible malady, including the most cringe-inducing high-volume crick in my neck, that comes from the poor posture associated with excessive use of screened devices.

Mostly I feel lonely. I love the screen for what it offers and hate it for what it lacks. When all of the emails are read and responded to, when I am hoarse from a combination of allergies and long phone conversations, after I've danced alone in my living room to a breezy fitness video, I mourn the lack of physical contact, a hug, a handshake. When all of this is over, I hope to be wrapped in uncountable embraces.
———————————-
Susan B. Apel is a freelance writer whose work has appeared in various online and print publications such as the Fredericksburg Literary and Art Review, Literary Mama, and Persimmon Tree, as well as Art New England, Boston's The Arts Fuse, and Image Magazine. Her blog, Artful, in which she writes about the arts in the Upper Connecticut River Valley, appears regularly at https://artful.substack.com She is an art correspondent for The Woven Tale Press and a former legal columnist for the newspaper Vermont Woman. She lives in Lebanon, NH.