Where The Grrrls* Are
What we're (binge)watching . . .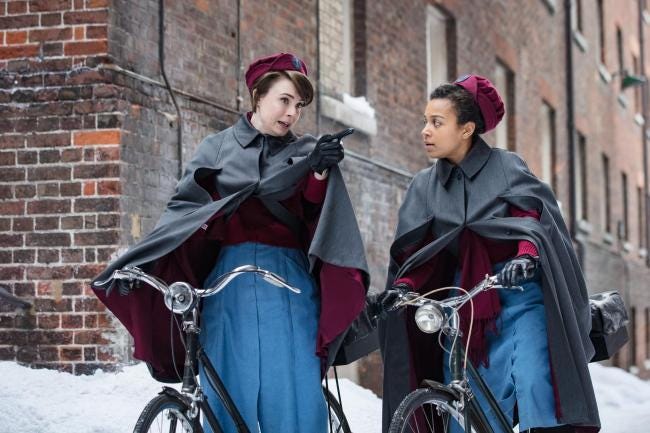 My eyes ache. Whether they're on the not-so-big screen of the television or the smaller, portable iPad, I am now addicted to a few television dramas. Three of them center on women who are bringing it like a boss.
Call The Midwife, now in its ninth season, is one of the most popular programs in the history of PBS, occasionally eclipsing that other period blockbuster, Downton Abbey. It's based on a memoir by Jennifer Worth, about her years as a young midwife in London's impoverished East End during the 1950s and '60s. (Sadly, Worth died before the broadcast of the first episode.) Its imperfections warned me off it when I first watched: the midwives might be just a little too earnest and wholesome (there are endless cups of tea and nightcaps of something Britishy called Horlick's), its endings are mostly happy, and as is the way of television, problems are resolved a bit too neatly within 50 minutes. And there are nuns, who have the effect of Proustian madeleines for the Catholic school-educated, with wimples and odd chin straps. But hang on. There are reasons to plow beyond.

The nuns and the lay midwives are fearless, competent and independent women functioning under trying circumstances. They are never more heroic than in the ultra-realistic birth scenes (and there are always birth scenes), truncated to be sure, but as noisy, messy, painful, and scary as I always imagined giving birth to be. The midwives are resolute. If anything frightens them, even when called out in the wee hours for a difficult delivery, we will never know. Best of all, they are absolutely in charge. This was a time and place when birth was still the business of women, not of a mostly male medical establishment. There's a male doctor in the cast, but except for now and then ("We must call Doctor"), he lives more on the periphery.

A digression, but worth it: Did I mention that in Season 2, Dr. Turner becomes a love interest for one of the nuns? While overall a middle-aged and chaste affair, look for the episode when he transgresses and impulsively kisses her injured hand (!), and later, when after pining for each other for forever, they finally and irrevocably commit to one another. Then, because she has ditched the Sister moniker, he gets to deliver the line, "But I don't even know your name." Spoiler: It's Shelagh. (PBS, Sunday, 8:00 pm, and Netflix for prior seasons).
If you're watching Midwife on Sunday, you can slide right into World on Fire, a multi-narrative story set in Europe during World War II. It features young handsome Harry who is romantically involved with two women, one a Polish resistance fighter turned assassin (Kasia), and Lois, an independent young British cabaret singer. Harry's mother Robina says delightfully snobbish and worse things, reminiscent of Maggie Smith's dowager in Downton, though not (as of yet) remotely likeable. But for me, I snap to for the scenes with actor Helen Hunt as both hardened journalist and sympathetic neighbor Nancy Campbell, who tries to wring the truth from the Nazi bureaucrats while remaining alive and on the job. "Ever moved a dead body?" she coolly asks her companion while looking at a newly-murdered Nazi on the floor. "You need a strong stomach and a lot of canvas." This is not Nancy's first, or even her second, rodeo. (PBS, Sunday, 9:00 p.m.)

The sophomore season of My Brilliant Friend, based on the mega-works of Elena Ferrante, has just wrapped on HBO, but you can now stream the episodes. (I tried and could not read Ferrante's novels, and I felt similarly about the first season of the television adaptation, which I then skipped to move on to Season 2.) My Brilliant Friend is the story of Elena and Lila, two childhood companions living in Naples in the 1950s. It is styled as the tale of their friendship, though for me the "friendship" seems lacking, a little anemic. I see it as a story of two young women who rebel with everything they've got against the patriarchy of the time and place.

And oh what a patriarchy it is that steeps a neighborhood so impeccably drawn that you'll feel as if you live there. Lila refuses to live up to the expectations of her husband and families in a dreary, violent marriage. The bookish Elena (also called Lenu) dares to defy convention by devoting herself to an education that she rides right out of the neighborhood. Lila and Lenu don't always win, but they never, ever give in. As was said of Elizabeth Warren, they persist. (Netflix, in Italian with subtitles).

What are you watching?
————————
*grrrl
(also grrl)
NOUN
A young woman regarded as independent and strong or aggressive.

(From Lexico)
——————————————————
You are reading Artful, a newsletter and blog about arts and culture in the Upper Valley. I'd be delighted if you signed up to receive future posts in your inbox. And please share this link with friends. Thank you.