Discover more from Artful
Arts and culture in the Upper Valley
Over 2,000 subscribers
WriterSpace. A Room of One's Own
. . . but with companions.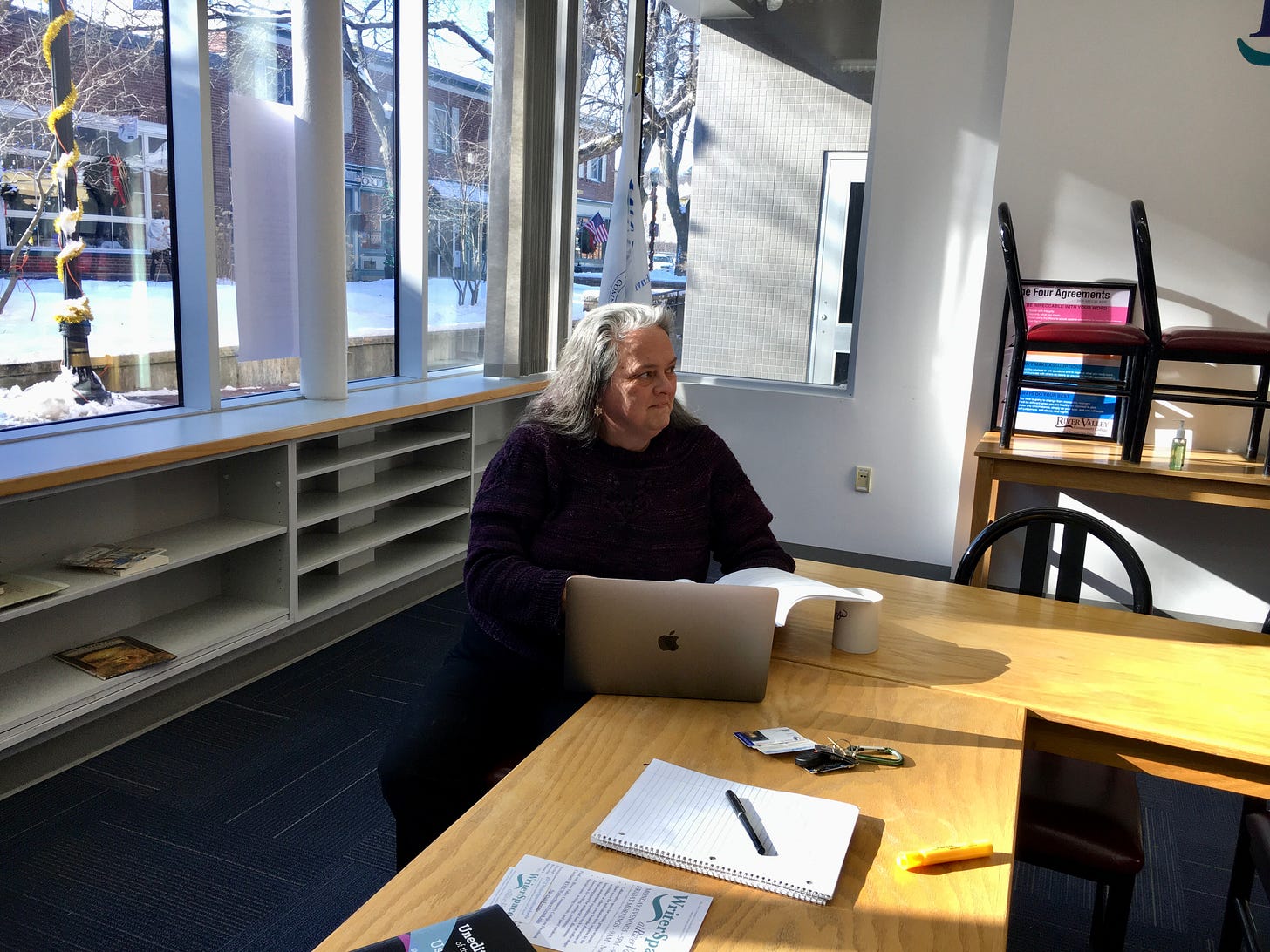 To quote Leonard Cohen, "the sun pours down like honey . . ." on Lebanon's new WriterSpace, especially in the mornings after 11:00 a.m. It's what first attracted Sparrow Alden.
WriterSpace is a new free co-working spot for writers, located at River Valley Community College's Lebanon NH campus, with a world-class view directly onto the pedestrian mall. Alden is an adjunct professor who discovered a passion for teaching English comp, and wanted to share it with the Upper Valley community. The sunshine's just a huge bonus.
Alden's original plans were modest: to host a group of writers during National Novel Writing Month, an event that occurs each November to encourage writers to write. She secured the space for Monday evenings and Friday mornings. Following the exhortation of a colleague to "dream bigger," she started to program more specific events, like sessions devoted to writing about subjects like trauma, or substance abuse, or an evening with fancy finger foods and shared readings.  You know how there are people who will die on the hill of "where to put a comma?" she asked. "They all ought to be put together in the same room."  So was born the no-holds-barred MacDuff Editing Critique, named after the fierce, revengeful villain of Shakespeare's Macbeth. By contrast, for the fainter of heart who peek through their fingers at others' opinions of their work, there was also a "Friendly Feedback" workshop. (Sign me up for that one.)
Who shows up in the space? Sometimes a single solitary person, sometimes larger groups, or a team of writers who need table and chairs and a supply of free coffee.  Aspiring memoir writers, poets, script writers for both stage and screen, a couple of bloggers. One participant allowed as how she needed a quiet corner to pay some bills.
What drives a writer to WriterSpace? According to Alden, professional writers tend to have their routines and creative spaces, but that is less likely for beginner and intermediate-level writers, who are often trying to work in coffee shops, or libraries, or amid the clutter of their own kitchen tables.  My own observation of the paradox of the writing life, one that I shared with Alden, is that it requires a good deal of quiet solitude. Until the quiet solitude starts to feel lonely and oppressive. Voila! WriterSpace seems to tackle both problems. Alden noted that "just sitting in a room with someone else who is staring at their screen" can provide inspiration and wordless but satisfying companionship.
Not that the room is always silent. Alden describes herself as "your gracious host," engaging in what she calls light programming tailored to individual needs. Sometimes she announces short breaks for weary eyes and wrists. She will provide prompts for those who are itching to write and out of ideas, or challenge people to timed writings if their minds refuse to move out of neutral.
After the new year, WriterSpace is reducing hours to Wednesday evenings only, as it awaits the results of grant applications that Alden hopes will support its work and allow her to resume more co-working hours and workshops. In the meantime, she will be teaching an intensive elective in Creative Writing for students and community members from January 6 through 17 at RVCC, Mondays through Fridays from 9:00 am to 2:00 pm.  (Cost is $645 for 3 credit hours.) Those interested should contact the RVCC Registrar at rvccregistrar@ccsnh.edu.
Stay tuned for developing news about WriterSpace.
Like what you see here on Artful? If so, please sign up, then hit that share button to share with your friends by email or through your social media. Thank you for supporting this blog.
Photo by Susan B. Apel, Sparrow Alden listens as a writer reads the results of the prompt, "final exams."