Artists at Work (Again) at Three Tomatoes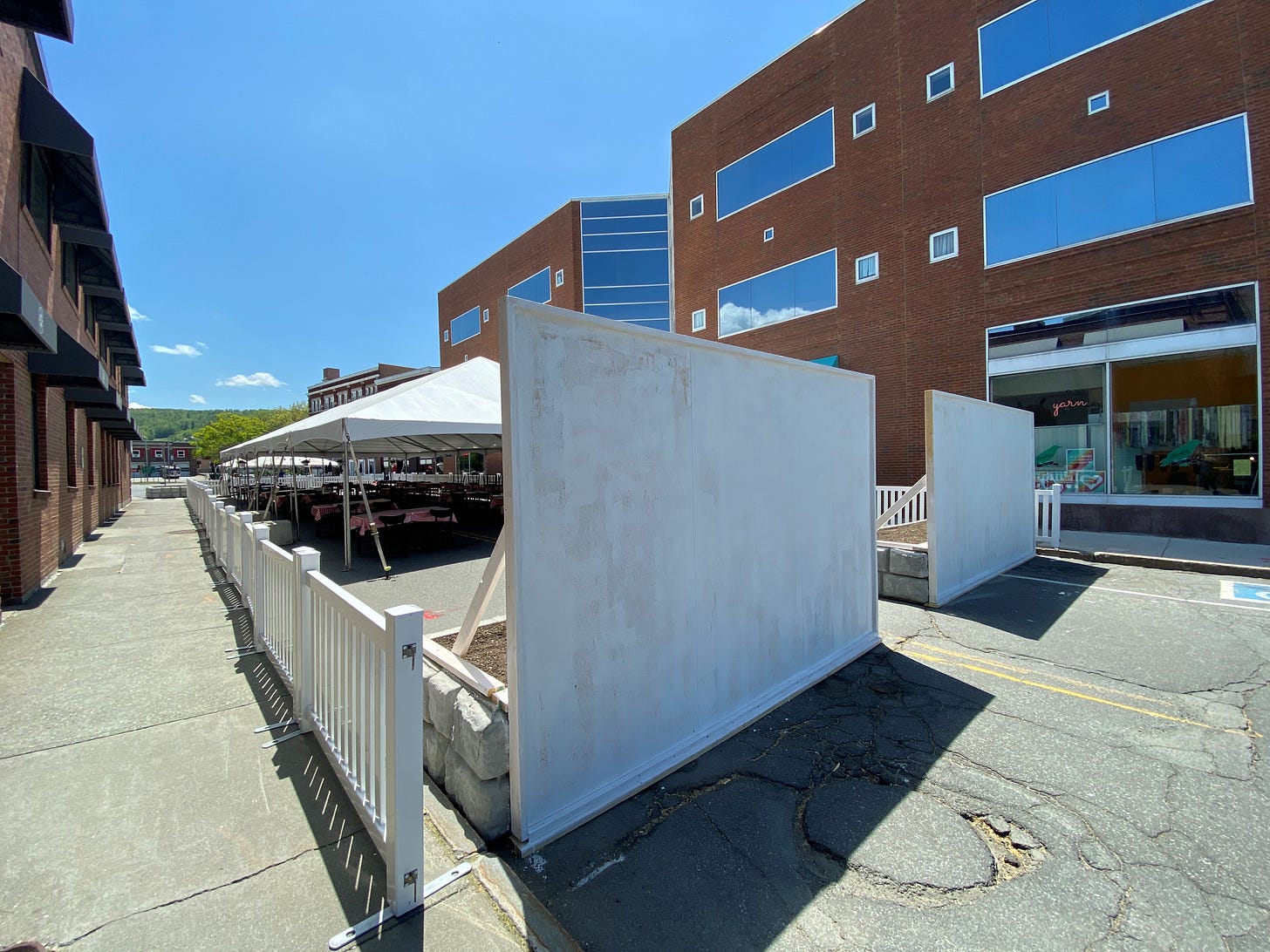 You can watch artists at work as they create outdoor murals for the reimagined and newly constructed dining scene in downtown Lebanon NH.

Three Tomatoes Trattoria, like many Upper Valley restaurants, is now open for sit-down service but only outdoors. Seating includes tables under the restaurant's usual summer canopy (with some tables scattered a little farther afield on the pedestrian mall), as well as in the middle of the newly blocked-off Court Street. To shield diners, owner Robert Meyers erected large windscreen panels which presumably are effective, but ugly.
Cue the neighboring AVA Gallery to turn those unfortunate ducklings into swans. As a recent AVA press release explained, AVA and Three Tomatoes go way back:
Because Meyers has been a great supporter of AVA Gallery and Art Center since he opened his restaurant 30 years ago, he recognized the opportunity for a community art collaboration and contacted AVA to find artists to decorate the new panels. The partnership between Three Tomatoes Trattoria and AVA began when retired Executive Director Bente Torjusen's late husband, artist Clifford B. West painted murals on the walls of Three Tomatoes. [West's murals remain on the restaurant's indoor walls] In the spirit of that relationship, Meyers wanted to provide customers with a pleasant backdrop for dining and a chance to showcase local artists' talents. 
AVA put out the call to its high school artists, who happened to have had the last in-person show in AVA's galleries. AVA will provide materials and organization of the project; Meyers will feed the artists, and assures that they will be working while appropriately socially-distanced.
And the planters that you see peeking out from behind the windscreens? They'll be used to plant flowers and . . . tomatoes.
(Photo by Sheryl Trainor)
——————————————
You are reading Artful, a blog about arts and culture in the Upper Valley. Please sign up if you haven't already, and share this post with your friends. For previously posts, you may want to scroll down to see a few (or more) that readers particularly liked.