Discover more from Artful
Arts and culture in the Upper Valley
Over 2,000 subscribers
AVA Gallery: Art by Appointment
Carla Kimball's Solitude Reopens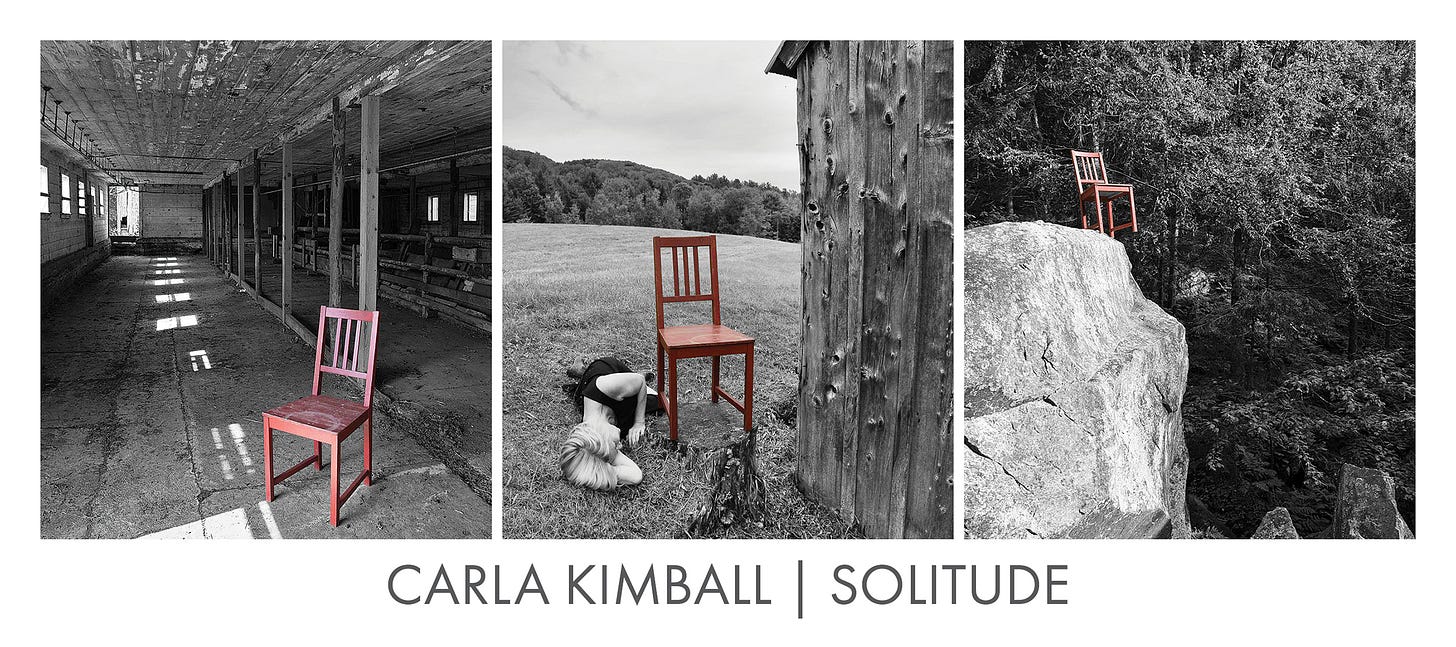 You, alone. Or with a handful of your chosen companions. Pick a date and time. It's art viewing by appointment at AVA Gallery in Lebanon, NH.
Carla Kimball's Solitude (which I previously wrote about here) closed three days after its opening last March, when the COVID-19 pandemic caused AVA, like all arts venues, to close it doors. Solitude is now reopened for appointment-only viewing until September 11 in the galleries at 11 Bank Street. Kimball will be hosting an artist's talk on Zoom on August 16 at 6:00 p.m.
From AVA's website:
The work of photographer Carla Kimball has evolved from still photographic prints to still prints that move and inspire movement. Her more recent images of a red chair, found in various places on a farm property, capture a sense of solitude. Ultimately, the chair became a centerpiece for dance performances, vacation trips, journeys into the woods, and mountain top adventures.
A video of dancer/choreographer Marie Fourcaut and others formed part of the original exhibition. An additional video produced by Kimball and Fourcaut during the closure has been added to the reopened version.
This exhibition was a stunner from the beginning, and has only grown in resonance after months of world-wide, imposed solitude. That lone chair—a recurrent motif—speaks a language grown richer for its serendipitous placement in the middle of a planet's search for meaning in its isolation.
All of the details, including a link for reserving face-to-face time with the exhibition and required safety protocols, can be found here on AVA Gallery's website.
———————————————

You're reading Artful, a blog/newsletter about arts and culture in the Upper Valley. Keep me company by signing up—you'll get an email notice announcing each new post—and sharing this post with friends.