The Power of (and in) Lebanon NH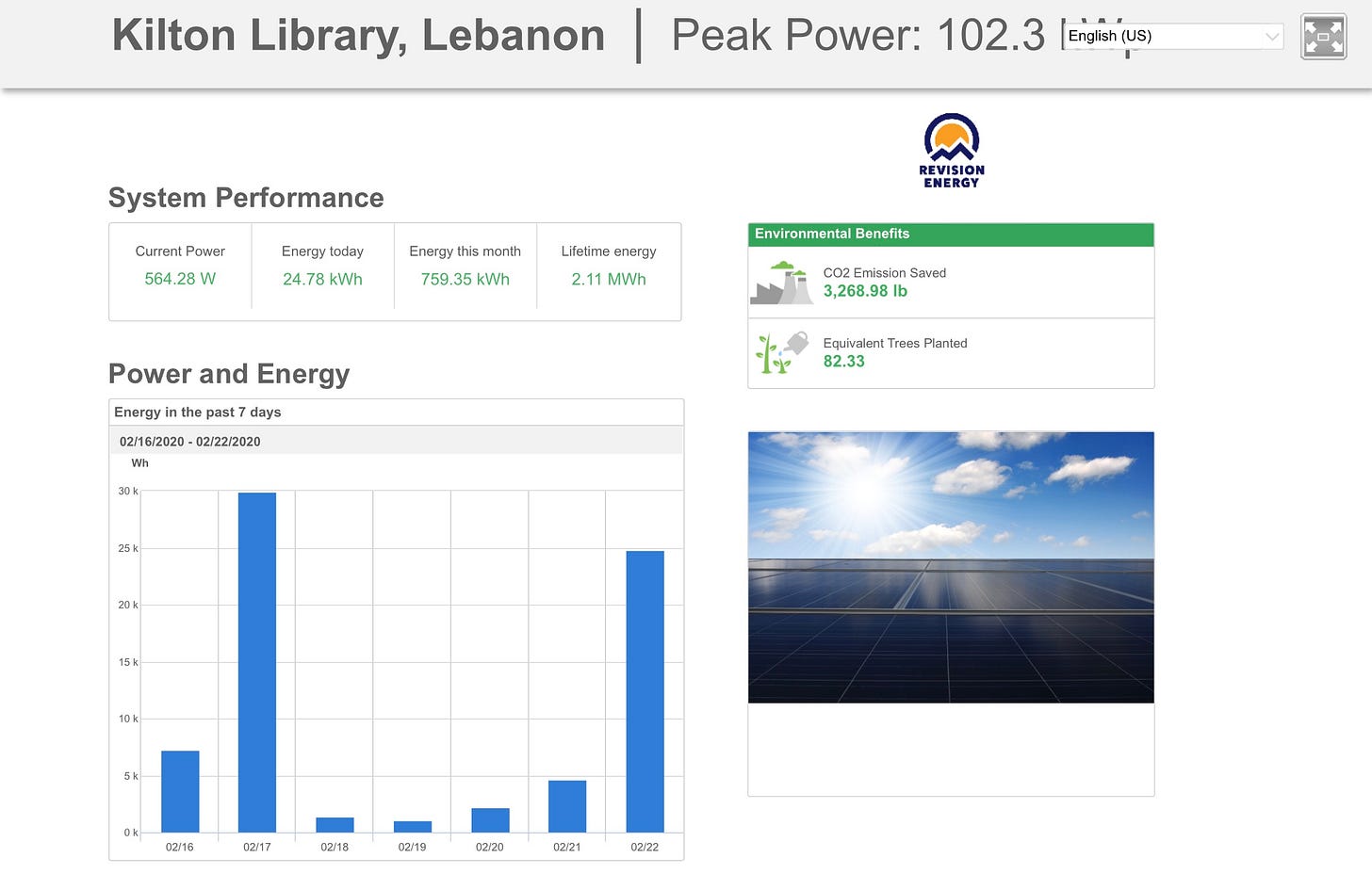 Some days you discover that while you were hardly paying attention some folks have gone and done something good. I am proud to say that in this case, it is my own City of Lebanon. It has been installing solar panels at seven municipally-owned facilities: the Police Station, the DPW Garage, the DPW Administration, the Landfill Reception Center, the Landfill Maintenance Building, the Wastewater Plant, and my favorite, the Kilton Library. At present, the solar panels are furnishing 23% of the City of Lebanon's electricity usage. 

Want to see? You can watch in close to real time as electric power is generated at each location. It's fun to compare the blue columns in the handy online bar graphs and remember that yes, Tuesday was unbearably cloudy and today the sun is shining with what passes for ferocity during the winter. Here is a link to the graph for the Kilton Library. (The city website link directly below will guide you to the bar graphs for other locations.)
Thus ends Phase I. According to the city's website, "More solar and other renewable energy projects are under development. We hope soon to be able to sell excess solar electricity production to local residents and businesses through our municipal aggregation program – Lebanon Community Power." 
A ribbon-cutting style ceremony is planned at the Kilton Library on Monday, March 2 at 12:00 noon. 

(If you have received a duplicate notice of this post, please pardon. Sunday evening gremlins . . .)
————————-
This is Artful, a blog about arts and culture in the Upper Valley. Share this post and Artful with someone you love or feel okay about by hitting the blue button.